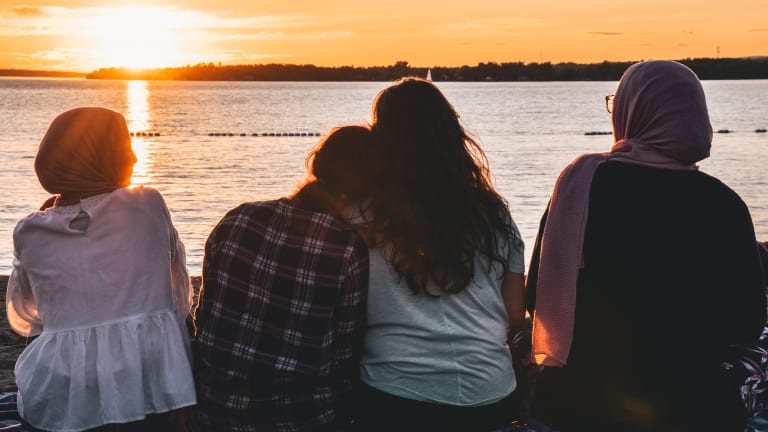 Frenchwomen Protest Secular Swimsuit Rules, and Other Notes from the Week
Catch up on all the news you might have missed with our handy summary of the week's top stories.
We're pleased to bring you "While You Were Out"—Verily quick takes on the happenings of this week.
Warner Bros Studio Gets Its First Female Chief
WarnerMedia announced Monday that the iconic Warner Bros movie studio has a new leader: Ann Sarnoff, the first woman CEO in the company's 96-year history.
Sarnoff is a surprise pick, with most of her experience in the TV industry. She is currently the president of BBC Studios Americas. But Warner was under pressure to think outside the box with the hiring. The firm has been criticized for the lack of diversity in its executive ranks—a salient point for a media company behemoth second only to Disney in market share. Adding to the pain was the circumstances surrounding the departure of previous Warner Bros head Kevin Tsujihara. He resigned in March after evidence surfaced that he'd promised work to an actress in exchange for sexual encounters. Tsujihara denied the allegations but swiftly headed for the exit.
Sarnoff joins the company at a time of transition for the entertainment industry. On-demand content streaming is disrupting the customary path creators take to reach audiences, and media companies, including Warner, are scrambling to adapt. Known for movie-house mega hits like Casablanca, The Dark Knight, and Harry Potter, Warner Bros has struggled in recent years to entice patrons to make the trip to the theater. WarnerMedia plans to debut its own streaming service next year to compete with Netflix, Hulu, and Disney.
Although Hollywood is still by and large a boy's club, the addition of a woman near the top of the industry's power elite means women in entertainment have a better chance of fair treatment. Not to mention we may get more content that speaks to our experiences and imaginations. I'd say that calls for a toast, and extra butter on my popcorn. —Margaret Brady
FDA Green-Lights Women's Libido Drug
The FDA has approved a new injectable drug to treat women's sexual dysfunction. The medication, which will be sold under the brand name Vyleesi, has been okayed for use in treating women with distressingly low libido, also known as hypoactive sexual desire disorder (HSDD).
Desire for sexual intimacy fluctuates throughout a lifetime, and having less desire is not necessarily abnormal. The key feature clinicians look for in diagnosing HSDD is a woman's concern or distress caused by her low libido. Anxiety about lack of intimacy, self-esteem problems or relationship challenges can all be signs a woman could benefit from treating her low sex drive. The Society for Women's Health Research estimates about 10% of women have HSDD, which means that millions of people could potentially be prescribed this medication.
Vyleesi isn't the first drug marketed to this population of women: Addyi, a once-daily pill, was approved in 2015 for the same purpose. Addyi had a rocky debut, with concern about side effects and lackluster sales. In mandatory research done after Sprout Pharmaceuticals started selling Addyi, patients who drank alcohol within 2 hours of taking the drug had a risk of suffering low blood pressure and passing out. A boxed warning included with the packaging alerts patients to that danger.
So far, Vyleesi's side effects are less-worrying problems like nausea, headaches and injection site pain. But the FDA doesn't recommend women take it if they have heart or blood pressure conditions. The drug is only approved for use in premenopausal women, so older women are out of luck.
To be sure, women deserve safe and effective solutions to restore their bodies, including their reproductive systems, to function in a healthy and normal way. In 2012 the FDA made women's sexual dysfunction a priority disease area, a much-needed step in the right direction. But as recent science has shown with hormonal contraception, the pharmaceutical industry has a history of promoting drugs for reproductive health that later prove to be deeply troubling from a safety standpoint. Sex is important, but the rest of our health matters too. —MB
Frenchwomen Protest Secular Swimsuit Rules
"Operation Burkini" took place in Grenoble, France, on Sunday, as Muslim women and their allies defied a swimsuit ban at a local pool. The group sponsoring the protest, Citizens Alliance of Grenoble, decided to take action last month to defend the right of Muslim women to wear pool attire that meets the modesty requirements of their faith and cultural traditions. The Jean Bron swimming pool they visited this past weekend is one of many in France that forbids the so-called "burkini," a swimsuit design that covers a woman's entire body except for her hands, feet, and face. Critics say the burkini is a symbol of "political Islam," which conflicts with the much-cherished tradition of secularism in France.
After arriving at the pool, the Muslim members of the group were confronted by lifeguards and told their swimsuits were not acceptable. Choosing to ignore this instruction, the group swam for about an hour. Later, they were questioned by French cops and fined $40 each.
Swimwear is not the only battleground in this conflict. In 2010, France became the first country in Europe to ban the burka, a veil that covers the wearer's face, in public spaces. Other nations like Denmark, Austria, and Belgium followed suit with restrictions. Some European legislators who favor making women's clothing a police matter claim they are actually trying to protect women from the oppressive force of Islamic modesty standards.
Such an argument could not be more paternalistic or ludicrous. As a fan of swimwear with more coverage, I can not imagine the sense of humiliation and rejection that must accompany being ordered out of the pool just for wearing what makes me feel comfortable. "Political Islam" may very well be a serious issue in France, but women's swimsuits are not. Bravo to the members of Citizens Alliance for taking action. —MB
E. Jean Carroll Accuses Donald Trump of Sexual Assault
This week, advice columnist E. Jean Carroll, author of the "Ask E. Jean" column in Elle magazine, host of the Ask E. Jean show in the 1990s, and longtime journalist, accused President Donald Trump of raping her in a New York department store in the '90s. The accusation takes place in Carroll's upcoming book, What Do We Need Men For? A Modest Proposal, an excerpt of which appears in the June 24, 2019 issue of New York Magazine, also published online at The Cut. The President has dismissed the accusation and has denied meeting Carroll, despite a photo of the two appearing in the article.
As to why she has not brought forward her accusation earlier, Carroll explains she was afraid of backlash and calls herself a coward. But she also writes, "I am a member of the Silent Generation. We do not flap our gums. We laugh it off and get on with life." She goes on to explain that, not only was she awarded Miss Cheerleader USA in her lifetime, her spirit as a cheerleader permeates her life and work, as she often encourages women in her advice columns to "pick herself up and go on. . . . And many women my age just "get on with it" too. It is how we handle things: Chin up! Stop griping! We do not cast ourselves as victims because we do not see ourselves as victims. While the strategy has worked for me, I wish I hadn't waited so long to say something," she writes.
According to the New York Times, Carroll "initially planned a book in which she traveled the United States and spoke with women about their problems with men, but she decided on a more personal account after the allegations against Harvey Weinstein surfaced." That's the timing of when the #metoo movement picked up. While Carroll's allegations at this point remain allegations, one thing that doesn't surprise me is the phenomenon #metoo made a reality for many women—that many women feel more courage to speak up about abuses they've experienced when they hear similar stories from other women and realize they're no longer alone. —Mary Rose Somarriba
We Do Not Have Lift Off: Toy Story 4's Numbers Disappoint
The latest entry in the Tom Hanks/Tim Allen animated juggernaut, Toy Story 4 opened in movie theaters last weekend to disappointing box office figures.
Pixar, a division of Disney, was hoping for a debut domestic gross of $140 million to $170 million. By Monday morning, the movie was number 1 in the United States, but raked in a deflating $118 million. Roughly one million fewer people were in the audience compared to the series' last outing in June 2010.
Some of the gap between expectations and performance can be attributed to hype—after all, the movie has a 98 percent rating on Rotten Tomatoes and an A rating from Cinemascore audiences. Its immediate predecessor, Toy Story 3, won an Oscar for Best Animated Feature and was nominated for Best Picture. It's understandable if industry executives thought the box office numbers would rise to infinity . . . and beyond.
One factor they may have misjudged: Sequel fatigue. In recent years, Hollywood has been taken over by franchises, sequels, prequels, and "cinematic universes." Even fans can struggle to keep up with the onslaught of new content they are supposed to watch to keep current with their favorite storylines. Disney encountered this quicksand in 2018 when Solo: A Star Wars Story proved a disappointment. Mark Hamill, who plays hero Luke Skywalker, has openly talked about audiences getting tired of the Star Wars series after Disney purchased the franchise and turned on a fire hose of new movies. Audiences are eager for something new, and there are great stories just waiting to be shared. Perhaps what Hollywood needs is the courage, and creativity, to find them and tell them. —MB
Bill Cosby Appeals Sexual Assault Conviction
Legal representatives for Bill Cosby filed an appeal this week with the Superior Court of Pennsylvania, arguing that the five women who testified against him in his second trial should not have been allowed to speak. The appeal suggests their testimony was irrelevant and should not have been permitted to contribute to his conviction, calling it "strikingly dissimilar" to testimony from the original trial, in 2014. The appeal argues that testimony from cases in which no charges were pressed "was used to strip Cosby of his presumption of innocence and to try to establish that Cosby had the propensity to sexually assault women."
And yet Pennsylvania Judge Steven O'Neill, who ruled on the case in question, has written that the women's testimony contained "chilling similarities" to that original statement, and together they suggest a "signature" crime. While the types of sexual contact may not have been the same, the judge saw in the testimony presented, "a long pattern of criminal behavior."
Cosby's wife and legal team maintain that the appeal is significant in allowing Cosby to receive "a hearing from a fair and impartial court." Cosby is currently serving a three- to ten-year sentence in Pennsylvania. —Lindsay Schlegel
The Everglades is on Fire
A bolt of lightning sparked a massive fire in the Florida Everglades earlier this week. A stretch of I-75 locally known as Alligator Alley was closed for half an hour on Tuesday, as visibility in the area was poor. Rain later that day helped to improve conditions. Once officials were able to see what's being called the Sawgrass Fire from the sky, they saw it was much larger than they had estimated. As large as the blaze was, it was burning in the middle of a conservation area. Unless a strong wind carried it elsewhere, no populated areas were in danger.
Officials did not implement a plan of action to contain the fire, as fires are a natural and even helpful element of the environment. According to the National Park Service, fires are "critical to maintaining the ecosystem by burning down non-native or large vegetation that could choke or shade native habitats."
Meteorologists have been keeping a close eye on the possibility of winds that could spread the flames. High pressure in the area weakened the typical summer pattern of afternoon thunderstorms, but more rain Wednesday helped to further contain the flames. Experts estimate the fire covered 33,500 acres, making it the largest fire in the Florida wetlands since 2011. —LS
Good News of the Week
A 13-year-old boy in Bowie, Maryland is feeding hundreds of homeless people through a baking company he founded. Michael Platt founded Michael's Desserts based on a one-for-one business model; for every pastry a customer buys from Platt, he donates a pastry to inhabitants at domestic violence and homeless shelters. "I always wanted to have a purpose for what I do," Michael told the Washington Post. "It's all about helping people—not just having a purpose for yourself, but thinking about, 'How does this touch other things?'"
Michael's website shows his flavor of the month for June is "Maya Angelou Banana Pudding Cupcakes: One of Maya Angelou's favorite desserts was banana pudding. We created this cupcake to in celebration of her advocacy for racial justice and equality for women." Talk about another reason to feel good while eating dessert. —MRS
Watch of the Week
This week, Nick Harvey, a musical composer for TV programs, shared a video of his father playing the piano on Twitter. Harvey's dad, Paul Harvey, has dementia, but nonetheless was revived to recall an old song he had written in the 1980s, at his son's request. Enjoy "Where's the Sunshine."
Miss our "Articles of Note" section? Subscribe to Verily Daily emails and check out our new suggested reading at the bottom, in our new "May We Recommend" section.