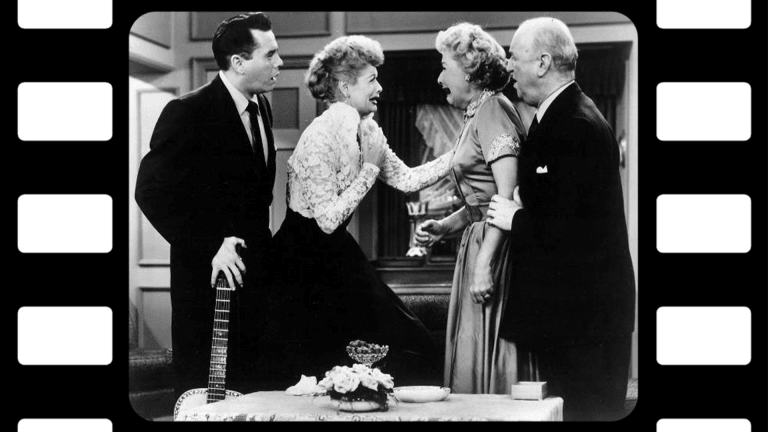 Lucy Is Coming to the Big Screen, and Other Notes from the Week
Catch up on all the news you might have missed with our handy summary of the week's top stories.
We're pleased to bring you "While You Were Out"—Verily quick takes on the happenings of this week.
'I Love Lucy' as We've Never Seen It
This week it was announced that Lucille Ball is coming to the big screen in honor of her birthday when she would be turning 108. Fathom Events, the same group responsible for bringing you performances from the Met and other special events, is bringing I Love Lucy: A Colorized Celebration to select theaters on August 6. The production will include five episodes of I Love Lucy.
"Almost everyone has seen and been captivated by I Love Lucy, Fathom Events CEO Ray Nutt said, "but even the biggest Lucy fan has rarely had an experience like this: seeing Lucy on the big screen and laughing alongside fellow fans in a movie theater." Tickets are available starting today, Friday, June 7 on the Fathom Events website or at participating theater box offices.
Fans of this trailblazing female comedian can also enjoy a DVD featuring sixteen colorized episodes of I Love Lucy, which will be released through CBS Home Entertainment and Paramount Home Entertainment on August 13. —Mary Rose Somarriba
The 19th Amendment Guaranteeing Women the Right to Vote, Turns 100
This past Tuesday marked the 100th anniversary of the passing of the 19th Amendment, which guaranteed women the right to vote in the United States. The amendment was first passed in the House of Representatives in May of 1919 and, a month later on June 4, passed through the Senate. In 1920, the amendment was officially ratified into the Constitution.
The opening of the Amendment reads: "The right of citizens of the United States to vote shall not be denied or abridged by the United States or by any state on account of sex. Congress shall have power to enforce this article by appropriate legislation." The 19th Amendment allowed women to become more active citizens and changed politics in the United State's forever. —Gabriella Patti
Anguished Dutch Teen Voluntarily Dies at Home
Seventeen-year-old Dutch teenager, Noa Pothoven, who suffered a history of rape and anorexia, died at her home following years of emotional turmoil. A year prior, Pothoven had requested to be euthanized but was declined without her parents' approval. The teen later posted on social media that she planned to end her life by starving herself, which she estimated would take ten days.
Euthanasia is legal in the Netherlands, and many news outlets have since mistakenly published headlines suggesting Pothoven was killed by doctors in a medical setting, inciting outrage that the medical community would approve of the death of a woman so young. I think it's just as tragic since the medical community clearly hadn't provided her with adequate care to carry her mental burdens. This story also reveals the acceptance in Dutch culture of the assisted-suicide mentality, since in the United States a public announcement of ending one's life would have been followed by an intervention, not a step back to allow the troubled person to follow through on a self-destructive plan. 
We hope this sad story will set the stage for some productive conversations about helping patients get the care they need for such devastating conditions as abuse-related trauma and eating disorders. —MRS
Japanese Women Push for a Law Against Mandatory Heels at Work
A petition has been started in Japan calling for a law banning employees from making high heels mandatory footwear. The movement was pioneered by Japanese actress Yumi Ishikawa, who said that she changed career paths due to the discomfort of standing in heels all day. Ishikawa created the hashtag #KuToo (a play on both the Japanese words for "shoe" and "pain"). Since then, the petition has been signed by over 18 thousand people and was submitted to the labor ministry. As of now, no official response has been released. While the practice of requiring women to wear heels seem rather antiquated, we were surprised to find out that similar petitions and movements have been started in other countries including Great Britain and the Philippines.
When reporting on this story, the New York Times dove into their archives and found the first mention of a high heel ban back in 1873—on the behalf of male soldiers who complained that their required "heeled boots led to 'many blistered feet' and induced 'a most ungainly walk and ungraceful carriage.'" All silliness aside, we wish the working women of Japan luck and hope that this unnecessary requirement is abolished. —GP
Leah Chase, the Creole Queen, and Inspiration for Disney's Princess Tiana Passed Away
The "Queen of Creole Cuisine," Leah Chase passed away on Saturday at the age of 96. She was probably best known for her restaurant, Dooky Chase, however, she also served as the inspiration for Princess Tiana, from Disney's Princess and the Frog. In the Disney movie, Tiana—like Chase—lives in New Orleans and dreams about starting her own restaurant. Chase also made a cameo in Beyonce's visual album, Lemonade, alongside other black female role models.
However, according to her family, Chase was most proud of her role supporting civil rights advocates, as her restaurant became a hub for the movement. "One of her most prized contributions was advocating for the Civil Rights Movement through feeding those on the front lines of the struggle for human dignity." —GP
Jupiter in Our Sights
This is a great weekend to look at the night sky. Jupiter, our solar system's gas giant, will be fairly close to Earth and viewable with the naked eye. Pull out the binoculars and you'll even catch some of the planet's marble-like appearance and some moons as well. Jupiter will reach "opposition" on Monday, June 10, when Earth is directly between the gas planet and the sun, but star gazers can catch a nice showing all June. Just another reason to get out and look up. —MRS
Good News of the Week
A 14-year-old boy from Madison, Minnesota reached a long-held goal of earning enough money to send his family to Disney World, news outlets published this week. When Isaiah Tuckett's parents told him they couldn't afford a trip to the famed amusement park, he set his goal to sell cupcakes until he earned the income to make it happen. Not only did Tuckett succeed in reaching his goal, but he did so within a year, and paid for a total of seven family members' airfare, lodging, and park tickets. It just goes to show what careful saving toward a goal can do. Tuckett's next goal is to buy a car for himself and go to culinary school. —MRS
Watch of the Week
We don't usually fall into sharing baby animal videos, but . . . watch this baby hippo and his mom at the Dallas Zoo, and you'll understand how we couldn't resist.
Miss our "Articles of Note" section? Subscribe to Verily Daily emails and check out our new suggested reading at the bottom, in our new "May We Recommend" section.