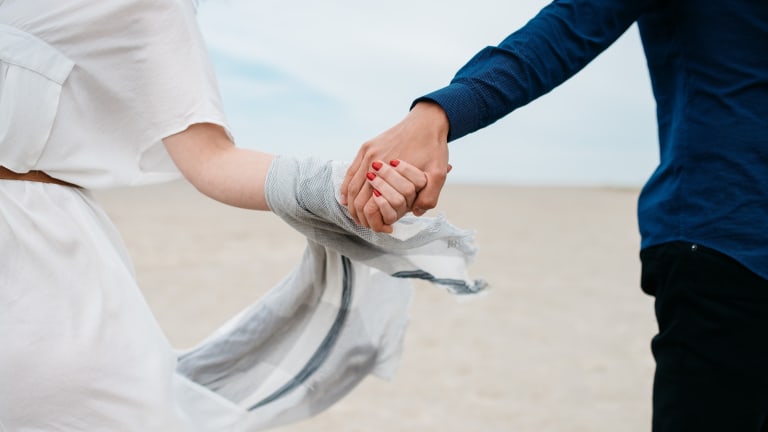 How to Begin Thinking about Your Partner's Porn Use
Take the first step.
Before the internet, porn was viewable on VHS tapes and in magazines—you either bought it or found it.
As a therapist helping patients with sex and porn addiction, I hear stories from clients about the first time they found their dad's "porn stash" or looked at porn with their friends. Many of them say that looking at porn for the first time was an incredibly powerful and thrilling experience.
For most of my clients with sex addiction, their relationship with porn began when they were pre-teens—their first sexual experiences were not with another person, but alone in front of a screen. These early experiences with pornography and masturbation fundamentally shape their view of sex, relationships, and love. With the ubiquity of internet pornography, Wi-Fi, and smartphones, porn can seem like an impossible thing to avoid if you've experienced its allure.
The reality today is that pornography has had a profound impact on the sexual formation of many men and women. It not only impacts a person's expectations for what a fulfilling sex life looks like, but it also distorts a person's view of self, others, and a healthy relationship.
Partners of porn addicts struggle, too.
Porn is associated with a lot of different physical, emotional, spiritual, and social issues. One area of impact that needs more attention is porn's impact on romantic relationships, especially its impact on the porn user's significant other or spouse. Many women (and men) experience the consequences of their partner's pornography use and express feelings of betrayal and rejection. Some even experience something called "betrayal trauma" where they exhibit trauma-response symptoms including shock and denial, difficulty concentrating, hypervigilance, mood swings, anxiety, feelings of hopelessness and worthlessness, numbness, and more.
Here is a small sample of the comments I routinely hear from clients whose spouse or partner views pornography.
"I have a problem with jealousy."
"He told me he just has a really high sex drive."
"Something changed. Now he wants to do things together that I'm not okay with."
"I had no idea she looks at it."
"I just can't trust him anymore."
"I just don't understand what he sees in it."
"What's wrong with me? Aren't I good enough?"
"I know everybody looks at it. But it still bothers me."
"I wonder if he wishes I looked like that."
"I know he imagines porn scenes when we're together."
"I told him he has to stop or I'll break up with him."
"I don't want this in my marriage."
"I didn't know you could be addicted to this."
Through their hurt and sadness, many of the partners of porn users want to know, "Is there any hope?"
Yes, there is hope.
Recovery from porn addiction is possible. Porn-free relationships are possible. It takes work and a humble commitment to working through a multi-faceted program of recovery.
Often people fall into the trap of believing that recovery from porn addiction is a simple process. Some believe it's a matter of simply deciding not to look at porn; others believe that prayer alone will heal the addiction; while others say that committing to a regimen of diet and exercise will solve the problem.
The reality is that lasting recovery is all of these things and more. Lasting recovery entails a complete mind, body, and soul surrender to the reality that the addict is "powerless over addictive sexual behavior and that [his or her life has] become unmanageable." Similarly, the spouse or partner is also powerless over controlling the addiction.
If you are in a relationship with someone addicted to pornography, you may be wondering, "If I am powerless and so is my partner, then where is the hope!?" I've sat with so many clients in this place. Here are five wise things to do if you're going through something like this.
01. Remember, you didn't cause the porn addiction, you can't control it, and you can't cure it.
It may be hard to believe because the implications of the addiction are profoundly personal, but your partner's addiction is not your fault, and it is not about you.
02. Get connected to a support group with others who are experiencing what you are going through.
Porn addiction is a disease of isolation. Chances are that you, too, may be feeling isolated. You need support and connection, too! Groups like S-Anon exist for families of sexaholics. You can also connect with a therapist trained in sex addiction for support. He or she may even host a therapist-led support group in his or her practice.
03. Reach out to emotionally safe friends and loved ones.
When shame sets in, many people withdraw from relationships with friends and loved ones. You don't have to share your personal issues beyond your therapist or support group if you don't feel comfortable, but it's still good to be proactive in connecting with others in your community.
04. Stay involved in your hobbies.
When life gets difficult, it's easy to retreat from the things that to some may seem unnecessary, like engaging in our hobbies and interests. But our hobbies and interests are a valuable outlet to help us stay grounded.
05. Invest in your spirit. 
Addiction is a spiritual as well as a physical disease and one in which ordinary people or things are put in a higher place than they should be. Surrendering to a true higher power is the starting point for healing.
In addition, one of the biggest mistakes you can make in a relationship is not talking about pornography and sex. I'll never forget when the wife of a man being treated for sex addiction looked me in the eyes and said, "Why does society lie about porn addiction and say that this isn't a thing people deal with?" Though many people are beginning to wake up to the reality that porn harms relationships, marriages, and families, many people are still in the dark about porn addiction. If you are in a relationship, I encourage you to talk to your partner about pornography and its potential impact on both of your lives.
Editors' note: Verily exists to empower women to be more of who they are. Consider supporting this mission by joining us at Verily Yours. Your subscription gives you exclusive content (that is different than our website content) and supports our publication, including our efforts to develop a print magazine. Subscribe here.