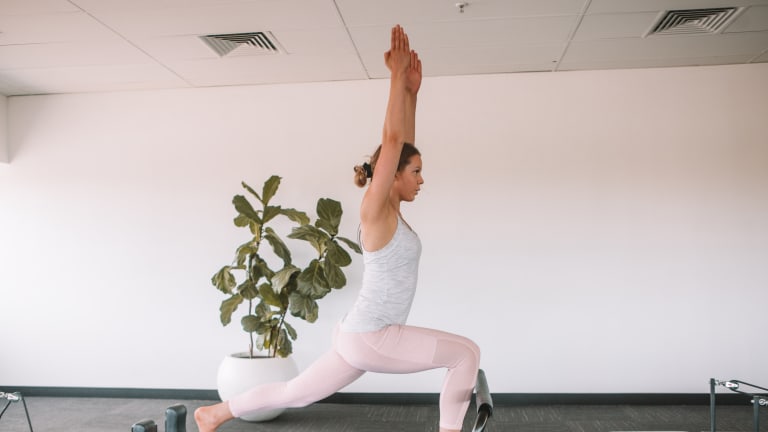 5 Things to Consider When Creating Your Next Fitness Goal
The more specific, the better.
Summer is here, which means that some of us may be thinking about how we can keep on track with our fitness goals. While the weather is often better for exercising in the summer (except in those areas with blazing heat and humidity), the frequency of barbecues, pool parties, and general social activities with friends and family makes it hard to balance everything.
If you struggle to reach fitness goals during the summer, here is a step-by-step process to make sure you're creating realistic fitness goals.
01. Identify what you're currently doing.
The first step is simple. Take a moment to think about what you're currently doing—and be honest. Have you been too busy to do any sort of workout for the past few months? Are you currently going for one walk a week? Don't make any judgements about this. It's just important to acknowledge where you are in order to get where you want to go.
02. Create a goal that is one small step beyond what you're currently doing.
Let's take the one walk a week example. You wouldn't want to decide to do a marathon next week. That's not realistic. Instead, a realistic goal could be to do two walks a week.
I know this step can sound a bit unsatisfying. You might feel that you're not getting serious about fitness if you just walk twice a week. You want to do something a bit more exciting—like that marathon! I'm all about thinking big and having big dreams, but we all need momentum and confidence. Nothing builds momentum in your fitness life like getting a few wins under your belt.
03. Give yourself a defined period of time.
Ideally, you should think about the next week, or the next two weeks. Thinking one or two weeks out helps you think about what else you have going on in that time period.
Are you hosting a summer party? Are your in-laws visiting? Does your child have a huge sports event going on that you know will take up all of your time one weekend?
Unless you're a professional athlete, you don't spend all of your time on your fitness goals. (Actually, I don't think even athletes do that!) We all have a lot of other things going on in our lives, especially in the summer. So this step is important because it allows you to do an honest inventory of what your other life goals are.
When you set a goal over the next one or two weeks, take those other goals into account. It's also good to remember that a goal you were able to meet last week might not be realistic this week. When I was planning my wedding, for example, I didn't expect myself to also train for a half marathon!
So pull out your calendar, look at the next week or two, and see what's realistic for you in this real moment in your life.
04. Specifically define your goal.
Don't set a goal like, "I want to be active this week." It would be better if you set a goal like, "I would like to take a 30-minute walk on Tuesday of this week at 12:30 during my lunch break." Your fitness goal should be very specific, measurable, and concrete.
You could even get more specific with the goal and plan where you're going to do that walk. If you can plan exactly when and where you're going to do it, you can put it on your calendar. It's more likely to happen if you do that, even if it doesn't happen at that exact time. I can tell you that there are many times when I didn't actually complete a workout I had put on my calendar, but because it was there, I simply did it the next day!
Another reason it's important to make your goal as concrete and measurable as possible is that many times we don't give ourselves credit for a vague, ambiguous goal. It's so easy for us to beat ourselves up and convince ourselves we didn't do anything for our health and fitness.
For example, let's say your goal was to just "be active" during the week and you managed to get two walks in that week. You might think to yourself, "Well, I should have worked out four times."
Let's think back to the concrete goal of "I'm going to go on a walk two times this week." That's a goal that makes it easy for you to know whether you reached it. So be as specific as you can possibly be. Hitting your fitness goal will be good for your mental health and self-esteem, too!
05. Think about the barriers that might come up.
Now you have a goal. Great! But we're still not done.
You know yourself best. You know which barriers (lack of time, insufficient motivation, child care, etc.) are most likely to prevent you from reaching your goal. Make sure you're aware of those barriers so that you can name them if and when they come up (because they do—for everyone).
Once you've thought of one or two barriers, think about how you can overcome them. For example, if you're pressed for time, you can break up your workout throughout the day, or if you struggle with motivation, you can pick a workout you enjoy. Prepare yourself so that when a barrier comes up during the week, you can bring to mind what you told yourself you would do to overcome that problem. Maybe it rains and you can't take a walk. Making a game plan beforehand for what you do in case of bad weather (e.g., a YouTube yoga session) can help you make sure that barrier doesn't stall your progress.
Of course, every goal in life—fitness or otherwise—needs to be flexible. Things come up unexpectedly, and life happens. If you still struggle to reach your fitness goals even after you've gone through this process, remember that it's about the journey rather than a specific outcome. Every fitness goal you strive for—whether you actually reach it or not—puts you one step closer to your best health, so have fun and enjoy your summer fitness!