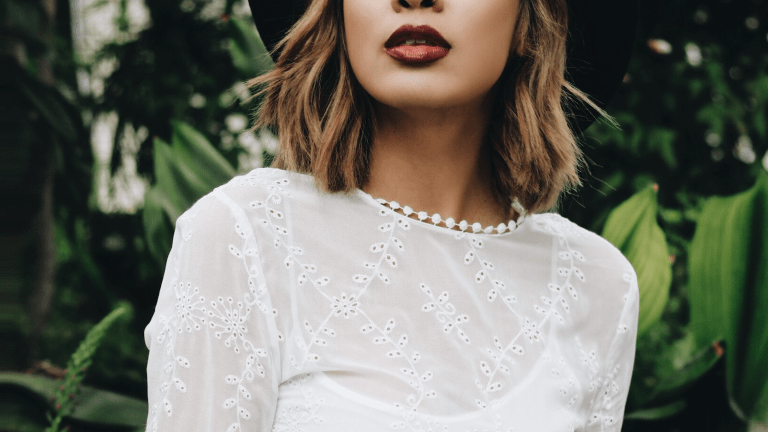 How to Dress Like a Woman If Your Style Isn't Girly
You don't need to change your style to embrace your feminine side.
When it comes to assessing your personal style, brutal honesty is important. I spent my twenties swept away by dreamy catalogue shoots of women in romantic settings—Provence, Barcelona, Morocco—think of the Anthropologie catalogues with their always interesting, always feminine women. Shaped by my love of old movies and sartorial icons like Grace Kelly and Audrey Hepburn, I had deeply embedded ideas of what it meant to dress like a woman: florals, full skirts, fitted waists, embroidery.
The problem was that I was a different woman from these icons and models; my life in no way resembled theirs. I spent my days teaching high school, not strolling through the streets of Paris; I spent my summers working odd jobs and traveling to see family, not wandering through the vineyards of southern France. So often the pieces of clothing I loved on the rack and purchased because they were "timeless" and "so feminine" hung in my closet, unworn—or worn only begrudgingly when I was doing things that didn't matter to me.
While traditionally feminine styles evoke womanhood when I see them on others, often when I wear them I feel like a child dressed up in my mother's heels and pearls, rather than a woman confident in her own self.
But, at the same time, I am a woman and want to feel like one, and dressing is a large part of that. So sorting through and finding the sweet spot between traditional images of womanhood and my particular sense of self has taken me some time.
I realized one day that these ideas of feminine style are often simply remnants of particular moments in time. Those fifties-style dresses belong to a particular era; there's no reason they should define feminine style more than the mantillas of medieval Spain or the drop-waist dresses of the roaring twenties. Though we tend to think of feminine style as defined by the items themselves, it is, in fact, defined by fidelity to the woman wearing the clothes.
So step one in figuring out how to dress like the particular woman you are is, first and foremost, paying attention to what you actually love to wear and feel most yourself in. Friends can be an important part of this process. More times than I can count, a friend's brutally honest, "You'll never wear that; you have something just like it that you never wear" has saved me from an impulse purchase and has simultaneously helped me discover my particular sense of feminine style.
This struggle is never more pronounced for me than in the spring and summer. Fall and winter more naturally work for a variety of styles: Denim and boots can read girly or androgynous. Colors are more somber. Turtlenecks are the perfect blend of comfort, ease, and femininity. But in the spring and summer, when the world is aflame in bright colors and sunshine and everyone breaks out the sundresses, I feel more torn. The florals and dainty fit-and-flares I love on my friends and on the rack end up spending the sunny days in my closet. Despite my efforts to expand my color palette, when I get dressed I inevitably opt for whites and blues and black linen over the few florals I own. I only reluctantly break out the fifties-style dresses I have for church or family gatherings because wearing them feels like living in someone else's skin.
While each of us has to discover and define her personal sense of feminine style, I think there are some more general ways to channel that feminine vibe while staying true to your own aesthetic self. Here are some moves I've found myself making:
01. High-waisted things. 
The waist is an undeniably feminine feature, and there's a reason so many styles highlight it. If you're not a dress or skirt girl, however, try high-waisted culottes. They create a similar silhouette, highlighting your womanly figure, but are edgier and can feel less like you're fitting into a box. If tight jeans aren't your favorite, go with a looser-fitting mom jean.
02. Mix it up. 
Pair a feminine piece with a more traditionally masculine one. Try a silk cami under a black blazer instead of a cardigan. Pair a high-waisted midi skirt with a menswear button-down tied at the waist instead of a feminine blouse. Or, throw on a great pair of heels with some high-rise, loose-fitting denim instead of a dress. The proportion of pieces is often more important than the pieces themselves in creating a feminine mystique.
03. Find viable alternatives. 
I love a good sundress, but sometimes they make me feel like a child. Rompers, ironically, make me feel more grown up, fashion-forward, and more like myself. Heels always elevate an outfit, but if stilettos aren't your thing, seek out a chunky summer sandal or a great flat-form to add an unexpected twist. Spaghetti straps are delicate and timeless, but a wider strap can feel a little more unconventionally feminine and a little more modern.
04. Find a floral you LOVE. 
Not one you like—that's not good enough. I've learned that if I don't absolutely love a floral print, I simply won't wear that piece. I am, however, drawn to any kind of jungle-y, banana-leaf style print. With their clearly defined geometric appeal and in cool monochrome combos of greens and yellows and blues, these prints feel less traditionally feminine than the nineties floral prints that have made a major comeback in the last few years—and feel more "me." I also know I'm more likely to wear a floral dress than a floral blouse, so I stay away from the latter unless, again, I absolutely love it. So assess what botanical prints you love, and work them in as you please.
05. Or ditch floral altogether and go for eyelet. 
I've always loved the subtlety and ease of eyelet. The eyelet itself can be either floral or geometric, but it always evokes a sense of feminine intricacy and delicacy while avoiding the floral fantasy. And since eyelet items are usually one color, I find they are easier to wear often in a variety of contexts—just mix up the shoes and jewelry and you have a whole new look, more easily than you would with a true floral print.
06. Pick one. 
While traditional feminine styles highlight all the lovely aspects of womanhood, I prefer to choose an outfit that centers around only one. If I choose a short dress, I want it to be loosely structured; a sweetheart neckline is complemented by a long skirt; if you show off a sliver of midriff, go with a crew neck t-shirt. The subtlety of these combinations creates an unmistakable aura of mystery that is distinctively feminine in its power of suggestion.
Women come in all shapes and sizes, and so should our sense of feminine style. Instead of feeling forced to align yourself with generic ideas of womanly style, have fun discerning what you love and designing a closet that showcases the wonderful and distinctive woman you are!
Editors' note: Verily exists to empower women to be more of who they are. Support this mission by joining us at Verily Yours. Your subscription gives you exclusive content (that is different than our website content) and supports our publication, including our efforts to develop a print magazine. Subscribe here.