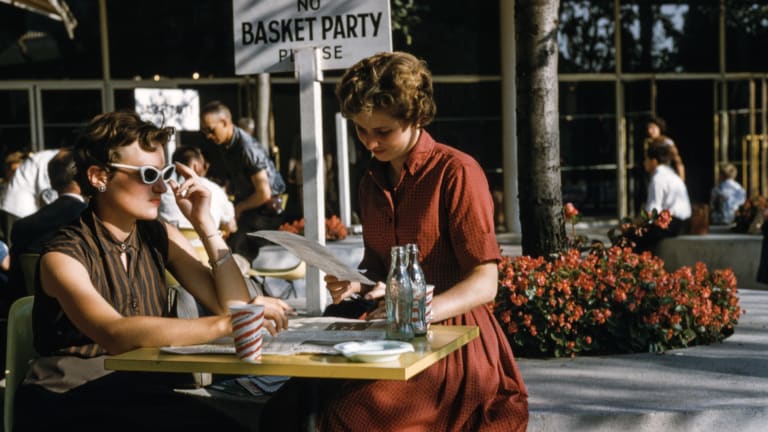 Wardrobe Remix: Taking Vintage Inspiration from the Twentieth Century
Using our everyday classic pieces to recreate retro styles
Next time you want to change up your style routine, try remixing the clothes in your closet to create a vintage look from the twentieth century. Even if you don't own much vintage clothing, you can still use the clothes you have to create a retro look. Each decade of the twentieth century had a defining silhouette and popular colors, details, or accessories that we associate with it (though not always accurately!). Many of these defining silhouettes can be recreated with everyday classics. Before we get started, I want to note that this article is meant as inspiration for people who want to have fun with their existing closets; it does not instruct readers on how to create an authentic vintage ensemble. Check out the tips below to create a silhouette that harkens back to 1910 or 1980!
01. 1910s // Natural
During the 1910s, especially later in the decade, clothing trended toward being less restrictive. Jane Austen fans may notice that dresses from this period seem to echo some of the defining elements of Regency style: a higher waist, a simpler skirt without hoops, and a lower, scooped or straight-across neckline.
When recreating a columnar, late-Edwardian ensemble, look for a long dress with a higher or empire waist and a square or scooped neck. You can also wear a maxi dress with no defined waist and tie a sash around it. Dresses during this period had sleeves, so if you have a sleeveless sheath maxi, you can add a button-up shirt or blouse (preferably one made of transparent or floaty material) and wear it open over the dress. Fold up the hem and tuck it into the sash so that it looks like it's cropped or a part of the dress. Add more details with beaded earrings, and wear your hair in a loose updo.
(Evening dress circa 1911-1915.)
02. 1920s // Free
This silhouette is difficult to pull off because it is a look that works against, rather than with, the shape of many women's bodies. The 1920s silhouette was a very straight, boyish type of silhouette that provided freedom of movement but also repressed women's natural curves in order to create straight lines. Most 1920s reproduction dresses use other beautiful Art Deco details to evoke the era, but do not adhere very closely to this silhouette because few people actually want to wear a realistic 1920s-structured dress.
To evoke a 1920s look, wear a longer dress (below the knee) and add a ribbon or a sash around your hips to create the appearance of a dropped waist. Dresses with ruffles along the hemline work well for this look. You can also wear a flowy blouse with a mid-calf skirt and add a sash to your hips, or tie a scarf around the neckline for a sailor-collared look (or, DIY a sailor collar). In winter, wear an oversized coat or an oversized, long blazer (totally in right now!) to create long, straight lines.
Long beaded necklaces, embellished headbands, and cloche hats are, of course, easily identifiable Art Deco-inspired accessories.
(Butterick sewing patterns circa 1924.)
(Sailor-collared dresses in a 1920s catalog.)
03. 1930s // Glam
In the 1930s, tall, slim silhouettes were popular—but unlike the twenties, the thirties embraced women's natural curves and worked them into long-line styles. Dresses were often bias-cut, stretchy, flowy, and comfortable, and in this decade some women began to wear high-waisted trousers.
You can achieve this look with an A-line skirt and a V-neck dress or blouse. Use a sash or belt to highlight your waist. Or, you can try an A-line skirt or high-waisted pants with a fitted, puffed-sleeve top. Lots of clothing had short sleeves or small puffed sleeves, and some evening wear had smaller, ruffled sleeves.
To enhance the vibe, curl your hair to create a faux thirties bob (even if your hair is long!) with tutorials here, here, and here.
(Sears Catalog circa 1934.)
(Vintage 1930s dress.)
04. 1940s // Practical
As part of the war effort, women went to work in some fields—such as science and manufacturing—that had not previously welcomed them. Style at this time tended toward a more practical, almost austere look that was influenced by fabric rations and sometimes influenced by menswear, particularly by military uniforms. Silhouettes featured big shoulders, but women saved fabric with fitted waists and slim skirts that hit just below the knee.
You can mimic this silhouette with a shorter A-line skirt, sturdy heels of a modest height, and a blazer with big shoulders (or you can add bigger shoulder pads from a fabric store). Because 1980s blazers also have a lot of volume in the shoulders, they can work well for creating a 1940s look.
(Dress with pleats and shoulder pads, circa 1943.)
(Katharine Hepburn in pants circa the 1940s.)
(Inspired by the forties, I wore loose, high-waisted pants with a thrifted 1980s blazer.)
05. 1950s // Romantic
In response to the simplicity of wartime, clothes in the post-war forties and fifties exploded with volume. Most people are familiar with the iconic fifties silhouette of a nipped waist and a full skirt, introduced by Dior's "New Look" in 1947. To recreate this silhouette, wear a fit-and-flare dress and exaggerate the proportions by wearing a tulle petticoat underneath and adding a contrasting belt or sash. You can also wear a tailored blouse or button-up shirt tucked into a fitted pencil skirt for a more mature look. Pair with kitten heels or flats.
(Dior's "New Look" created hourglass silhouettes with small waists.)
(This model wears a tailored sweater with a belted pencil skirt.)
(Here, I paired a tailored blouse with a slim pencil skirt and flats.)
06. 1960s // Bold
Silhouettes in the 1960s still worked with women's figures but slimmed down the poofiness of the fifties (the poof migrated to women's hair!), and skirts and dresses of the era were defined by the miniskirt. You can recreate a typical sixties silhouette by wearing a collared shirt under a shift dress that hits above the knee. You can also pair a sweater or collared shirt with a short skirt. If you have a longer skirt, you can hem or pin it above the knee, or roll the skirt at the waistband until it resembles a miniskirt. Work in bright colors (red, orange, green, yellow, blue) or bold patterns such as big florals, stripes, or geometric prints.
(Two women in striped minidresses, circa 1967.)
(Two teenagers in yellow.)
07. 1970s // Cool
In the 1970s, silhouettes echoed the long, lean looks of the 1930s. Blouses were fitted and featured crewnecks, V-necks, and collars paired with flared or bell-bottom pants or jeans.
You can create a similar look with any wide-leg pants you might own (maybe you have a pair of early-2000s flared jeans hiding in the back of your closet). Wear them with a bright, fitted knit top and leave your hair down and parted in the middle. During the seventies, colors shifted more towards warm tones, so pair your pants with warmer shades of orange, yellow, green, or brown.
(Farrah Fawcett wore a collared shirt with a blazer and high-waisted, flared pants so long that they covered her feet.)
(I popped the collar on this shirt and belted a pair of boho, tie-back pants. Everything but my shoes is a hand-me-down.)
08. 1980s // Big
While many twentieth-century silhouettes featured a fitted half and a relaxed half (top or bottom), 1980s style was characterized by an overall relaxed silhouette that cinched in at the waist. Pants tended to be looser around the hips and thighs and bootcut or tapered around the ankles. Tops were also looser and often oversized. Fashion is cyclical, so the extra volume of the forties returned to the shoulders as puffed sleeves and giant shoulder pads became popular.
You can recreate this look with relaxed high-waisted jeans or an A-line midi skirt. Add a sweater, blousy button-down, or big blazer, and tuck the top into your waist with a wide belt. People often used jewel tones and primary colors to color block in the eighties.
(Loose pants and a loose sweater paired with a wide belt, circa 1988.)
(This 1980s pattern for professional-wear features oversized blazers with shoulder pads, jewel tones, and tights.)
Whether you've been invited to a retro party or you want to copy the outfits of your favorite movie star, you can find the silhouettes of past decades waiting to be discovered in your closet. Enjoy time traveling!