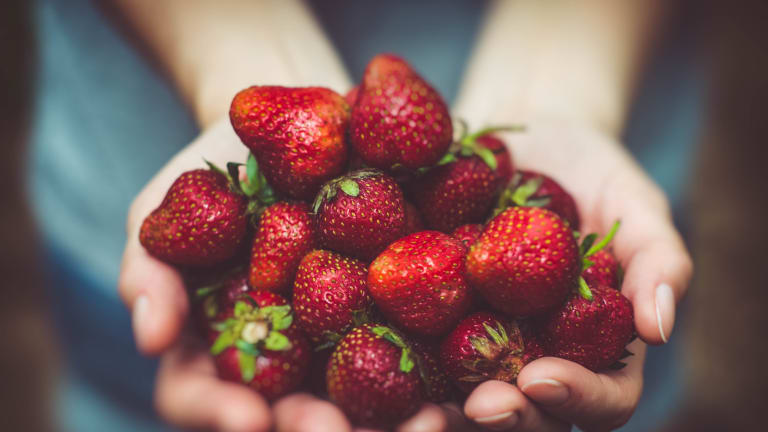 Eating Seasonally in the Summertime Sunshine
Strawberries and peaches and squash—oh, yes.
This summer, I'm trying to take a lesson from my kids when it comes to how I eat. I don't mean hanging off my chair or singing with a mouth full of food. What I mean is how playful my kids are with their meals. They try new flavors and aren't afraid to combine things we adults may not think of (peaches dipped in ketchup?). And when they find something they like, they stick with it and unabashedly savor every morsel.
I sometimes joke that my kids prefer a plate of ingredients to an intentionally crafted dish. They love when I set out a plate with a handful of freshly washed grape tomatoes, slices of cool cucumbers, a hunk of just-baked bread, and a half dozen slices of their favorite pepperoni. This kind of meal begs you to explore, to pair, to test and see which flavors work best together, and, ultimately, to enjoy each element for what it is.
No one wants to spend an hour at the stove on a beautiful summer evening, and with a pared-down approach to mealtime, you don't need to. The summer garden is full of fresh flavors that typically require little preparation. The simpler, the better when your goal is to let the true nature of each ingredient shine its brightest.
Try these delicious (simple! quick!) recipes to bask in the full-throttle flavors of summer and still have time to enjoy a summer evening on the porch.
For starters, try: The Best Caprese Salad Recipe with Mozzarella Balls
A make-ahead salad that only gets better with time in the fridge? Sign us up! This twist on the traditional tomato-mozzarella-basil combo incorporates cucumbers, red peppers, red onion—or whatever vegetables you have on hand. It's the perfect dish to bring to a cookout, yet balanced enough to be a meal on its own.
As a main dish, try: Summer Strawberry Salad with Grilled Chicken
Okay, so maybe a grilled chicken salad isn't typical kiddo fare, but the playful addition of strawberries to mixed greens is a stroke of brilliance. Candied walnuts and blue cheese crumbles elevate the flavor profile. And the dish is easily simplified by using a store-bought rotisserie chicken (or even canned chicken; we won't tell!) so that there's nothing to cook and little to clean up.
On the side, try: Grilled Zucchini and Summer Squash
It's become a given in our house that if we're grilling, there will be grilled summer squash (often zucchini). It almost feels silly to link a recipe here, since it's so very simple to prepare. You can change the seasoning to complement your dish (adobo spices for mojito chicken, perhaps?) and experiment with cutting the vegetables into slices or spears. However you cut it, this one is a winner.
For dessert, try: Grilled Peaches with Cinnamon Sugar Butter
While I do not recommend the aforementioned peaches dipped in ketchup, I wholeheartedly recommend peaches on the grill. Toss them on while you're finishing up dinner, and marvel at the way the sugars caramelize in just a few minutes on the heat. If cinnamon sugar isn't your thing, try serving the peaches with a scoop of rich vanilla ice cream. Indulgent without being over the top, this dessert hits all the marks.
In a season when nature offers us so much flavor, variety, and color, we don't need to do much to let each food in our spread vie for center stage. If, like children, we can slow down and look around at what's coming to life around us, we'll recognize that the natural world is a gift. The rhythm of the seasons is life-giving and beautiful. Summer itself is cause for celebration!
With the real demands of adulthood, we may not be able to cook this way exclusively. But when we do, we can easily see that to eat with the seasons is truly the way it was meant to be.