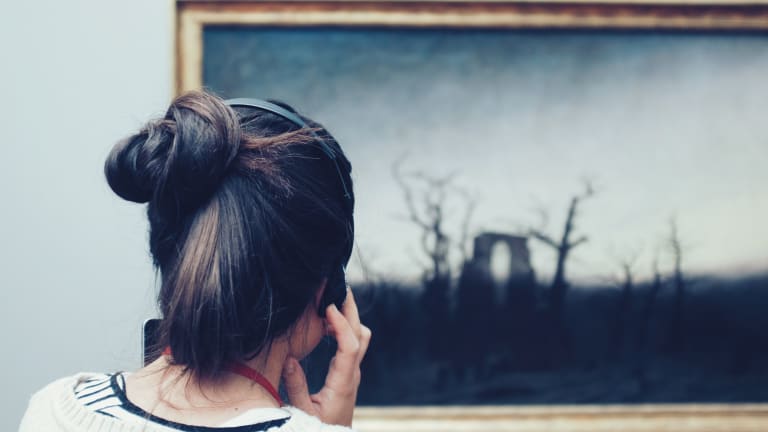 A Beginner's Guide to Creating Your Own Art Tour
Grab a friend, pick a museum, do the research . . . and enjoy!
This past spring I found myself standing in front of a colorful painting in a local museum, telling a group of friends about the piece of art behind me. Having a very minimal educational background in art, I would never have imagined myself in the position of helping my peers learn about an artist—and it was thrilling!
This all came about because a good friend of mine decided to hold the very first "Annual Co-op MIA Tour" at the Minneapolis Institute of Art. This art-loving friend organized the event with enthusiasm and a simple list of directions that are easy to replicate if you'd like to curate your own art tour.
Pick a piece of art.
First, each person picks one piece of art to research and present on. It could be their favorite piece or something that is new to them. The research could be as simple as a Google or Wikipedia search, or it could be more involved. For a more hands-on approach to research, you could go to the museum in person and ask someone who works there about the background of a particular piece of art or go to the library and check out books on specific genres or time periods.
The idea is to give some background on the piece and the artist or to share anything interesting you find in your research! Some museums, like the MIA, offer online maps to help you search through their various collections. This helped me tremendously in selecting my piece of art—I definitely don't know the pieces in the museum by memory! Not only did searching through the collections help me choose a specific piece of art to present on, but it also inspired me to learn more about different genres of art as I stumbled across them in my research. If your museum doesn't list its whole collection online, you can also pick up a paper map or look up the pieces the museum is best known for.
A piece of art doesn't have to be your standard painting. For example, the Minneapolis Institute of Art has a piece called Sunburst by famous glassblower Dale Chihuly weighing over three thousand pounds. Or maybe you love interior design and you want to showcase a piece of furniture, like a chair from a dining set designed by Frank Lloyd Wright in the early 1900s. Someone from our art tour presented on the Yamantaka Mandala, which represents the meditation rite of Buddhists. This mandala has been preserved at the MIA in honor of the more than one million Tibetans who lost their lives to religious and political persecution in the twentieth century.
Organize the tour.
Ask participants to let you know which pieces they plan to present on ahead of time to avoid duplicates in your tour. Depending on how many people you have invited, you could ask if anyone would like to present two pieces. Finally, plan your route through the museum to keep the tour flowing smoothly and make sure you won't have to double back. You could also consider organizing the tour by time period or geographical location. If you happen to have some last-minute changes, like an additional guest or two, you can always change the route as you go, but it's helpful to have a general idea beforehand.
Make a handout.
A fun way to engage participants is by creating a handout of the tour. This could be as simple or as complicated as you like. But start with a few basics: the order in which the art pieces will be viewed (it might be helpful here to include the gallery room in which they can be found, in case someone wanders off!), the name of the person who will be presenting, and the name of the art piece they will be discussing. This is a great tool that not only helps everyone know where to go next, but it also allows each person to refer back to the handout and do further research on some of the pieces they want to explore more deeply.
Present on the art.
Ask your friends to do enough research on the chosen work of art to share about it for about two to five minutes. The piece I chose was Dream Castle in the Sky by Maxfield Parrish. I learned—and shared with our group—that Parrish was an American artist and illustrator who was known for his whimsical and mythological style, evident in the painting I chose. A fun fact about this twentieth-century artist is that his painting titled Daybreak outsold Andy Warhol's Campbell's Soup Cans and was the most popular art print of the twentieth century! It is said that, at the high point of his career, one in four American homes had a piece of art by Parrish, whether a print, an illustrated book, or a magazine cover.
Although I never considered myself an art lover like my friend, her simple invitation made me excited to learn more about art! I thoroughly enjoyed browsing the museum's art collection and had trouble picking just one piece of art to present on. Everyone enjoyed the tour so much that "The Annual Co-op MIA Tour" is looking like it will be a seasonal event.
Editor's Note: If you decide to organize your own art tour, we'd love to hear about it. Share on social media with the hashtags #VerilyMoment and #VerilyArtTour and tell us a little bit about your chosen piece, and you may be featured in our daily email (sign up here)!