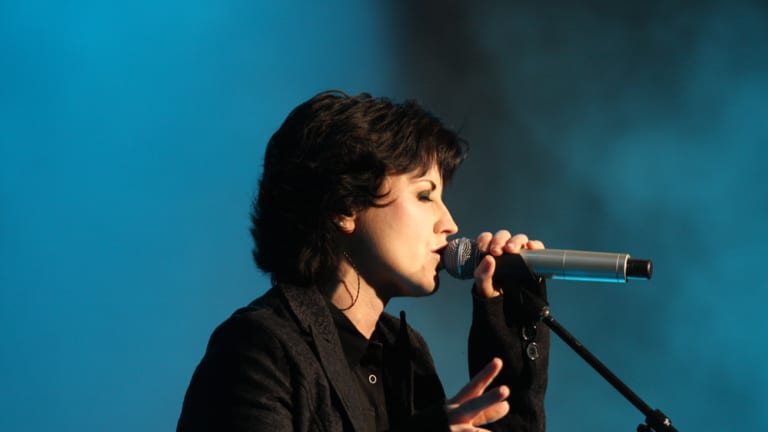 In a Tough Relationship or Grieving a Past One? Let the Cranberries' 'All Over Now' Console You
There are songs that are beautiful and songs that ring true—this is both.
When Dolores O'Riordan of the Cranberries unexpectedly died last year, the music world shook. After a hard divorce with her longtime husband, O'Riordan was suffering from depression, but she also had a renewed energy for a new album. She and her bandmates were working on it, and she was leaving messages about looking forward to the next day of recording when she accidentally died on January 15, 2018. Autopsy results showed only alcohol in her system at the time of her death, and it appears she fell asleep in the bathtub of her London hotel after a long day and then drowned.
It would be a tough decision for any band—do we continue without her? Ultimately her bandmates decided to do so as a tribute to her. The album, In the End, was released in April. In it, listeners will hear O'Riordan's voice, although for many songs they weren't her final cuts but rather recordings pulled from the songs' demo versions. One song that I think rises to the top from the album is the melancholic "All Over Now."
In this simply written song, O'Riordan sings of a relationship in which a woman is trying to hide the abusive behavior of her partner. It's unknown whether it is autobiographical, but the lyrics speak a fearful dread and then relief after the relationship is over.
In the kind of haunting voice only Dolores O'Riordan can provide, she sings:
"Do you remember? / Remember the night? / At a hotel in London, / They started to fight. / She told the man that / She fell on the ground. / She was afraid that / The truth would be found."
In another verse, she sings this time of the woman hiding "a scar on her face." Again, "She told the man that / She fell on the ground," once again afraid the truth would be found.
But the haunting fears subside in the refrain when she sings four times in a row in a calm voice: "It's all over now." In addition to being a beautiful song, O'Riordan's simply written tune offers some wise lessons for women in dysfunctional relationships.
Remember what happened
When it comes to dysfunction in relationships—and especially physical abuse or emotional abuse in relationships—often the first reaction to abuse by those being mistreated is to try to cover it up. Like the woman O'Riordan sings of in her song, often mistreated women are "afraid that the truth [will] be found."
But it's important for those who suspect they are experiencing mistreatment—including the emotional variety, which often comes in the form of deceit, controlling behavior, and manipulation—to document what they are experiencing, to write it down in a journal, for instance, so they remember how frequently incidents are happening and notice any patterns. One can then bring it to a therapist who can identify if certain behaviors are signs of larger problems in the relationship.
Even if a person forgives their partner for a grave hurt, it's a mistake to brush things under the rug, act like offenses weren't so bad, or otherwise try to quickly forget what happened. "Forgive and forget" is a common phrase, but the "forget" part is toxic when it comes to real abuse. In real life, those who experience any type of abuse should take note of red flags, set boundaries they will not tolerate being crossed, and guard themselves against future abuse.
Remove yourself
Unless the partner who showed abusive behavior gets help and changes their behavior to the point where it is consistently healthy (which a good therapist can verify), it's wise for someone to remove themselves from a relationship that has shown signs of abuse. It is always a hard process to leave any relationship, much less one you really hoped would work out, but here's where Dolores O'Riordan's voice offers some consolation: the peace she projects in the refrain—"it's all over now"—is the peace that can be found on the other side of an abusive relationship.
Reveal the truth
O'Riordan's strong moral compass guided the message of her songs, such as her 1994 hit song "Zombie," which decried the 1993 bombing in England by the Irish Republican Army that included two children among the casualties. Of that song, her former manager Allen Kovac told Rolling Stone that, "She felt the need to expand beyond 'I love you, you love me' and write about what was happening in Ireland at the time." O'Riordan described the Cranberries' 1996 song "Salvation" to MTV as being "anti- the idea of becoming totally controlled by anything . . . substances don't really help. Reality is reality, and unfortunately, no [matter] how much you go away, you come back, and it's always here."
The topics of O'Riordan's songs may have varied over the years, but her skill at writing courageous songs never stopped. I couldn't help but sense that same strength in this latest hit. When it comes to these final lyrics, I sense O'Riordan repeated them for emphasis to remind us of the importance of self-reflection for growth.
"Do you remember? / Do you recall? / Do you remember? / I remember it all."
While O'Riordan's life is also over now, I'm confident her airplay will continue on, and the influence of her voice will be long remembered.