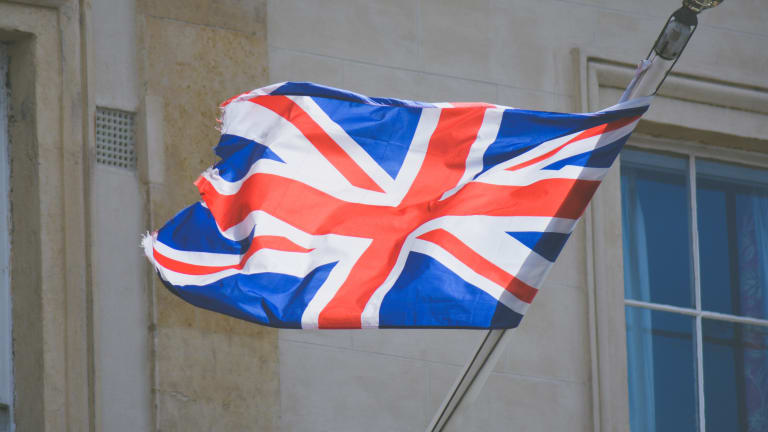 The World Welcomes Royal Baby Archie, and Other Notes from the Week
Catch up on all the news you might have missed with our handy summary of the week's top stories.
We're pleased to bring you "While You Were Out"—Verily quick takes on the happenings of this week.
Meghan and Harry's Baby Arrives!
The much anticipated latest addition to the Royal Family, Archie Harrison Sussex, arrived in the early hours of the morning on May 6! A delighted Prince Harry praised his wife: "How any woman does what they do is beyond comprehension." The Sussexes announced the birth of their 7lbs 3oz (3.2kg) baby boy on their Instagram page and posed for an intimate family shot in St. George's Hall on Wednesday.
The new arrival is seventh in line to the British throne, behind his grandfather, uncle, and cousins, and father. Archie's wellwishers included the royal family and extended relatives, government officials, and royal watchers around the world. William has reportedly welcomed Harry to the "Sleep Deprivation Society!" American fans of the royal family are particularly delighted that the baby is a dual citizen.
Meghan broke with tradition by opting for alternative birth arrangements rather than the highly publicized pose with the baby outside the Lindo Ward. While there has been some criticism in the press for this choice, many others, Oprah among them, have applauded Meghan's determination to make the best choices for her and her family. Happily, any scrutiny has dissolved into delight at the new arrival. Welcome to the world, Archie!—Rachel Wilkerson
L'Arche Founder, Jean Vanier, Dies at 90
The world lost a powerful advocate for those with intellectual disabilities this week in the passing of philosopher, writer, and humanist Jean Vanier, aged 90. A "progressive advocate for marginalized people in society for over five decades, inviting us to discover the profound teachings and the gifts that they offer," Vanier was the founder of two international organizations, L'Arche and Faith & Light. He also authored 30 books in his lifetime and was the subject of a documentary, Summer in the Forest, released in 2017.
In the mid-1960s, after earning a Ph.D. studying happiness in the ethics of Aristotle, Vanier visited a friend who worked as a chaplain in a home for men with learning difficulties. Vanier was unsettled by the conditions in which the men lived and responded by forming a new kind of home, in which neurotypical people lived in community with those with disabilities. The L'Arche community now consists of 154 centers in 38 countries and has touched countless lives.
Vanier greatly valued community and relationships. Of his communities—which he never anticipated would become a worldwide movement—he said, "Genuine healing happens here, not in miraculous cures, but through mutual respect, care, and love. Paradoxically, vulnerability becomes a source of strength and wholeness, a place of reconciliation and communion with others." His perspective on justice and the dignity of the individual has helped thousands of people to recognize and celebrate the gifts of people with intellectual disabilities, enriching our world in ways we can't begin to count. May his legacy live on. —Lindsay Schlegel
MET Gala Takes Place on Monday—With Sequins and Feathers Galore!
On Monday, the iconic annual MET Gala took place, and it promises to go down in fashion history. The theme to this year's Gala was "Camp: Notes on Fashion" a confusing and somewhat up to interpretation theme, based on a 1964 essay of the same name by Susan Sontag. "The essence of Camp is its love of the unnatural: of artifice and exaggeration," wrote Sontag. And with that vague bit of guidance, the Hollywood elite took off with the theme, and boy did they embrace it. Stars such as Lady Gaga, who co-chaired the event, breezed in, already having a full grasp of the camp theme as a part of their daily persona, while others overshot (Katy Perry first wore a chandelier and later a hamburger dress—less camp, more Halloween costume). Some looks, however, were equally on point with the theme and beautiful in their own right, such as Lilly Collin's 60s-meets-French revolution look, Janelle Monae's pop art ensemble, Elle Fanning's wide-leg peach trousers, Sophie Turner's sequined jumpsuit, and Zendaya's magical Cinderella dress.
Still, it's hard not to be slightly befuddled about the theme and, as Celine Dion said of her confusion surrounding the event: "I thought it meant 'camping,'" she said. "We're going to be at the Met and everyone is going to stay and sleep all night together. But no."—Gabriella Patti
Egg Scoring Algorithm for IVF Long on Promises
In the latest overreach of both fertility clinics, a Toronto based startup has trained the first "egg scoring algorithm." IVF clinics have routinely used rather antiquated actuarial charts that show the probability of successfully conceiving as a function of a woman's age to determine the success of IVF. Aiming for more accurate predictions, the company Future Fertility has trained an algorithm on 20 thousand images from partnering IVF clinics. Similar companies have used an off-the-shelf neural network model from Google to try to predict the outcome of IVF. Future Fertility's algorithm predicts fertilization 90 percent correctly, but only predicts whether the embryo will survive five days 65 percent of the time, and successful pregnancy is less than that. These rates reflect a very limited grasp of the driving forces that promote a successful pregnancy, unlike NaPro practitioners who work with women to understand the elements affecting a cycle. Women need algorithms and doctors that work to understand the root causes of infertility and the causal drivers of successful pregnancy.
For families who undertake the emotionally and financially arduous process of IVF, the founders hope to present their algorithm as a way to take some of the uncertainty out of the process. But rather than working together with women to understand the root causes of infertility, it offers a pricey bit of false hope masquerading as technology. In practice, it's rather more likely to add to the financial burden of families as they shell out for an egg scoring algorithm as an additional service. —RW
YouTube Star Austin Jones Goes to Jail for Pressuring Girls to Send Explicit Videos
This week, 27-year-old YouTube star Austin Jones was sentenced to 10 years in prison for pressuring 14- and 15-year-old girls to send him nude and explicit videos and possessing child pornography. Jones, who had amassed 534,000 subscribers singing covers of songs, took advantage of young female fans, asking them to prove they were his biggest fan. Prosecutors said Jones "preyed on their youth, their vulnerabilities and most glaringly, their adoration of him."
The pressure for girls to participate in sexting—that is, send explicit images or videos—is not limited to YouTube stars; in her 2016 book Girls & Sex, Peggy Orenstein explained, "While equal numbers of boys and girls may sext voluntarily, girls are twice as likely to be among those who were pressured, coerced, blackmailed, or threatened into it." Orenstein also found "coercion into sexting appears to cause more long-term anxiety, depression, and trauma than coercion into real-life sex." I'm glad to hear justice was served to those Jones' abused, and I hope his high-profile sentence helps deter other perpetrators. —Mary Rose Somarriba
Georgia Passes Controversial Heartbeat Bill
On Tuesday, Georgia's Governor Brian Kemp succeeded in passing a controversial new law banning abortion after six weeks of pregnancy, the embryonic stage of development at which a heartbeat can already be detected via transvaginal ultrasound.
Georgia is the fourth state this year alone to enact a fetal heartbeat law, and the sixth state overall, joining Ohio, Mississippi, Kentucky, Iowa, and North Dakota in a ground-breaking succession of pro-life policies that could shift the legality of abortion on even a federal level. Indeed, Republican-controlled legislatures across the Midwest and South have bigger goals in mind than just the reversal of attitudes toward abortions in their home states. They hope to eventually be able to overturn the 1973 case Roe v. Wade in the United States Supreme Court, thus ending the notion that abortion is a woman's constitutional right.
Opponents to the bill are up in arms, with activist actors Alyssa Milano and Alec Baldwin leading the fray in Hollywood by declaring that they will no longer work on any productions in the state of Georgia unless the law is overturned. Other protestors point out that at six weeks pregnant most women do not yet realize they are pregnant, much less have had time to book and have performed the abortion procedure. Opponents have largely avoided addressing the focal point of the bill, that the fetus has a heartbeat, a universal sign of life, instead suggesting that the law is nothing more than an attempt to dehumanize women seeking healthcare. Organizations like the American Civil Liberties Union are making plans to challenge the new law.
Gov. Kemp, for his part, says his administration is prepared for a fight in court, saying "Our job is to do what is right, not what is easy . . . We are called to be strong and courageous, and we will not back down." —Mariel Lindsay
Uber and Lyft drivers Protest Across the Globe
The overwhelmingly popular rideshare companies Uber and Lyft are under fierce scrutiny this week after drivers across the country unite in strike against the companies' policies, which they say demean employees. In cities across the nation, and even overseas, drivers this week are protesting decreasing wages and lack of job security by turning off the mobile apps that act as the primary source of labor and income for both companies. They're also urging riders to do likewise and boycott the ride-hailing services in a move of solidarity.
The strike is also strategically timed ahead of Uber's initial public offering (IPO) which is set to also take place this week, its shares to be traded on the New York Stock Exchange. In this way, employees gain some leverage, publicly broadcasting to interested investors that the companies in question are not sustainable as is. After all, what is a ridesharing company worth without the support of its own drivers?
Those on strike want higher wages, protesting the increasingly lower rates that both Uber and Lyft offer drivers. A few years ago, they say, they received about ¾ of riders' wage fees. Now that number has dropped to about ¼. What's more, protestors find company policies toward drivers to be unjust and nearly impossible to remedy via any sort of human resources channel.
Uber, for its part, faces increasing pressure to earn a profit (and crawl out of significant debt) as the company goes public. What's more, they've hinted in the past that they may eventually phase out ride-sharing services in favor of self-driving cars currently in development. Neither Uber's future, nor that of their disgruntled employees, is secure as they butt heads over conflicting aims. —ML
Another School Shooting Takes Place in Suburban Denver
Another shooting occurred this past week, this time at STEM School Highlands Ranch a charter school in suburban Denver. Two shooters opened fire on Tuesday in a British Literature class. Eight students were injured, and one was killed in the attack. The shooting took place not far from Columbine High School, a community that just commemorated the twentieth anniversary of a tragic school shooting in 1999.
The one person who was fatally shot was student Kendrick Castillo, who died when he lunged at the shooter, in an attempt to confiscate the gun and stop the attack. "I know that because of what he did, others are alive, and I thank God for that. I love him. And he is a hero and he always will be," his dad, John Castillo, said. Our hearts hurt for the families and the school community at large. —GP
Good News of the Week: Asia Bibi Finally Heads to Canada
Asia Bibi, a Pakistani Christian woman who spent years on death row after being convicted of blasphemy, has finally been able to leave the country is headed to Canada! We have been following Asia's story for a while, as she was originally convicted in 2010 when she was accused of insulting the Prophet Muhammad. Last year, the Pakistani Supreme Court overruled her conviction. Since Bibi is ostensibly no longer safe in Pakistan, she was offered asylum in Canada by Prime Minister Justin Trudeau. After being persecuted for such a long time for her beliefs, we are so happy for Bibi and her family who will be able to lead a quiet and peaceful life from now on. —GP
Watch of the Week
This week, in anticipation of the live-acted Aladdin opening in theaters, Disney released a mellow version of "A Whole New World" featuring vocals by Zayn Malik and newcomer Zhavia Ward.
Articles of Note