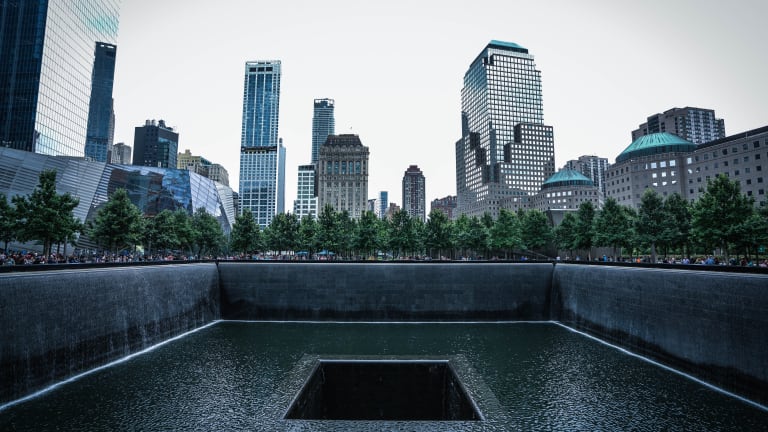 New Memorial Honors Courageous Lives Sacrificed Beyond 9/11, and Other News From the Week
Catch up on all the news you might have missed with our handy summary of the week's top stories.
We're pleased to bring you "While You Were Out"—Verily quick takes on the happenings of this week.
Man Who Abducted Jayme Closs is Sentenced to Life in Prison
This week, Jake Patterson, the 21-year-old Wisconsin man who kidnapped a middle school girl and killed her parents last October, was sentenced to life in prison. Jayme Closs, whose name made headlines as a missing person before she escaped her 88-day captivity, declined to appear in court but had a statement read on her behalf.
In her statement, Closs first listed the things Patterson took away from her, beginning with her mom and dad. "They did all they could to make me happy and protect me. He took them away from me forever. I felt safe in my home, and I loved my room and all of my belongings. He took all of that too. I don't want to even see my home or my stuff because of the memory of that night. My parents and my home were the most important things in my life. He took them away from me in a way that will always leave me with a horrifying memory."
But then Closs began listing the things her captive could never take from her—her freedom, her courage, and her spirit. "He can't ever change me, or take away who I am. He can't stop me from being happy and moving forward with my life. I will go on to do great things in my life, and he will not." —Mary Rose Somarriba
World's Smallest Born Surviving Baby Leaves the Hospital
This week, a baby born with the smallest birth weight recorded, 8.6 ounces, was released to go home with her mother and father. Saybie, as the California hospital staff nicknamed her, was delivered early at 23 weeks gestation when doctors determined she was not progressing and her mother's health was believed to be at risk. The parents were told they could expect an hour with their micro-premie child before she died of complications, but hours turned to days, and Saybie continued to grow. Now, after spending almost five months in a neonatal intensive care unit, Saybie is going home with a remarkable story to take with her, offering hope to moms of premature babies and high-risk pregnancies. —MRS
New Hampshire Abolishes the Death Penalty
This week, New Hampshire became the 21st state to abolish the death penalty. NPR reports, "Where people found guilty of the crime once were exposed to a possible death sentence, the new law calls for life in prison without the possibility of parole." Republican Gov. Chris Sununu vetoed the legislation, but the state Senate voted 16-8 to override the veto and make put the law on the books. Senator Martha Hennessey shared, "I am grateful to the many survivors of murder victims who bravely shared their stories with the Legislature this session, many of whom told us that the death penalty only prolongs the pain and trauma of their loss." The news has since received praise from such advocates as Sister Helen Prejean, the religious sister made famous for providing spiritual support to convicts on death row, which she recounted in her best-selling book Dead Man Walking. —MRS
We Really Can Tell You How to Get to Sesame Street
In honor of the iconic show's 50th anniversary, New York City has permanently renamed the intersection at West 63rd Street between Central Park West and Broadway, "Sesame Street." The location is that of the Sesame Workshop offices. Big Bird unveiled the new street sign with Cookie Monster, Elmo, and other monsters in attendance. At a ceremony earlier this month, Mayor Bill de Blasio also named May 1, 2019, "Sesame Street Day." The gesture is part of a yearlong celebration. This summer, a road trip will bring the joy of Sesame Street to a dozen cities across the country.
Sesame Street reaches children in 150 countries and 70 languages, with the goal of helping children grow smarter, stronger, and kinder. The show has won 192 Emmy Awards in its tenure, and in recent years, has introduced a character with autism as well as a foster family.
Beyond the show, the Sesame Workshop is engaged in initiatives to reach refugee children in Iraq, Jordan, Lebanon, Syria, and Bangladesh. The organization's traumatic-experiences initiative seeks to reach children facing "hunger, uncertain housing, and a parent absent or behind bars." Cheers to giving the future of our world a strong start. —Lindsay Schlegel
Missouri Joins Alabama in Passing Ban on Abortion
Missouri Governor Mike Parson signed a bill banning abortion after eight weeks, joining Alabama in passing one of the most restrictive abortion bans in the nation. The bill passed with super-majorities in both the House and the Senate before coming to the governor's desk.
The "Missouri Stands for the Unborn Act," aka House Bill 126, does not allow exceptions for rape or incest but does allow exceptions for "medical emergencies to prevent the death and irreversible physical impairment of the pregnant woman." Under the law, abortions are also not allowed for a diagnosis of potential Down Syndrome or because of the race or sex of the unborn child. Additionally, the legislation makes changes to the definition of a pregnancy resource center for tax credit purposes.
In a press release, Governor Parson "encourages all Missourians to get involved in efforts to support life in their communities, whether that's opening your family's home to adoption to assist children in need, volunteering at your local pregnancy resource center, or joining with your faith community to provide the necessary support to help individuals choose life." He noted that his state recently hit an all-time low for the number of abortions in the state: from more than twenty thousand to under three thousand. —LS
J.K. Rowling Announces 4 New Harry Potter E-Books
The British author known for introducing the world to Harry Potter announced this week the publication of four new short books. They will be available on June 27 as e-books for $2.99 each on her e-commerce site Pottermore. Rowling says these new installments will "take you back in time once again to learn about the traditional folklore and magic at the heart of the Harry Potter stories." While these aren't expected to be big blockbusters, Rowling, who was a struggling single mother before her books made her famous, continues to show her savvy for providing creative stories in accessible formats. —MRS
Good News of the Week: New Memorial Honors Courageous Lives Sacrificed Beyond 9/11
This week at the site of the 9/11 Memorial in Manhattan, a new memorial was unveiled, dedicated to "those whose actions in our time of need led to their injury, sickness, and death." Called the Memorial Glade, this addition is comprised of six monoliths that recognize the people who died after 9/11 of health complications related to dangerous exposure to toxins when helping in rescue or recovery efforts.
"Like the heroes we lost on 9/11, their selfless acts provided light that helped guide us through our darkest hours and they allowed our city to rise again," said former Mayor Michael R. Bloomberg, who is also chairman of the 9/11 Memorial and Museum. Here's to always remembering their courage and sacrifice. —MRS
Watch of the Week
This week on America's Got Talent, viewers watched a 22-year-old man named Kodi Lee defy the odds when he shared his vocal and piano-playing talent with judges and a studio audience. Kodi is blind and has autism, but, as his mother explains, music is his consolation and equalizing medium of communication. Have your tissues handy.
Miss our "Articles of Note" section? Subscribe to Verily Daily emails and check out our new suggested reading at the bottom, in our new "May We Recommend" section.