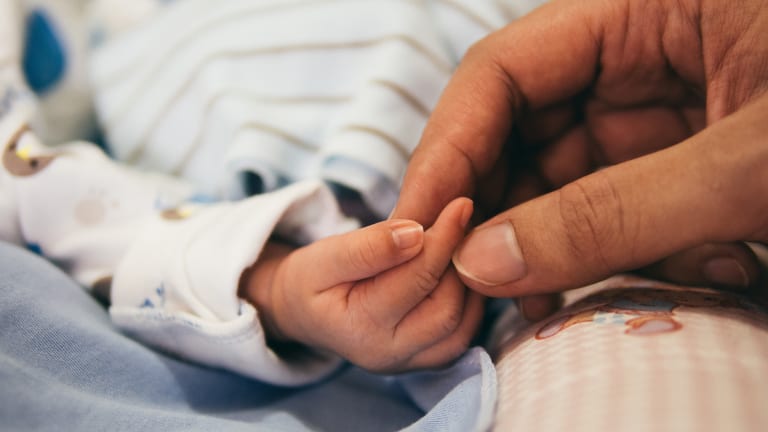 Fertility Fraud Bills Progress through Two State Legislatures, and Other Notes from the Week
Catch up on all the news you might have missed with our handy summary of the week's top stories.
We're pleased to bring you "While You Were Out"—Verily quick takes on the happenings of this week.
The United States Mourns After Two Mass Shootings in San Diego  and Charlotte
This past week, the United States mourned yet again as another series of unrelated mass shootings took place on both coasts. On Saturday, the last day of Passover, a shooter entered the Chabad of Poway Synagogue in Southern California, and opened fire, killing one and injuring three others. Lori Kaye, was in the synagogue mourning her mother's death when she was shot and killed. This comes exactly six months after the Tree of Life Synagogue Shooting in Pittsburgh and within a month of the shootings in mosques in Christchurch, New Zealand and the Easter Sunday bombings at churches in Sri Lanka. 
The alleged gunman is 19-year-old John Earnest, a nursing student at California State University San Marcos. His family has since come out with a statement expressing their shock and grief at their son's actions. "Our sadness pales in comparison to the grief and anguish our son has caused for so many innocent people. He has killed and injured the faithful who were gathered in a sacred place on a sacred day," the family said in their statement.
Then, on Tuesday, as University of North Carolina at Charlotte students were wrapping up their last day of classes for the semester, a gunman opened fire in the university's Kennedy building, killing two and injuring four others. The shooter was former student, Trystan Terrell.
In moments of evil and grief, however, there are always those who rise up and prove there can still be kindness and courage in the world. Rabbi Yisroel Goldstein, who was injured in Poway, survived because Kaye shielded him from the gunman. Appearing on the Today Show this past Sunday, he said, "I guarantee you, we will not be intimidated or deterred by terror. Terror will not win." At UNC Charlotte, student Riley Howell was one of the victims, but not before he rushed at the shooter, attempting to stop him. "He did such a heroic thing," his aunt, Morgan Howel Moylan said. "It was absolutely no surprise. In fact, I have four children who so look up to him. Every one of them said, 'Of course, he was the hero—100 percent, of course, he'd run toward the shooter.' He was everybody's protector. You felt safe when you were with Riley." Our hearts go out to the victims, their families, and the communities of both UNC Charlotte and the Poway Synagogue. —Gabriella Patti
Fertility Fraud Bills Progress through Indiana and Texas State Legislatures
A new class of sexual assault may soon find its way into state legislatures in Indiana and Texas. "Fertility fraud" occurs when a healthcare provider implants human sperm, eggs, or embryos from an unauthorized donor. In a number of the cases that have come to light in the last few years, women have been artificially inseminated with sperm not from the donors they chose, but from the fertility doctor himself. Often the fraud is discovered when adults begin to do genetic research on their bloodlines and find that the choices made by their parents were not honored.
This was the case with Dr. Donald Cline, whom genetic testing has proven to have fathered at least 47 children without their mothers' consent. As these children have come forward, they have expressed concern that they or their children will become romantically involved, and some have shared that they are in therapy. One woman, Jacoba Ballard, said, "How do we define ourselves when you know you are the product of an immoral and unethical procedure that was hidden from our parents?"
Currently, this supreme act of dishonesty is not officially illegal, but it looks like that will soon change. Last month, a bill was approved in the Indiana House and Senate, and now awaits the governor's signature. If made law, "felony charges will be on the table in cases of deception involving human sperm, eggs or embryos."
In Texas, where Eve Wiley also discovered that her donor father was, in fact, her mother's fertility doctor, a bill passed unanimously in the Senate and is headed to the House. In this case, "unauthorized, intentional implantation of 'human reproductive material' [would be categorized as] a state jail felony, punishable by between six months and two years in jail and a fine of up to $10,000."
In addition to Indiana and Texas, fertility fraud lawsuits have been filed or accusations made in Virginia, California, Colorado, New York, Oklahoma, Washington, and Idaho. —Lindsay Schlegel
Sri Lanka Places Ban on All Face Covering (Including Burkas) Following Easter Bombing Attack
Following the April 21 Easter bombing attacks that left more than 300 dead in Sri Lanka, the grieving nation has decided to ban "any face covering that hinders the identification of individuals in a way that threatens national security," according to a Statement by President Maithripala Sirisena. The ban, which took effect on Monday, particularly affects fundamentalist Islamic women who dress publicly in face-concealing veils and garbs like burqas and niqabs. Those who advocated for the new law point out that the convenient erasure of identity of the veils have made them ideal disguises for terrorists, who use them to more easily carry out terrorist attacks. Those who protest the law believe that its implementation has more to do with Islamophobia than any veritable public security risks.
Indeed, this is not the first time a society has decided to ban the face veil, as France controversially implemented a similar regulation almost a decade ago. Just last year, however, the United Nations Human Rights Committee (UNHRC) declared the ban a violation of human rights as, in their eyes, it "did not allow for a reasonable balance between public interests and individual rights" to dress according to one's religious beliefs.
Regardless of where one stands on the issue, the debate begs a vital question: Is being able to identify one another integral to public interest and safety? In either case, in a world increasingly rocked by mass terrorist attacks. the public's desire to be able to identify those around them is certainly understandable. —Mariel Lindsay
Taylor Swift Makes Comeback with Music Video "Me"
Taylor Swift launched a new single that features cotton candy-colored snakes, a cameo of her two cats, and a riot of pastel colors. Her new hit single and accompanying video "ME!" debuted to a record-smashing 69 million views on Vevo in the first day.
The single is astoundingly peppy, in a not-so-subtle bid to wreck Billboard's summer hits. In the lyrics, Swift trades the vengeful tone of Reputation for a saccharine self-love anthem. Swift has said of the song, "it felt like something that could make you feel good. And, I just want that right now for people. I want that for me when I perform it. I want to feel good and feel positive and feel hopeful and I feel like a song is like a mantra." While the song isn't a lyric masterpiece, it does accomplish its goal of over the top cheeriness.
The video is one nonstop Easter egg hunt for dedicated Swifties. As a long time Dixie Chicks fan, I watched the video initially just to see the framed photo of the band as Swift sings "There's a lot of cool chicks out there." Fans have speculated that a collaboration may be in the works. The most delightful fan theory turned fact is that Swift has acquired a new cat, Benjamin Button. Furthermore, Swift commissioned a "ME!" mural of multicolored butterflies and cats from Nashville-based artist Kelsey Montague.
Considering the pressure and scrutiny Swift has faced over the past few years casts the single in a different light. This is the 30-year-old Taylor Swift who knows who she is and celebrates that unapologetically. Not a bad take-home message for an inevitable summer hit. —Rachel Wilkerson
Study Finds Teen Suicides Increased After '13 Reasons Why' Aired on Netflix
Netflix's 13 Reasons Why made waves last year as one of the most popularly viewed shows among teens. It also raised plenty of eyebrows as it chronicled not only the depression and suicide of protagonist Hannah Baker, but also lists other people and actions as her "reasons" for ending her life. Mental health experts, disturbed by this storyline, accused the show of romanticizing or glorifying suicide as a means of vindication, of finally being heard.
Now, with 13 Reasons Why in the middle of its second season, troubling research published Monday in the Journal of the American Academy of Child and Adolescent Psychiatry suggests a possible causation effect between the show's views and a rise in male teen suicide. The study finds that in the month after the series release boys aged 10 to 17 experienced the highest suicide rate in five years. Researchers were surprised that suicide rates for girls in the same age range did not significantly increase, as they assumed they would more intimately relate to the show's heroine. One possible reason for the gendered contrast in data, they conjecture, is the fact that females are more likely than males to attempt but not complete suicides.
In response to the study, a Netflix spokesperson said the network is "looking into the research." With the show currently in production for its third season, the findings could incite a cancellation or merely influence the writers to adopt a more mindful, realistic portrayal of mental illness. In any case, this news is a good occasion to revisit a Verily article from this past fall: "We Need to Dismantle the '13 Reasons Why' Thinking If We Want to Turn the Tide of the Suicide Epidemic." It's also an occasion for a healthy reminder: If you or someone you know is experiencing depression or thoughts of suicide, reach out for help by calling 1-800-273-8255. —ML
Debate Ensues About Female Avengers Scene
The much anticipated film Avengers: Endgame broke records this week, earning more than $1.2 billion globally. While the film has gained high ratings from critics and audiences alike, it has not failed to provide fodder for diehard fans to debate about on the interwebs. One such topic this week was a scene toward the end of the film when multiple female superheroes appear in one highly choreographed shot, teaming up to provide backup for Captain Marvel. Some viewers, including many females, felt the shot was "forced" and "tried too hard" for a girl power moment. Speaking to the New York Times, one of the film's writers Stephen McFeely admitted, "There was much conversation. Is [the scene] delightful or is it pandering? We went around and around on that. Ultimately we went, we like it too much."
I have to say I'm in McFeely's camp. Overkill or not, when I saw the scene last weekend, I loved it. For me, you can't have too much of a good thing. And I immediately felt determined to get a poster of the shot to cover my basement wall. To each her own! —Mary Rose Somarriba
Good News of the Week
A night shift tow truck driver in Florida named Chris Miracle saved the life of a 77-year old woman this week when he listened to his gut and turned his car around to investigate some blinking lights he saw on the side of the road. What he found after pushing through heavy brush about 40 yards off the road was a car nose-down in a ditch, with the driver still in the seat. The news report says she had a mishap with her medication and had veered off the road, but, with no cell phone, she just put on her hazards and waited for help. Chris Miracle called for emergency help and also personally towed her vehicle out of the ditch. The woman received medical care but was released with only minor injuries. Talk about a reminder to turn around and take a closer look when something doesn't seem right. —MRS
Watch of the Week
This video of a chimpanzee scrolling Instagram went viral this week, perhaps as a reminder to us that anyone can get addicted to smartphones. Stay safe, friends.
Articles of Note