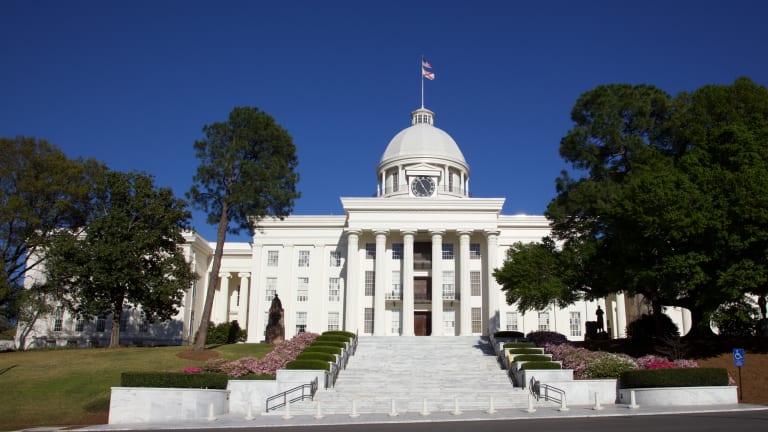 Alabama's Abortion Law Receives National Response, And Other News from the Week
Catch up on all the news you might have missed with our handy summary of the week's top stories.
We're pleased to bring you "While You Were Out"—Verily quick takes on the happenings of this week.
Alabama Passes Most Restrictive Anti-Abortion Law in the Nation
This week, Republican Gov. Kay Ivey signed into law the Alabama Human Life Protection Act. In a tweet announcing the law's passage, Gov. Ivey wrote, "To the bill's many supporters, this legislation stands as a powerful testament to Alabamians' deeply held belief that every life is precious and that every life is a sacred gift from God." The legislation is currently the most restrictive anti-abortion measure in the country. When it goes into effect in six months, it will ban all abortions in the state—including those pregnancies that result from rape or incest—except when "abortion is necessary in order to prevent a serious health risk" to the woman. Doctors who perform illegal abortions could face up to 99 years in prison; those who attempt abortions could face up to 10. There would be no legal ramifications for women who undergo attempted or completed abortions.
As you can imagine (and you're probably aware, thanks to your Facebook feed), to say the law is controversial is an understatement. As of Thursday evening, Gov. Ivey's tweet had more than 66,000 comments. Yet some argue that nothing will really change, since "because of Roe [v. Wade]'s precedent, a state cannot ban abortion outright prior to the point of viability," which is currently held to be at 24 weeks. However, with so-called "heartbeat bills" passing in six states, it's possible that the legal definition of "viability" could shift to a much earlier gestational age.
With news of new legislation concerning abortion nearly every week, it seems clear that there is a concerted effort to get the Supreme Court to look again at Roe v. Wade, especially since the appointment of Justice Brett Kavanaugh. What's less certain is what will happen if that time does, in fact, come. —Lindsay Schlegel
Actress Alyssa Milano Calls for a Sex Strike to Protest Georgia's Abortion Ban
Actress Alyssa Milano is up in arms after Georgia's governor Bill Kemp passed a controversial new 'heartbeat bill' last week that outlaws abortions after six weeks. She has declared that she will no longer film in the state if the law is not repealed, and has urged others to join the fight to reinstate what she believes is a woman's constitutional right.
As part of her rallying cry, she took to Twitter to urge women to take part in a sex strike that would, according to a piece she later coauthored for CNN, "target . . . men so they may feel the physical consequences of our reproductive rights being systematically eliminated." What's more, she pointed out that it is simply too dangerous for a woman to risk pregnancy without access to abortion.
The sex strike has been largely mocked as an ineffective way to coerce men into battling for abortion rights, but interestingly enough the idea has found unintended allies in the pro-life camp. Declaring that it's no longer safe to have sex unless one is willing to accept a pregnancy—this is exactly the description of mindful abstinence that some anti-abortionists live by. Milano's intention seems more motivated by outrage with men who expect sex while holding women as the sole parties responsible for carrying pregnancy consequences. One thing that people on both sides seem to agree on is that it's unfair for the child-rearing burden to fall only to the woman, when it takes two to tango. —Mariel Lindsay
Another Migrant Child Dies After Being Held in Federal Custody
A two-and-a-half-year-old Guatemalan boy, whose name has not been released, died Tuesday night just over a month after crossing the border with his mother. According to the U.S. Customs and Border Protection, they were apprehended in El Paso, Texas and taken into federal custody until the mother announced, three days later, that her son was sick. He was then taken to a nearby hospital, diagnosed with pneumonia, then transferred to a children's hospital the following day, where he continued to exhibit a high fever [and] difficulty breathing."
Tragically, his condition worsened until he passed on May 14th, making him the fourth Guatemalan minor, since December, to die after crossing the border and being apprehended by border patrol. In fact, in December alone, two Guatemalan children, aged 8 and 7, died from complications from infections following detainment by CBD (Customs and Border Protection).
U.S. immigration authorities, for their part, have taken some measures to prevent continued deaths of migrant children, including increasing medical checks of minors. At the same time, Homeland Security Secretary Kevin McAleenan warned that the heavy influx of Central American migration was pushing the immigration system to its "breaking point." Immigrant advocates are likewise deeply concerned, questioning the health and safety conditions in federal holding facilities. The Guatemalan Consul, speaking to Guatemalans considering the long and dangerous trek to the United States, warned that "this is a highly dangerous journey and children are the most vulnerable."
With nearly 100,000 migrants crossing the border each month, their detainment at the border becomes increasingly fraught with difficulties, with no clear resolution yet in sight.—ML
Remembering the Iconic Doris Day
Actress and singer Doris Day died this week at her home in Carmel Valley, California at the age of 97. A dedicated animal advocate, Day first came to fame as a singer and actress. Les Brown, with whom she sang for several years, said that, "As a singer, Doris belongs in the company of Bing Crosby and Frank Sinatra." Indeed, the memorable "Que Sera, Sera" won an Oscar and "Love Me or Leave Me" was nominated for Academy Award.
An accidental movie star who dreamed of a constant home life, Doris starred in almost 40 films including musicals like The Pajama Game and thrillers like Hitchcock's The Man Who Knew Too Much. Her performance in the comedy Pillow Talk earned her an Academy Award nomination. While the films are sometimes looked down on today as promoting a restricted version of femininity, Doris's unapologetically defended her steadfast character. She turned down part of Mrs. Robinson, a seductive temptress, because it "offended [her] sense of values." Her values met with derision and cruel nicknames from the critics.
For someone whose ambitions largely veered toward the domestic arts, Doris was truly unfortunate in love. Her first husband proved violently abusive and insisted she had an abortion against her will. Doris refused and became a divorced, single mother at 20. Her second husband was insecure about Doris's impending success. He left her as he "thought she was going to be a big movie star and didn't want to be Mr. Doris Day." While her third marriage appeared happy on the surface, the death of her third husband revealed his embezzlement that squandered her earnings.
Ever resilient, Doris later starred on The Doris Day Show for five years. The success of the show helped her recoup financial loses. Through the dark periods of her life, her pets proved to be a constant source of joy to her. She said, "I never found in a human being, loyalty comparable to that of any pet." In retirement, she and her son moved to Carmel-by-the-Sea where they owned a pet-friendly resort. Her love of dogs earned her the nickname "Dog Catcher of Beverly Hills," and her seven-acre estate offered a sanctuary for them. Her compassion, resilience, and strength of character mark a truly extraordinary life. —Rachel Wilkerson
Kelly Ripa Says Bachelor Shows Are Gross
This past week, Live with Kelly and Ryan host Kelly Ripa shared with co-host Ryan Seacrest that the show The Bachelor "disgusts" her. Ripa added that she can't "stand the idea of 25 exceptional women fighting over one ordinary fella, in my opinion. You know how I feel, ladies? We are too special to be arguing over a guy." Ripa then added in a joking tone, "having said that, all of you women watch that gross, gross show"—perhaps speaking to the addictiveness and mindlessness of certain reality TV shows.
What followed was something of an uproar by those invested in the Bachelor show. Among the responses, was this tweet from the creator of the Bachelor franchise Mike Fleiss: "Easy, @KellyRipa ... #TheBachelor franchise pays your salary!" To which Grey's Anatomy actress Ellen Pompeo couldn't help but come out of a social-media hiatus to respond: "Your show does NOT pay @KellyRipa salary. Also we don't attack successful women on our network and men certainly cannot take credit for their success."
Meanwhile, on Thursday the current show bachelorette Hannah Brown joined Ripa and Seacrest on their morning show and shared that she felt empowered from the show and met a lot of great friends in it. Ripa listened and conversed respectfully, while maintaining her stance. —Mary Rose Somarriba
Good News of the Week
Actress Emilia Clarke may be the subject of much fan outcry this week, at least in the context of her Game of Thrones character's latest behavior this week. But in good news, Clarke used her last season on the HBO show to share a personal struggle she's worked through the past few years, and create opportunities for others to benefit in recovery as she did. Clarke revealed this year that she suffered two brain aneurysms early in the shooting of Game of Thrones, and for a time she suffered such memory loss that she couldn't remember her own name. Now, after many surgeries and years of hard work, Clarke has created a charitable foundation called SameYou.org where she helps others with similar problems to access to life-saving medical attention and support. Perhaps more than anything, Clarke wants to help those recovering from brain injuries to remember, you are the same you, no matter what you're going through and what state you never expected to find yourself in. Way to take advantage of the much-followed show's final season to help people in great need. —MRS
Watch of the Week
Doris Day sings "Love Me Or Leave Me" in the 1955 film by the same name.
Articles of Note