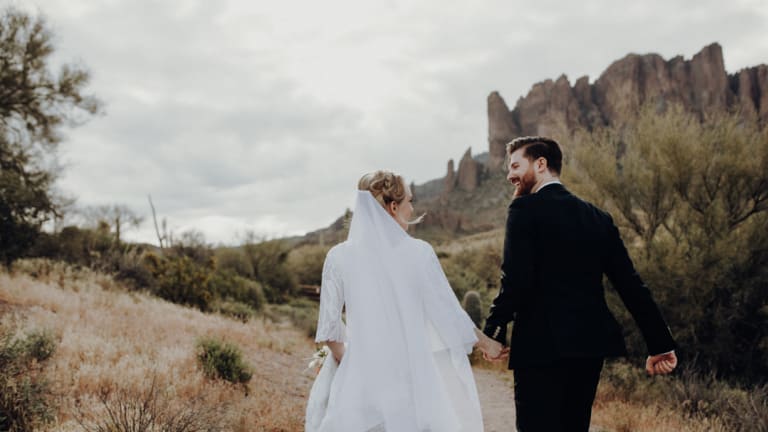 The Imperfect Moments That Make Up a Perfect Wedding Day
True joy lies beyond the Instagram filter.
As I scroll through my social media feeds, shed an outer layer of my clothing, and celebrate my own springtime wedding anniversary, I realize it's happening: wedding season is upon us.
As I think about my own wedding day three years ago, I find myself both smiling at the sweet memories and realizing that some of my favorite moments from that day were not able to be captured by camera—they were things that we didn't plan in advance.
I remember the long planning process—I was so engrossed in my wedding planning that I even "planned out" my favorite wedding memories before they actually happened. Before I ever walked down the aisle, my time was consumed with daydreams of the memories I would make on this day: saying "I do," the first kiss, the first dance, throwing my bouquet . . . you get the idea. And while some of these moments did become great memories, many of my favorite moments ended up taking me completely by surprise.
Seen objectively, I know that my wedding day was in fact quite far from perfect. Yet it was exactly these "imperfections" that made it such an extraordinarily special day—perfect in every way to me. Here's what I learned from that beautiful experience.
01. It's not essential to follow every wedding tradition.
Sure, I still had a traditional wedding in the sense that it was conducted in a church, I wore a big, white dress, and all of our family and friends were there. But the fact that we didn't kill ourselves to follow every wedding tradition ended up freeing us, rather than depriving us. By forgoing some of the wedding traditions (whether intentionally or accidentally), we saved ourselves a lot of heartache, stress, and financial strain.
As a child, I used to dream about cutting our big, beautiful three-tiered wedding cake—in large part because of one picture from my parents' wedding that I had seen a thousand times. As it turned out, though, my husband and I had no fancy cake, no cake cutting, and no consequent cake-smashing.
We couldn't agree on a cake together, and we thought it would be nice if everyone could have a piece of cake that they truly loved. Instead of the traditional wedding cake, we had various kinds of small, delicious cakes and cupcakes (many made by my mother's wonderful friends). As for the cake cutting and smashing—we simply decided that this wasn't something we wanted to do, so we didn't! As we learned during this time, if something doesn't feel right or comfortable for you, you don't have to do it—plain and simple.
I also used to dream about how much fun it would be to gracefully toss my beautiful bridal bouquet in the air (though I don't believe I've ever "gracefully tossed" anything in my life) for all of my friends and sisters to fight over. But, alas, this traditional wedding moment did not transpire at my wedding either—and in this case, it was truly an oversight. I ended up completely forgetting about the bouquet toss in all of my wedding bliss and distraction, and nobody else remembered it either until I had already left the reception with my groom! I learned later that my new sister-in-law conducted a bridal bouquet toss in my honor. The traditional bridal bouquet toss instead became the bridesmaid bouquet toss, a funny story that I wasn't actually a part of, but that still makes me smile.
02. It's the little things you can't predict that matter the most.
The things that I never could have foreseen ahead of time ending up meaning the most to me in hindsight. One of the most special moments of my wedding day was when my childhood pastor prayed over me before I walked down the aisle. My family has been close to him since I was in grade school, so it meant so much to me to have him bless me on my big day. He was getting old and frail, and he ended up passing away several weeks later, making my wedding the last one he attended in his lifetime—so that this moment is all the more precious to me.
Even though I would have died from mortification if anyone were to tell me that my nose would become a leaky faucet on my way down the aisle on my wedding day, I recall this memory now with only tenderness. My dad had to pull out his new, sparkly clean handkerchief at the end of our long walk down the aisle because my nose was running from my failed attempts at holding back tears. I didn't get that picture-perfect trade off with my father placing my hands in my groom's because he was too busy wiping my nose! Though it was slightly embarrassing, I nevertheless look back now at this unplanned moment with laughter and fondness.
And, speaking of walking down the aisle, my adorable flower girl (my little cousin) had specially requested that we play a song from The Lion King as I walked down the aisle. Although I was sad to decline her request (as fun as it would have been to walk down to "Hakuna Matata"), I made up for it by dancing with her during the reception to "Can You Feel the Love Tonight." In all my wedding planning, I had never guessed that this Lion King moment with my little cousin would rival my first dance with my new groom.
As hard as it is to heed the advice to just enjoy your wedding and be completely present on your big day, it's helpful to realize that what you'll remember are really those small, special moments that make it the best day of your life—the moments for which you truly cannot plan.
03. Remember that this day is not just about you and your husband.
Sure, everybody is gathered on your wedding day to celebrate you and your husband and to be a witness to your commitment to each other for the rest of your lives. However, one important takeaway from the "biggest day of my life" was the realization that this day did not just revolve around us.
One of the most incredible moments was looking around the church from the front and seeing my favorite people from all over the country gathered in one place—it was completely surreal. I felt so lucky to have so many people who loved us enough to make this long trip for us. It was also unreal to see all of our worlds colliding—I don't think I will ever again have a chance to see my great aunts talking to my college friends and my childhood friends talking to my new in-laws!
During our vows (one of the treasured memories from the day that did make it on camera), I simply tried to get my words out clearly and correctly—and without any other leaky nose incidents. My new husband, on the other hand, bellowed his words out loud enough for the entire church to hear. When I poked fun at him later for reciting them so loudly, he replied that he wanted everyone there to hear the most important words he would ever say.
This was such a good reminder to me—that these people were gathered here because they loved us and wanted to be there to hear the most important words we would ever speak. It also made me so happy to see my parents, who had put an incredible amount of work into this day, reunited with their loved ones. I realized that people came not just to support me and my husband, but our parents as well. And we, in turn, needed to make sure that we were there for them. As difficult as it can be, it is so important to make an effort to greet and talk to everyone there, soaking in each (usually clipped) conversation with the people who have played some part in your life.
04. Your wedding day will not be perfect, but it will be made up of perfect moments.
Weddings are naturally going to involve some degree of drama. What I learned, though, is that you can choose not to be involved in the drama, and to simply let it go and turn it into a funny memory. No amount of planning can ensure that everything is going to run perfectly smoothly.
Our wine somehow didn't make it to the reception. Half of my new in-laws were sick and barely felt well enough to attend the wedding. My flower girl did not make it into our wedding party pictures. My cute little brother got a little too excited about the bowls of M&Ms on the kids' table, and my mother had to rush to help him as he got sick from the candy overdose in the middle of the maid-of-honor speech. One of our bartenders forgot that his job was just to serve the alcohol.
Nothing could have been done to prevent these small mishaps from taking place—yet none of it actually mattered on the actual day of our wedding. In fact, they have become some of my favorite stories to retell years later. If there's one important lesson I learned, it's that regrets are pointless, and expecting perfection is both exhausting and unreasonable.
As imperfectly perfect as our wedding was, one of the best memories of all was pulling out of the reception parking lot with my new groom by my side and a full heart—a heart filled to the brim with love, gratitude, and an arsenal of memories I knew I'd have forever.
Editors' note: If Verily elevates your day and helps you live a more deeply meaningful and fulfilling life, please consider joining us at Verily Yours. Verily Yours subscriptions give you more empowering content (that's not like our website content), while also supporting our publication, including our efforts to develop a print magazine.