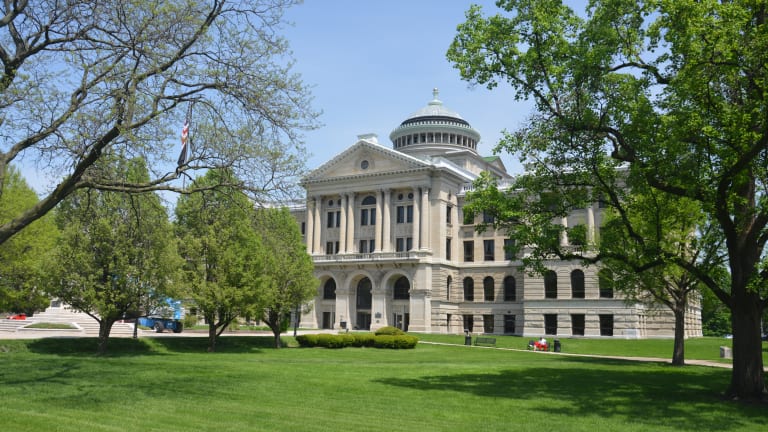 Travel with a Local: Toledo, Ohio
The unexplored big city with Midwestern charm
Name: April Hays
City: Toledo
Why should we visit your town/city?
Holy Toledo! It's a familiar phrase and a familiar American city—but often unexplored. Tucked on the very northern edge of northwest Ohio, right off of Interstate 90 and the Maumee River, the Toledo metro area is big enough to have all the attractions of a larger city (from an award-winning art museum and Broadway-style theater, to a thriving culinary and sports scene)—but small enough to be affordable, full of charming Midwestern main streets, and teeming with outdoor activities. Easily accessible by car, Amtrak, or Megabus, Toledo is the perfect destination for a quick weekend away at any time of year.
Where should we stay?
There are clusters of hotels in and around the city, so finding a place to stay is no problem. The Holiday Inn Express in Perrysburg (a Toledo suburb) offers easy access to a wide variety of activities. If you'll be downtown for most of your trip, the Renaissance is your best bet. It's at the heart of the city with river views, a rooftop bar and a great restaurant on the ground floor.
Where should we eat?
The Glass City boasts a diverse restaurant scene appealing to every taste and price point. Perhaps the most famous is Tony Packo's, offering the iconic Hungarian hot dog and other specialties like chicken paprikas. I'm partial to the stuffed cabbage and spicy pickles. Visitors to the main downtown location are greeted by a wall of hot dog buns signed by celebrities. Their pickles, chili sauce, Hungarian noodles, and more are for sale in the gift shop.
For a more high-end option, Fowl and Fodder, also located downtown, is a farm-to-table concept featuring Ohio's best organic produce, grass-fed beef, fresh-baked bread, and a juice bar for breakfast, lunch, and dinner. Try their avocado toast on maple oat bread with cashew cream, or their fried goat cheese salad, with a dirty lemonade (an organic sparkling drink with activated charcoal). They also have a small cocktail menu (the Mi'Almosta features cold-pressed carrot juice) and local beers.
Te'kela on the south side of Perrysburg offers a modern take on Mexican with four kinds of made-to-order guacamole (try either the carnitas or shrimp guac). The tacos are great and affordable, and you can get the fajitas in lettuce wraps. Show up between 3 and 5:30 p.m. to get half-price appetizers and margaritas.
5th Street Pub in downtown Perrysburg serves wood-fired pizzas (get the s'mores pizza for dessert) in a great atmosphere. In the summer, the bar crafts mojitos with housemade simple syrup and all fresh ingredients (you can get one without alcohol—delicious, and the price of a soda!), and year-round they pour a creative collection of martinis (just $5 on Thursday night).
If high tea is more your jam, make a reservation and visit Clara J's Tea Shop in a historic Victorian home just off Main St. in Maumee for a relaxed lunch or afternoon tea. Sit down in a dining room with an eclectic collection of teacups, choose your tea, and make sure to get a scone with Devonshire cream and their famous lemon curd.
You can get the best cupcake of your life (seriously) at Cake in a Cup, a Food Network Cupcake Wars-winning cupcake shop. Flavors like Cookie Top, Raspberry Champagne, Black & Tan, and Cherry Coconut rotate daily and monthly. Try a few samples before you commit to one!
Which coffeehouses are the best and why?
"The 419" (a nickname—Toledo's area code) is scattered with locally-owned coffee shops, each with its own unique vibe, but here are three favorites. Maddie & Bella Coffee Roasters, (with downtown Toledo and suburban Perrysburg locations), is the gold standard for beans roasted locally in small batches. Stop by for one of their daily brews or a honeybee latte made with locally-sourced honey and milk and house-made vanilla syrup (all their flavor syrups are made in-house). They also boast a rotating menu of seasonal drinks like matcha limeade and lavender mocha.
Just across the river in historic uptown Maumee is Georgette's Grounds and Gifts, which offers a wide selection of fair-trade classic and flavored blends. They brew six of their most popular blends each day, as well as offering espresso drinks, baked goods, and delicious handcrafted soups and sandwiches. Featuring local art and a gift shop with an impressive selection of fair-trade wares from around the globe, Georgette's sets itself apart by partnering with a local organization to employ adults with developmental disabilities.
Finally, The Flying Joe, on the outer edge of Perrysburg, combines a seasonal menu of expertly crafted coffee drinks (like the cardamom rose latte) with a unique cocktail menu (current sips include a lemon lavender mimosa). Stop by for a killer breakfast sandwich or a banana Nutella muffin. Plus, a bonus: The Flying Joe is a short walk from the Perrysburg Holiday Inn Express.
What sites should we see?
The Toledo Art Museum, housing an impressive collection of classic and modern art, is a must-stop for any visit to Toledo. Its award-winning Glass Pavilion offers one of the country's largest museum glass collections. You can sign up online for a workshop (my daughter and I made frosted glass mugs), watch a glassblowing demonstration, or join one of the Glass Pavilion's seasonal Friday night wine tastings. The museum itself is free, but there is a small fee for parking and for some of the exhibitions.
In the winter months, the Toledo Symphony performs their classical series in the Art Museum's Peristyle Theater. The Symphony performs at a variety of venues year-round. Highlights of the 2019-2020 season include: Handel's Messiah, Toledo Ballet's Nutcracker (the longest-running Nutcracker performance in the country), and Grammy and Emmy-award winning violinist, Itzhak Perlman, playing the music of John Williams.
If you're in town on a Thursday from May to mid-October, don't miss the Farmer's Market in downtown Perrysburg. Start by sampling three kinds of raw honey from Dee's Bees and then pick up some homemade chocolate graham crackers from So Many Somethings. Order a blackberry lemonade from Ackerman Berry Farms while you check out local produce, home decor, baked goods and so much more. If you can refrigerate what you buy, pick up some grass-fed beef or pastured pork from Weber Ranch, farm fresh eggs, or uber-nutritious microgreens.