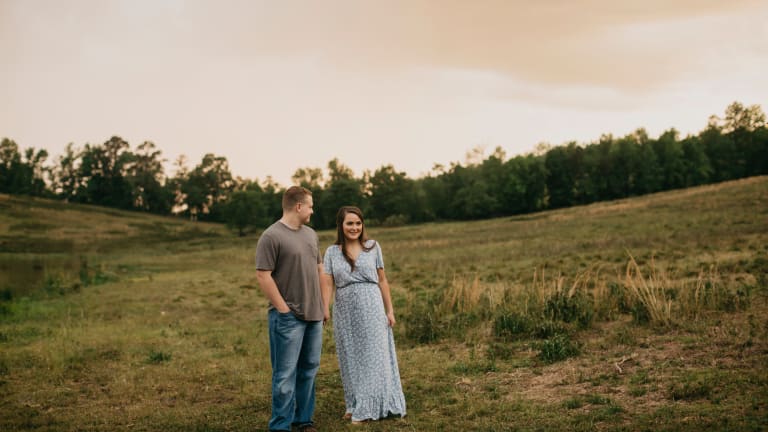 The Simple Tweak That Inspired More Romance in My Marriage
It only takes less than ten minutes a day
In our season of life, my husband and I have a lot on our minds. With an infant, a toddler, and not a lot of sleep, life sometimes feels like a blur—a blissful blur, but a blur nonetheless. It's easy to let the romance between us slip by the wayside. Budgets, chores, and the other logistics of sharing a life take over our conversations and our time. I imagine most women with children can understand this reality. But as the foundation of family life, marriage deserves more than that. More to the point, I desire connection with my husband, too.
I want to give my husband more than the tired me at the end of the day—to show him that even though the kids need much of my time and attention, he is still first. Yet, in my sleepless delirium, finding time and energy for that sort of attention can be tough.
Recently, while listening to the radio, I heard some advice about the importance of doing one thoughtful act for one's spouse every single day. It was such a simple idea, and I think that's why it stood out to me.
Sure, there are myriad kinds of things my husband and I do for each other every day. But this was an invitation to take it one step further—to be more intentional. To nurture my marriage in a single small way every day, no matter what. One small thing—I could do that! In fact, it reminded me of a piece of marriage advice someone once gave my mom, which she passed on to me: "Be kind to each other." The more I thought about this advice, the more I wanted to try it.
A little dose of extra kindness might not seem like a lot, but research shows that it can have a big impact.
In one study, researchers at Penn State found that people tend to associate small, positive gestures—even non-romantic ones—with love, even more than they associate loving words with love.
"It is possible for people to feel loved in simple, everyday scenarios," said Saeideh Heshmati, a postdoctoral research scholar who worked on the study. "It doesn't have to be over-the-top gestures."
It's obvious that acts of kindness are good for the person on the receiving end, but they're also good for the giver. One study found that even when an act of kindness isn't acknowledged by the recipient, the person doing the action still benefits emotionally.
According to a different study, doing acts of kindness above and beyond what we usually do can help lower the negative effects of stress. So, while showing extra kindness may be the last thing on our minds when we're in the midst of a stressful situation or season, it could be exactly what we need.
Rather than vaguely committing to intentional acts of kindness, I developed a concrete plan. I came up with a list of ten action prompts and decided to choose one each day for ten days. I tried to incorporate all five love languages—different ways in which people give and receive love. I know my husband's primary love language, but I also know that he appreciates things that don't necessarily fall into that category. None of the actions take more than a few minutes, and most of them are free.
Before I started, I didn't really consider what I would do when the ten days were over. But just a few days in, I was hooked. This challenge didn't cause our obstacles to go away, nor did it magically transport us to a newlywed-like state of euphoria. But it did rekindle an earlier state of our love life when I was regularly striving to show an extra measure of care for my husband.
It felt like collecting spare change in a jar—a penny here and a nickel there don't do much on their own, but if you gather enough of them, they can add up to a hefty sum. One extra kind act a day isn't a lot, but over the course of a lifetime, those acts form an enriching habit.
If you'd like to try this in your own marriage, here are the ten prompts I used. If they don't work for you, feel free to adjust them. These acts of kindness are for your husband, so they should reflect your relationship and fit into your lifestyle. You might even find one action means so much, it becomes part of your daily routine.
Let us know how it goes by posting a photo and tagging @verilymag on Instagram!
Action Prompts: Ten Intentional Acts of Kindness
Text him to let him know one specific thing you appreciate or admire about him.
Tackle one of his chores so he doesn't have to.
Jazz up the dinner table with candles to create a special ambiance—even if you're just having leftovers.
Take a minute in passing to scratch his back or massage his neck.
Get up before he does to make the morning coffee, or have a cool drink waiting for him when he gets home.
While running your normal errands, pick up a little treat for him, like his favorite candy bar or snack item.
Before you part ways in the morning or when you reunite at the end of the day, slow down and give him a long hug and a deep kiss. A six-second kiss can work wonders; if you're feeling adventurous, you can even stretch it out to fifteen seconds.
Do a little "turndown service" at bedtime—pull down the sheets and place a little chocolate or a mint on his pillow.
Write a short note telling him you respect him, and hide it in his lunch box, his gym bag, or somewhere else he'll be sure to see it.
Find five minutes to sit beside him, hold his hand, and really listen to what he has to say, whether it's about his day, an interesting article he read, or the latest baseball scores. It doesn't have to be a long or deep discussion—just close and sincere.