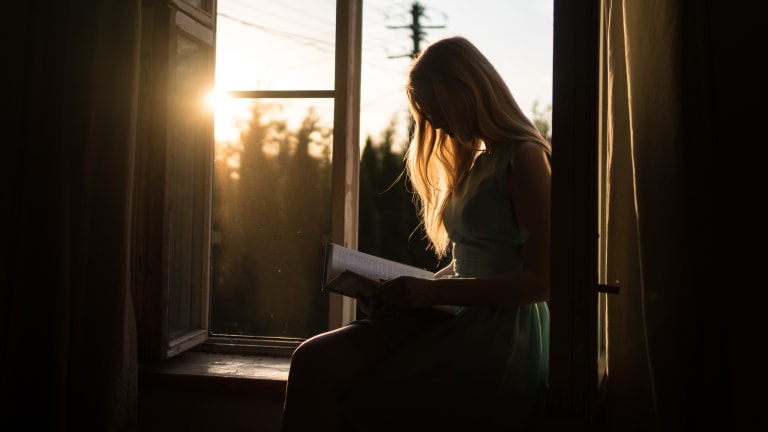 5 Literary Gems to Read This Summer
The booklist to accompany you through your breezy summer days.
There is something about summertime that elicits a desire to read romantic, lighthearted literature. In the summer I tend to push my more dismal novels (read: my collection of Russian literature) to the side for the season in exchange for books brimming with romance, humor, nostalgia, and captivating storytelling.
While there is certainly nothing wrong with reading the occasional cheesy romance novel (I'd be lying if I said I'd never enjoyed a Nicholas Sparks book), I am often disappointed by the summer book lists that circulate the internet at this time of year and contain few books of real "substance"—and many easy-breezy, predictable romance novels.
Without getting into the debate of what gives a book "literary merit," I'm here to offer a few suggestions with sophisticated plots, developed characters and themes, and a lovely writing style. Try passing a sunny summer afternoon immersed in one of the following (mostly) lighthearted novels:
01. Middlemarch by George Eliot
When my literature-enthusiast aunt told me that Middlemarch is one of her favorite reads of all time, I knew that I was destined to love it too. Although it is a hefty book and took a good chunk of a summer to complete, I had zero regrets for the time spent among the entangled lives of Eliot's many colorful characters in early nineteenth-century England.
I found the pious and philanthropic heroine, Dorothea Brooke, to be a very relatable character. Although her genteel background was much more refined than my own, she still struggled with some of the all-too familiar issues of identity and creating a life full of meaning and love. While her story, including her rocky marriage to the Reverend Casaubon, is the true center of the novel, there are a multitude of characters and plot lines. However, their lives interweave together so seamlessly that I did not find their stories hard to follow.
In true Austenesque fashion, Eliot has a certain knack for depicting early English high and middle-class society with satirical humor. Middlemarch is more verbose—and on a certain level more complex—than Jane Austen's works, but if you're an Austen addict who is looking for something a bit deeper than the average modern romance novel to delve into this summer, I urge you to find a copy of Middlemarch.
02. Hannah Coulter by Wendell Berry
This book is so authentic and thoughtful that it's almost hard to believe it's fiction. It is written from the perspective of a sweet elderly woman, Hannah, looking back at her life that she shared with her husband, her children and grandchildren, and perhaps most significantly the well-loved land that she and her husband farmed together for decades.
Hannah Coulter is a simple yet striking story of one woman's ties to her land—to her home—and how her farm sustained her family and became their "place," the place that defines them and means everything to them. Hannah reflects, "Most people now are looking for 'a better place,' which means that a lot of them will end up in a worse one." Hannah instills a love and appreciation for home, wherever that may be, as well as gratitude for simple living, good neighbors, hard work done well, and even for grief. Her life was not an easy one, and yet there is an underlying tone of hope and thankfulness throughout her entire narrative.
The simplicity of the story proves that you don't need lots of "drama" in order to make a truly timeless and touching novel—Berry's prose is completely captivating just as it is. And although it's not exactly a "romance" novel, the beautiful dialogue between Hannah and her second husband, Nathan, makes theirs a love story I want to emulate myself. Sentimental without being cheesy, Nathan's words to Hannah fill my romantic soul and make me want to retire with my husband on a farm: "Hannah, my old girl, we're going to live right on. We'll love each other, and take care of things here, and we'll be all right."
03. Emma by Jane Austen
Trying to pick a favorite Jane Austen novel is like trying to pick a favorite dessert. Yet, if I had to choose just one to spend my summer vacation with, I know that Emma would be the winner. Austen did not think she was creating an easily lovable character with Emma Woodhouse (indeed, she even commented that she was creating a character she thought no one but herself would like)—not only is Emma a tad spoiled and high-spirited, but she is also meddlesome and self-assertive.
And yet, it's exactly for these qualities, along with her humorous wit and spunky character, that it becomes almost impossible not to love her. Emma loves love, and after introducing her former governess to her future husband, Emma decides that she has a natural gift for matchmaking. Unfortunately, her "gift" results in a catastrophic, hilarious mess of misunderstanding and confusion for all involved in her matchmaking experiment. Still, Emma's kindness and true desire to see her friends happy make her all the more endearing. I find Emma to be one of Austen's most clever, entertaining, and lighthearted books, and therefore the perfect summer read.
04. Brideshead Revisited by Evelyn Waugh
I had no idea what to expect the first time I started reading Waugh's famed book, but I was not disappointed. Waugh has a beautiful, brilliant style of writing that brings the decades prior to World War II to life in a wonderfully unique way.
Charles Ryder, the protagonist, shares the story of his life prior to the war, centering around his close friendship with the young aristocrat Sebastian Flyte and later Sebastian's entire family at Brideshead Castle. The reader witnesses the story of how this family essentially alters Ryder's outlook on life as he reminisces about his past with surprising humor and clarity.
I was enthralled with Brideshead Revisited and the many lovable, often pitiable characters it depicts, especially the complex Julia Flyte, who perhaps goes through the most dramatic change in the novel. Although I was surprised by some of the darker moments in the novel, including many questions of self-identity, religious doubt, and guilt, I found it ultimately full of hope and thoughtful contemplation. It is a beautiful story of transformation—one where people make mistakes and learn from them. If you ask me, it is a work of art that will be especially appreciated during summer—that season especially marked by the sentimentality that is Sebastian Flyte's hallmark: "If it could only be like this always—always summer, always alone, the fruit always ripe . . ."
05. Gone with the Wind by Margaret Mitchell
Gone with the Wind takes place in mid-nineteenth-century Georgia, in the midst of a changing South during the American Civil War and Reconstruction era. Against this backdrop, the charming, hard-headed, and selfish Scarlett comes of age—a woman who thinks she knows what she wants (namely, a man she cannot have) and will do (almost) anything to get it, even if that means hurting others. The novel is not lacking in the romantic or dramatic departments (Scarlett wins the hearts of quite a few men!), and it even contains a fair bit of humor.
However, it is anything but your typical romance novel. As Scarlett's stubborn willpower leads her down a self-destructive path, it becomes almost impossible to put the book down for both anticipation and trepidation. Mitchell's compelling prose certainly helps as well. Despite knowing how the story ends (no spoilers for those of you lucky enough not to know it!), I think I just may make reading Gone with the Wind an annual summer tradition.
With all due respect to conventional summer romance novels, I'd rather spend my summer beach vacation or a weekend afternoon on my porch with any of these true literary gems. They may not all contain perfect, storybook endings (or beginnings, for that matter!), but they do offer plenty of wistful musings, romantic sentiments, and overall food for thought.
Editors' note: If Verily elevates your day and helps you live a more deeply meaningful and fulfilling life, please consider joining us at Verily Yours. Verily Yours subscriptions give you more empowering content (that's not like our website content), while also supporting our publication, including our efforts to develop a print magazine.