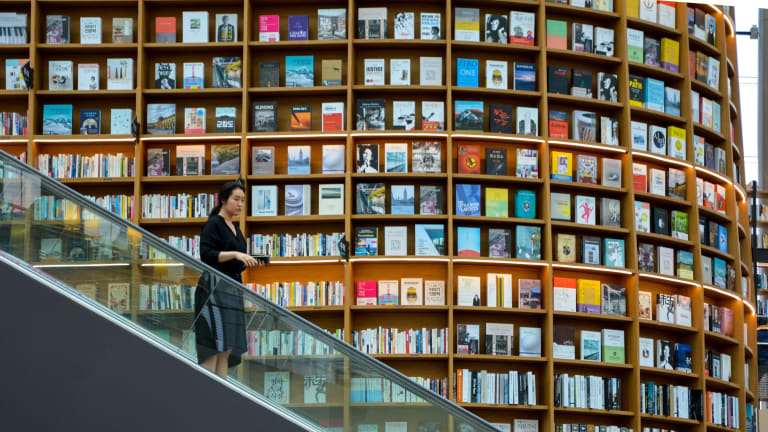 Podcast Recommendations for Bookish Women
Same interest, different medium!
I'm a reader. Whether I'm browsing the library shelves or chatting with the owner of my favorite local bookstore, I'm always on the lookout for another book to read and adore. But unfortunately, I can't read nearly as much as I'd like to—so many amazing books, so little time. On the days that I'm simply not going to be able to read as much as I'd like, I pop in my headphones and turn to "bookish" podcasts, that is, podcasts that celebrate all things literary.
So if you're a bookworm whose shelves are overflowing with a too-heavy "To Be Read" pile, these podcasts are the perfect addition to your morning commute or evening laundry folding session.
01. Remember Reading (Apple Podcasts // Spotify)
If you were a big reader growing up, you probably have fond memories of books like The Mouse and the Motorcycle and Charlotte's Web. In this podcast from HarperCollins, host Lindsay Jacobsen breaks down the story behind these beloved reads and features audio clips from die-hard fans explaining what the books have meant to them. She also intertwines the stories with commentary from more recent authors who were inspired by the classics. As much as I love stories, I sometimes find the story behind the story even more fascinating. What inspired E.B. White to write Charlotte's Web? How did Lemony Snicket dream up Count Olaf in A Series of Unfortunate Events? If you spent your middle school days curled up with a book, this is the show for you. 
Can't miss episode: Ella Enchanted
02. What Should I Read Next? (Apple Podcasts // Stitcher) 
Anne Bogel, best known for her nerdy lifestyle blog Modern Mrs. Darcy, has created a show that's a gold mine for any fan of books. In her podcast, guests come prepared with books they've loved and books they've hated and give Anne the chance to recommend new ones to check out. Any reader knows the struggle of finishing an amazing read, only to have no idea where to turn next. Anne's show dives into a love of reading and invites listeners to step outside their comfort zones while embracing the things they love in order to find the perfect book! 
Can't miss episode: Underappreciated Books That May Be Perfect For Your TBR
03. Tales (Apple Podcasts // Stitcher) 
Do you find yourself longing for some good old-fashioned fairy tales? Well, this podcast presents the classics like you've never heard them before! Instead of talking about books, this show retells fairy tales in their original format—which means they're often kind of dark and creepy. Tales is perfect for adults who devoured every Disney movie growing up and want to hear the tales the way they were originally told. Host Vanessa Richardson walks you through the stories as if you're listening to a cozy audiobook. Hearing the stories, as they were first told, shows just how much fairy tales have been morphed by our culture. 
Can't miss episode: Little Red Riding Hood
04. Read-Aloud Revival (Apple Podcasts // Stitcher) 
This one is for the parents. In this show, host Sarah Mackenzie walks listeners through the best books to read aloud in your family. A fierce advocate for reading out loud to your kids well past the age they're able to read themselves, Sarah breaks down popular classics, interviews authors, and chats with scientists about the neuroscience behind being read to as a child. She also gives tips for fitting reading out loud into your family's busy schedule and best practices for selecting books that a wide range of age groups will enjoy. No matter how old your kids are, or what types of reading material they're interested in, Sarah likely has an episode with recommendations for your family. Each episode also comes with a detailed show notes page where each book mentioned is linked. 
Can't miss episode: How to Create a Book Club Culture at Home