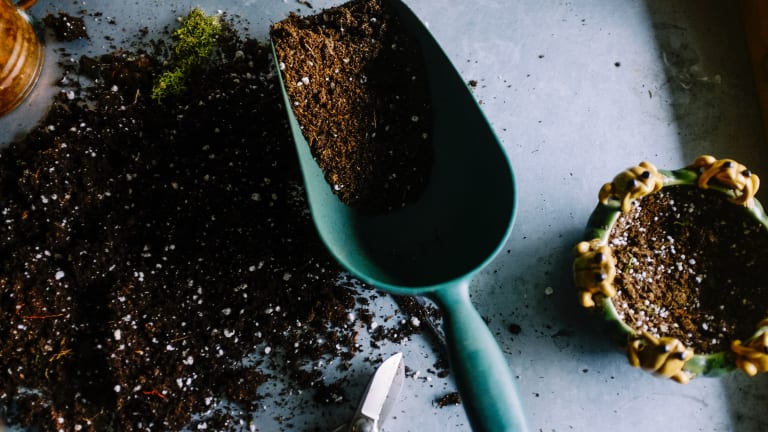 Patio Gardening for the Brown Thumb
A fool-proof and beginner-friendly guide
Though I come from a line of excellent gardeners (both my grandmother and my mother can make anything grow) I can't make a claim to a green thumb of my own. I'm an amateur in the original sense of the word—I love plants and gardening, and often pore over seed catalogues and tiny seedlings. I don't make my selections with real skill, though, and enthusiasm for plants often leads me into unrealistic purchases; my new green friends sometimes meet early graves.
But my eyes still stray to the colorful displays in front of grocery stores and nurseries—petunias and fuschias, roses and marigolds. And now that plants can be outside (thank goodness!) I've put some thought into the form of gardening that fits into almost any lifestyle: planting in outdoor pots. Pots are versatile, interesting, and can even be multi-season (I've seen a potted tree brought indoors for the winter), and they can go with you for minor moves. Plus, outdoor pots are pretty low-maintenance: put them outside and, at least occasionally, they'll be watered for you.
Here's a beginner's guide to starting a potted patio garden, complete with the advice of the green thumbs who are helping this little brown thumb along:
Getting started
First things first, supplies. Avoid my fatal flaw as an amateur gardener: your pot needs to have a hole in the bottom. If the pot doesn't have a hole, the water can't drain out, and your plants can become waterlogged. I like the classic terracotta pots because they're inexpensive and pretty. But some experienced gardeners don't recommend them because they break easily; they can also get moldy because the water seeps into the walls of a terracotta pot. If you're worried about that, choose something with a glaze that waterproofs the pot. And don't be embarrassed to just get a plastic pot: they come in pretty styles and colors that can blend into the rest of your decor. Then you'll need potting soil—potting soil is different from gardening soil because it has fewer potentially harmful bacteria. For this reason, potted plants are less likely to get the bacterial diseases you can run into with plants in the ground. While you're at it, I'd recommend picking up a cute watering can or two to make watering a fun experience!
If you don't have a dedicated nursery or garden store near you, both Home Depot and Lowe's have extensive and reasonably priced garden sections where you can buy pots, plants, and other supplies. You can also try ordering online: Burpee and Gurney's are well-established seed companies that also stock plants and gardening supplies. What I like about these two websites is their awareness of your geographical location (they tell you what gardening "zone" you are in based on your location). So much about gardening depends on where you are in the world that ordering random plants from a more generic retailer like Amazon could go wrong fast. For that reason the best way to go, if it's available to you, is to duck into a small local store where a real gardener can give you plant advice!
Picking your plants
This is where the real magic happens. The plants that are right for you will vary widely based on region, but here are a few that can thrive in places as widely different as southern California and the northern Midwest. Traditionally, for a big (say, knee-high) pot, you want three different kinds of plants: a "thriller" to be the center of attention, a "filler" to fill the bulk of the pot, and a "spiller" that will cascade dramatically down the side of the pot. Here are some easy-care options:
Thrillers
Dahlia: These lovely star-like flowers come in a wide variety of colors and will happily steal the show in any pot.
Fuschia: These little blooms look like elegantly-clad ballerinas! They will elevate any pot.
Geranium: Geraniums are sturdy container-gardening classics that come in a wide variety of types and colors.
Fillers
Coleus: I'm always fascinated by the kaleidoscope of coleus colors at the garden store. Low-profile and easy to care for, these leafy plants come in a variety of colors and patterns and will happily fill the empty space in a pot.
Dusty Miller: This silvery, dusty-looking plant is a very happy filler for zones 7-10 (that means you want to be in a warm climate for this one). I love the unusual color of Dusty Miller plants and their intricately-sized leaves.
Lamb's Ear: Another silvery plant, this one is fun because it feels fuzzy and soft (like a lamb's ear!) It's a nice alternative to Dusty Miller for slightly cooler climates (zones 4-8).
Spillers
Sweet Alyssum: I love alyssum because one little plant bursting with tiny white-or-purple flowers can turn into a huge frothy waterfall before the summer is over. It's an easy-to-please plant with a fresh scent.
Million Bells: These are lovely if you want a more traditional flower shape to your spiller plant; it has pretty little petunia-like blooms.
Trailing Lobelia: Lobelia's quirky little blossoms range from a beautiful blue to purple and make a lovely spiller plant. Make sure you get the "trailing" version.
Or, do it the easy way
If the thriller/filler/spiller combo is just feeling like too much, there's always the easy way out: a one-plant showstopper. The easiest way to do this is to buy a Supertunia or other petunia. Petunias are virtually indestructible and give you a lot of bang for your buck. Colorful and vivacious, they'll brighten up any patio garden in full sun and will gladly take over a huge amount of pot real estate. Or try a smaller pot with any of the "thrillers" above for an easy-maintenance, simple pot.
If you want to be practical, there are various vegetables that can be grown in pots: try tomatoes, spinach, lettuce, carrots, or even some versions of zucchini and cucumber. A variation on that theme is companion planting: two complementary vegetables planted in the same container can help one another thrive. A small potted herb garden can thrive on your windowsill even as summer eases into fall.
Don't be afraid to do what works for you. A friend of my grandma's plants her vegetables directly in the bag of soil. There are plenty of herb gardening kits that give you everything you need but water. And you're still a real gardener if you pick up one of those pre-planted hanging pots at the grocery store! The health and psychological benefits of gardening can be reaped by everyone—green thumb or brown.