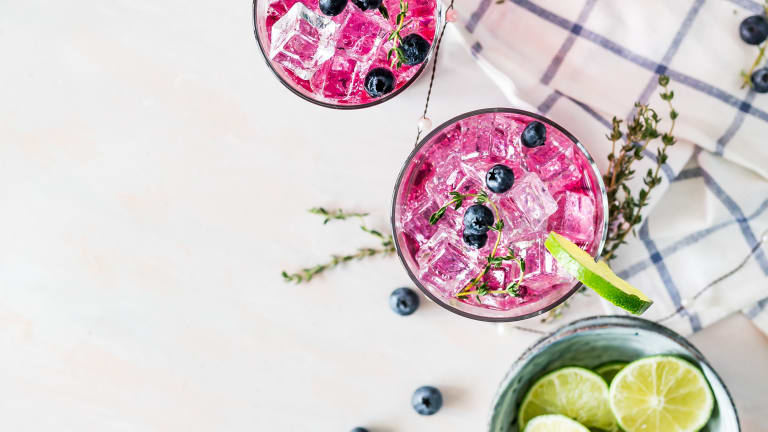 Toast to Springtime with These Refreshing Mocktails
Whether designated driver or refraining from alcohol, these are the drinks for you!
Spring is in the air, and with it come warm-weather thoughts of chilled beer on the beach, hard lemonade, or maybe a glass of white wine. But what if you are the designated driver, are expecting a baby, or simply don't drink? Don't fret, there are plenty of options for you to clink glasses with your friends and join in the toasting and afternoon happy hours, sans alcohol.
My recipe for refreshment? Mocktails! A mocktail is a mixed drink without the liquor that can include a variety of ingredients, including juices, sodas, herbs, and flavored water. When I'm out with friends and not drinking, I tend to order a mocktail rather than a soda—mocktails are more exciting, more fresh-tasting, and often less sugary than your average soda.
You probably already know of one classic mocktail: the Shirley Temple. Ginger ale and grenadine garnished with a maraschino cherry comprise the drink that was the child star's "cocktail" in Hollywood.
The very first mocktail I ordered as an adult was a margarita-inspired beverage: the bartender mixed up a delicious combination of agave and grapefruit in a citrus salt-rimmed glass, a drink I would definitely order again. Don't be afraid to ask your bar of choice if they can mix up a mocktail for you. Even if it's not on the menu, your bartender's skills will certainly suffice. Recently, while my husband and I were with some friends, my husband went up to the bar to order the drinks. Once my husband explained that his wife wanted an alcohol-free drink, and liked margaritas, the light went on in the bartender's eyes. Picking up the pace, he asked, "Does she like blood orange?" He mixed up a sparkling, colorful blood-orange mocktail with a fresh basil leaf as a garnish—a beverage I would be happy to order again!
If going out on the town isn't your thing, or you'd rather create your own drinks for a night in or an upcoming party, here are some great springtime recipes for you to try!
This brightly-colored drink is perfect for having in hand while toasting the warmer months of spring. For an extra fancy presentation, run a lime wedge on the rim of a chilled martini glass, pour sugar on a small plate, and frost the rim of the glass with the sugar. Then strain the liquid in the shaker into the martini glass and add orange juice for added color and flavor as well as your garnish of choice (try citrus peel or a mint leaf).
If you like drinks with a tart bite to them, try your hand at a lime rickey. It's a simple formula: fresh lime juice, simple syrup (you can make your own by combining equal parts sugar and water in a saucepan. To completely dissolve the sugar, bring the solution to a boil on the stove), seltzer water, and a fresh lime wedge to place on the rim. A simple way to add more flavor to this drink would be to use lime-flavored sparkling water instead of regular seltzer—or try something more exotic like grapefruit or passionfruit!
I don't know too many people who would turn down a spritzer on a hot summer day. Not only is it gorgeous, but it's also delicious and hydrating, and water is essential when the temperature spikes. This beautiful mocktail is made with club soda, agave or honey, lime juice, fresh mint leaves, and your choice of berries (the more colorful the better), all poured over ice.
Mmm, my mouth is watering just at the name. This one will take a bit more time and effort—but trust me, it's worth it. You will need a few frozen ripe bananas, pineapple chunks, pineapple juice, and coconut milk frozen into ice cubes. Throw it all in the blender, pour it into glasses, and add a pineapple wedge and a maraschino cherry!
This one is for the tequila sunrise lovers and is super simple to make. Fill a highball glass with ice and orange juice. Slowly pour grenadine over the top and garnish with an orange slice. The grenadine sinks to the bottom and makes the drink look like a beautiful summer sunrise!
This is a mocktail to serve in a clear glass that shows off its beauty. You will need to make your own blueberry simple syrup with fresh blueberries, sugar, and water. To layer the drink with flavor and color, first add mint leaves to the bottom of the glass, followed by your homemade simple syrup. If you have leftover blueberries from the simple syrup recipe, add a few to the bottom of the glass and muddle the ingredients together (use the back edge of a spoon to crush the blueberries and bring out the flavor of the mint leaves.) After mixing, add lime juice, fill the glass with ice, and finish it off with lemon-lime flavored club soda. Optional garnishes include a lime wedge or mint leaves.
This weekend brunch classic only takes ten minutes to prepare. Horseradish, shallot, your favorite hot sauce, and lime create a fresh-tasting spin on the classic tomato-juice cocktail—even without alcohol, every sip will be bursting with flavor. Plus, if you're having an event, you can make a whole pitcher ahead of time instead of mixing up each drink individually. Feel free to add extra garnishes like a beef stick, a pickle spear, or my personal favorite, a mozzarella stick!
Whether you're stepping away from alcohol for just a little while or in it for the long haul, this list will carry you through spring into summer. Cheers!
Editors' note: Do you want more Verily in your life? Join us at Verily Yours. Verily Yours subscriptions give you more empowering content (that's not like our website content), while also supporting our publication, including our efforts to develop a print magazine.