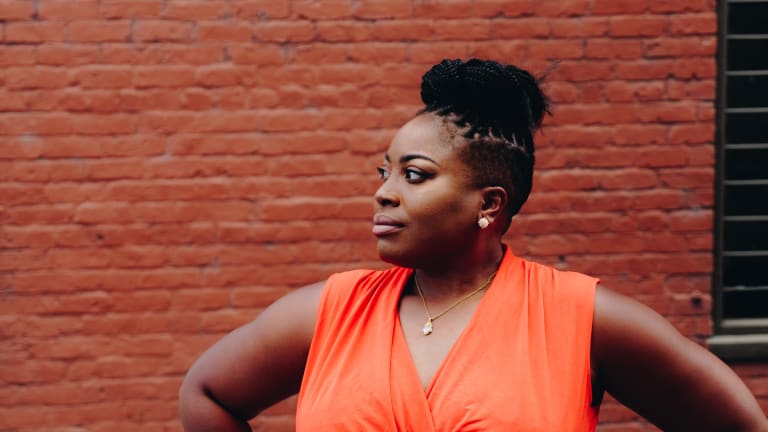 Inclusive Shopping Sizing Tips
Whatever you're wearing, it's nothing compared to who you are.
I always blamed myself after an unsuccessful shopping trip. Clearly, the reason why I could not find any clothes to fit my body was because something was wrong with me, right?
Wrong.
There's a reason why it's hard to find clothes that fit off-the-rack. The fashion industry has only recently taken steps towards inclusive sizing, and there is still a lot of work to be done. Why is it so hard to find clothes that fit?
In an article for Time magazine on"The Bizarre History of Women's Clothing Sizes," Laura Stampler offers a fascinating answer. As Stampler explains, prior to the 1940s, sizing for girls and teens was based solely on age and women's sizing solely on bust measurements. As you can imagine, those numbers were not very helpful.
The U.S. Department of Agriculture tried to collect more data to standardize sizing in order to save American manufacturers the millions of dollars they were wasting by creating garments without set sizes. Unfortunately, the sample was not representative. Catalogs tried to improve upon the concept, but by the 1990s, vanity sizing—when a brand intentionally skews its sizes lower—made those metrics virtually meaningless. For example, according to Eliana Dockterman, also writing for Time, the waistband on a size 6 pair of jeans can vary as much as 6 inches.
Sizing issues quickly become issues in design. Designers frequently base other sizes off of a sample size 4. That's a problem because the proportions do not necessarily translate to other sizes and body types.
Sample sizes give celebrities grief, too. During awards season, Hollywood stars go to great lengths to fit into size 2 sample gowns. Unless a starlet has a prior relationship with a designer or the money to splurge on a custom gown, she faces drastically limited options when it comes to finding couture gowns for awards shows.
To make a long story short, the problem is not you.
Fortunately, the fashion industry is beginning to change.
Anthropologie and Nordstrom are among the stores adding more sizes to their collections. Better yet, brands like Modcloth are moving away from stigmatizing "plus size" language and expanding their sizes to include petite, tall, and numbered sizes that represent all women.
The problem is not just that sizing is not inclusive enough, it's also that sizing is not accurate enough. Fortunately, some brands are trying to change that. Companies like M.M. LaFleur are creating their own sizes with women's real proportions in mind and even offer to tailor for free, giving women a custom fit. Online retailers like eShakti give customers the option to customize garments to their specific measurements and even alter details in design like skirt length, neckline, and sleeve style.
However, until these changes in the fashion industry become more mainstream, we all face the same problem. Women of all sizes still need to get dressed in the morning. How can you shop with success right now?
Here's the good news: until designers get up to speed with what women really want, you can take control of your dressing room experience—here are some tips for how.
01. Ignore the numbers.
They say that rules are made to be broken, and at the very least that is definitely true about dress sizes. The number on the tag does not determine whether a garment fits, nor does it define you.
It can be tempting to buy something when we are pleasantly surprised that it physically fits, or to pass over an item because we don't want to size up. But the only person who sees the number on the tag is you. Don't let it dictate what you can and can't wear! Judge a garment based on fit and don't be afraid to experiment with sizing.
I had to relearn this lesson the last time I went shopping with my mom. I was frustrated that nothing at my favorite store seemed to fit right. I started to critique my body and blame myself, but then I tried on a blouse in a size up in petites. Perfect fit. No one knew that this shirt was different from my so-called "normal" size except me—and my mom had nothing but good things to say when she saw me in it. Size doesn't matter, fit does.
02. Be honest about fit.
Which brings me to my next point: be brutally honest with yourself about whether something actually fits you. "Fit" is more than finding a garment big enough for you; it comes down to whether the tailoring on the garment is right for you and all your unique dimensions.
Some quick reading on how various garments should fit—pants, dresses, and so on—will spare you any fashion faux pas. But more importantly, in my experience, the clothes you really want to wear (and usually do end up wearing) are the ones that fit you properly. No one likes to feel like their clothes are too bulky or too tight.
Sometimes a garment is nearly perfect but not quite right. That's where a good tailor comes in. Read up on what can and cannot be fixed and how to find a good seamstress. You might even be able to pull off some simple fixes by yourself.
Now I feel empowered when I walk away from a garment that does not meet my standards for fit. I would rather save the money for something that I know I will consistently wear.
Whether you favor a more relaxed fit or a tailored look, own it and stand your ground—only buy items that fit you, your style, and your body properly.
03. Be kind to yourself.
Even if you are flexible on sizing and demanding when it comes to fit, it can be hard to find clothes that you like. I have lost count of how many times a shopping trip or online order have left me empty-handed.
It is so tempting to treat these occasions like failures. If only I were thinner, or if I were born taller, or could do something about my short waist.
Not only are many of these things outside my control, they also aren't problems to be fixed.
These are good times to revisit the list of things you love about yourself and your body. I love the color of my eyes, the freckles on my shoulders in the summer, and how I look in a pair of high heels. More importantly, I like all the other intangible things that make up who I am.
It may sound corny, but I'm serious: take some time to come up with a list of things you like about yourself. It will come in handy whenever you are feeling low, I promise. Whatever you're wearing, it's nothing compared to who you are. So the next time you are in the dressing room, be patient with yourself. The fashion industry has not made it easy on us, but you have a secret weapon—self-confidence! A little goes a long way.