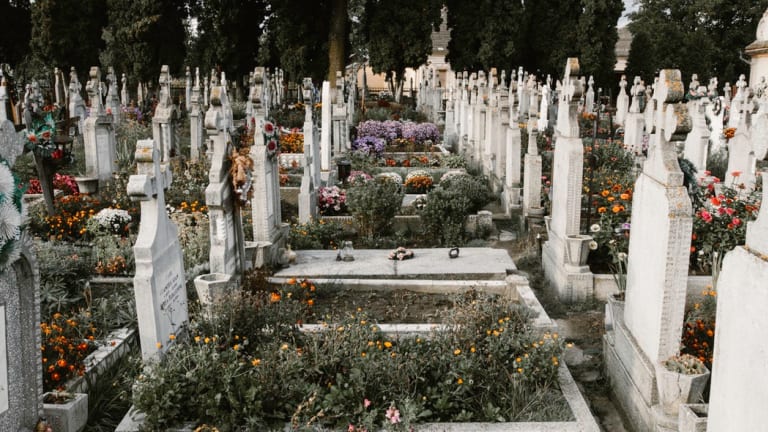 In Her Shoes: Celebrating Mother's Day When Your Mom Has Passed Away
Honoring Mom takes on a new meaning after her death
Editors' note: The In Her Shoes column gives transparency to personal life experiences and perspectives that you or friends may be living with. This edition interviews a woman who lost her mother at a young age.
Name: Andrea Ferguson
Age: 20-something
City: Cleveland, Ohio
Verily Magazine: Can you tell us about your mother? What made her, her? How would you describe your relationship with her?
Andrea Ferguson: This was the hardest question for me, because it's difficult to describe a whole person in a way that captures her whole life. But that said, my mom was really cool, really social, kind of a partier, but she also knew how to relax.
On a practical level, she worked full time but she also volunteered a lot and was very generous, especially with her family and friends. For example, when my aunt had cancer, she would drive her back and forth from her chemo. She really loved dogs, and she volunteered frequently for an animal rescue program. She was overall very involved in the lives of her family and friends. But she knew how to relax too—she read Amish drama novels in her spare time, liked long drives, and enjoying laying out in the pool.
When it came to our relationship—I know this sounds super cliché and a lot of people say it, but—she really was my best friend. We would do a lot of things together—like yoga, shopping, and hiking. We see each other at least twice a week and text every day. Every Tuesday night I'd watch NCIS with her, and we spent most weekends together shopping or hanging out. When I was away for college, in Washington D.C., she'd come from Ohio really often—maybe not exactly once a month but pretty close to that frequency.
VM: Your mother is no longer alive. Can you tell us about her passing?
Ferguson: In September 2017, she found out she had cervical cancer. She went through chemotherapy at Cleveland Clinic and Cancer Treatment Centers of America, as suggested, and she always had a pretty chipper outlook about it.
In February 2018, a doctor told her that the cancer was treatable but not curable. Because she had been so positive all along, that doctor's words made me think, "oh, she'll probably go into remission and we'll have to get it checked out moving forward."
But then, in late March 2018, she was in a lot of pain. She went to the hospital for testing, and that's when we learned the cancer had spread even more. It had ruined her intestines to the point she could no longer hold down any food. At this point, the doctors told her there was nothing they could do.
My mom had a real peace about death. Even before she was sick, she would talk about dying with me in a casual but serious way. So, when she got the news that there was nothing more than can be done, she was very practical. She researched hospices and planned logistics, with our help and support.
I don't know what I expected out of a hospice, but the one we went to reminded me of a spa—it was very peaceful and comfortable. She was there for three weeks.
It was a very tough time, so what I'm about to say sounds a little twisted, but it probably was one of the most peaceful times of my life. I took off work during those weeks, so I'd wake up, go to Mass at the church with my dad, and then I'd go and stay with her pretty much all day. Friends and family would come and visit, and they'd often bring meals for us, which allowed us to really focus on just being with her. Sometimes it'd just us, so I'd read to her while she rested, or we'd talk.
She died on April 13, 2018.
It was a little sudden in that she was diagnosed with cancer and seven months later she was dead. But she did a really good job getting the family ready for her death. My dad never had to worry about the logistical details like financing, because that was her forte. We didn't have to worry about emotional support because she was such a social butterfly she had really good friends who were there for her and for us. She took really good care of her spiritual life, too, and she was very accepting of the fact that she was going to die.
VM: How has her death impacted your life?
Ferguson: With grief, they talk about the void in your life that will never be filled again, and I definitely felt that. While my mom's specific void will never be filled, I feel lucky because friends and family, especially her friends, have helped to fill in some pieces. For example, one of her friends I text about issues about my job; one friend I text about whether something is socially acceptable or not; one friend I text with laundry questions because my husband works in construction and so does hers, so I ask her how to wash construction worker clothes. She's built these strong relationships her whole life, so it's neat now to have a lot of people do different parts of her job as my mom.
People who have also lost moms at a young age have been very helpful, because they know what I'm experiencing and explain things to me so that I could see I'm not crazy in what I'm feeling and experiencing.
I'm pretty Type A and I like being active and doing a lot of things. So when Mom first died, I felt like I didn't want to do anything, which was weird for me. I called it the "blahs," when I wouldn't be motivated to cook dinner or do normal things. Other people told me that is normal and it will get better, but I would say I'm a little less active than I was before, not as out and about as I used to be. It's been a really good way, though, for me to settle my thoughts.
Other people in my life have stepped up a little bit. I spend more time with my family and friends than I did before because I don't spend any time with Mom. It's been a cool thing for me to build deeper relationships with those people in my life.
VM: Mother's Day is a day when we celebrate and thank our mothers for all they've done for us. I imagine that purpose takes on new meaning when your mother has passed away. Do you have plans to celebrate your mother in any special way?
Ferguson: Last Mother's Day it was exactly one month since she'd died and it was awful. The best thing I did, and I'll do it again this year, is to stay off social media because people post about their moms and it's beautiful but it makes me depressed about my situation. I really appreciate now more than ever the importance of close relationships with our moms, but seeing all the posts on Mother's Day still makes me feel bad because my mom's not here.
Last year my dad, brother and sister, and my husband and I went to one of her favorite restaurants. That was nice, but difficult because the grief was still so raw.
This year, one of her friends is hosting a brunch and I will likely go to that. It will be nice because I'll be around people that knew and loved her.
I find a lot of comfort visiting her gravesite, so I'll likely go there as well.
And lastly, any time when I'd normally give her a gift—her birthday, Christmas, Mother's Day, etc.—I donate to one of her favorite charities. I find this a good way to use the money I would have spent on her to honor her and what mattered to her.
Day to day, I do little things to remember her—I have a lot of photos around. My sister and I also split up Mom's clothes and jewelry, so I wear some of her things when I want to feel close to her. On her birthday, I walked my dog and made cupcakes—both things that she liked to do. One fun thing is that I made a special Pandora station with the songs and artists she liked, like Brad Paisley, the Jersey Boys, and Dr. Hook—it makes for an eclectic mix but I love it!
VM: Are there things your friends could say to you or do for you that are comforting and helpful on this day? Are there things that would be unhelpful?
Ferguson: I really appreciate when people acknowledge that my mother has passed away. But for me personally, I'm not a feelings person, so when someone tries to push me to talk about my feelings it's upsetting. I would say this is where it's important to know your friends and trust them to lead a little with what they're wanting to talk about or not. Always ask and acknowledge—it will mean a lot—but don't push them to share more than they want to.
When it comes to what is unhelpful, I find it upsetting when people complain about their own mothers in front of me. I know that's hard because everyone's human—I'd complain about my mom sometimes, too. But now that my mom is gone, when someone complains about their mom I think, "You're lucky to still have your mom no matter what kind of fight you're in." Again, complaining about situations with your mom is a normal thing to do, but I'd just recommend not doing it around someone whose mother has passed away.
VM: As women, we doubt ourselves a lot, and our mothers are often the guide that helps us to calm those doubts. Does your mom's wisdom still help you when you doubt? When you doubt, do you miss her presence more, and if yes, how do you cope?
Ferguson: Especially growing up, I was a very confident child, and my mom would be the one who would bring me back down to earth. Now that she's passed away, I've been doubting myself more than normal because I'm missing that huge piece. So when I do doubt, it's comforting to think about how much she loves me and how that can never change.
One of the first things I remember thinking in the aftermath of her death is "Mom and I left on good terms. There's no threat of having a big fight or not talking to each other." So, when I feel upset, it's helpful to remember how much she loves me and that's the biggest thing that matters.
I also like to reach out to her friends because all of them are a lot like her—they have strong marriages, good careers, and can give me good advice as I need it.
VM: Here at Verily, we love our Daily Doses—quotes or phrases that motivate or inspire us. Do you have a mantra or phrase that you love or live by?
Ferguson: "Let kindness and fidelity never leave you; bind them around your neck," Proverbs 3:3
I like this because it's a physical image, and I like it as it applies to my mom because they're two important traits that I feel she exemplified. I think if you're kind and faithful to the people in your life and the places you're asked to be, things can't really go wrong.