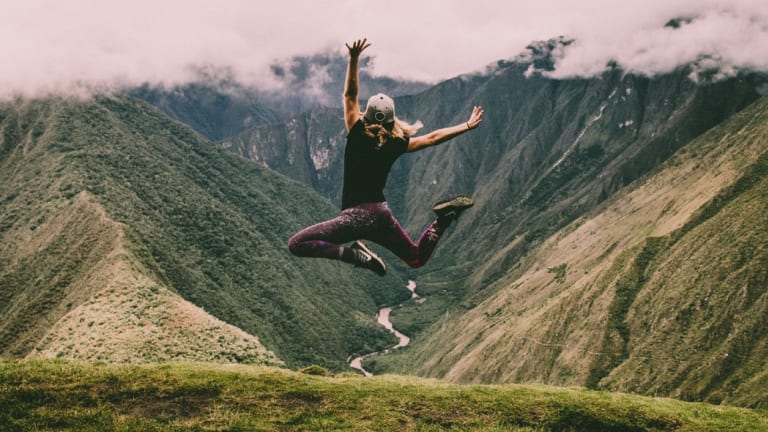 Fitness Websites for Building Muscle at Home
Build lean muscle mass and confidence without leaving your home.
One of the most common pushbacks I hear as a health and wellness coach for millennial women might not be the one that you expect.
"I'm too intimidated to go to the gym. I have no idea what I'm doing!"
Yep, that's right. Self-esteem can often be the biggest issue that stops a woman from reaching her fitness or weight loss goals. That little voice in a woman's head that threatens to sabotage our success in everything else in our lives can also encroach on our exercising. The voice sounds like "I can't do that," or "I'll never be able to look like that."
Trust me, I get it. When I was in college, you wouldn't catch me trying to pump iron in my university gym—I was too worried I would embarrass myself. Let me assure you, most people in the gym are not focused on you. Like you, they're also just trying to lose some weight, build muscle, or boost their fitness.
Something I've found that has helped my clients build confidence before they even step into the gym are fitness websites that help them gain muscle and skill. All of them offer free workouts, and most of them don't require any equipment—so you can do it in the comfort of your home without anyone around you. Plus, all of these fitness entrepreneurs are positive and encouraging, which will help with any negative thoughts that may pop up. Then there's the fact that every single one of these workout coaches is female; talk about girl-power!
Blogilates
I found Cassey Ho's YouTube channel when I was in college, and I fell in love with the way she made working out FUN. Cassey has a massive number of free, Pilates-based workout videos for all levels. She even has a monthly calendar that tells you which videos to do each day so that you get a balanced workout throughout the week! Or you can try her Beginner's Calendar to ease yourself in.
Jessica Smith TV
If you don't have a lot of room to work out, but love getting your heart pumping, I would definitely suggest Jessica Smith. I found her when I was living in Los Angeles. Not only did I not want to drive to the gym, but I lived in a small studio, so space was an issue! Jessica has a lot of good cardio workouts that require only shoes on your feet (and even those I would sometimes do without). My favorite program is the five-week #FitIn15 workout video series. But I love all Jessica's videos because she reminds you in every video that exercise can be easy to do AND fit into your life.
Yoga with Adriene
I am definitely not a yogi. My favorite type of workout is one that gets me moving quickly and leaves me sweating. But Adriene Mishler made yoga a lot more fun for me. She can be silly and funny, but she also has some good pieces of wisdom about how your mindset can be preventing you from reaching your fitness goals. She has a monthly calendar of yoga videos with a different focus each month to address these mindset blocks. Plus you can check out special challenges she's run in the past like the Foundations of Yoga series. That was how I learned to love yoga!
PopSugar Fitness
If I'm getting bored with my routine and want something new, I typically search for something at PopSugar Fitness. They have everything from yoga to pilates to barre. So, if you're craving any sort of fitness format, this website is your best bet.
These are the websites I turn to again and again because their fitness message is just as inspiring as their workouts are effective. They're also a lot more fun than the typical "scary" gym workout.
Hopefully, you'll fall in love with these workouts and start getting more comfortable with exercise, which can open up the door (maybe at your local gym) to more workouts. Just keep reminding yourself that exercise should be fun! Fun exercise will give you something to be excited about, which can transform your thinking and attitudes around fitness.