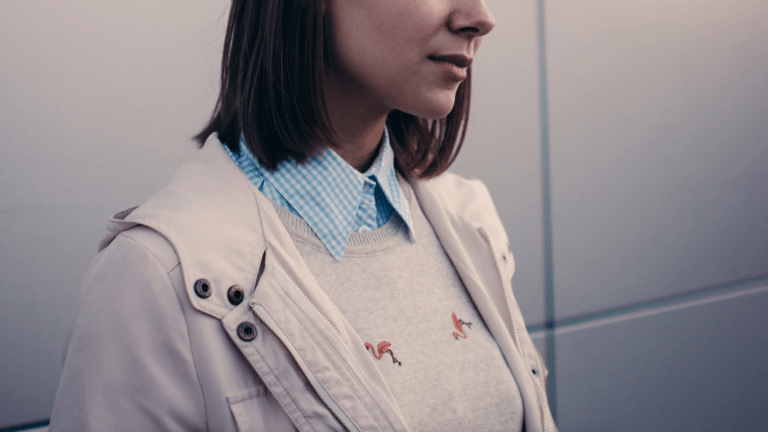 Crafting the Perfect DIY Outfit Details
Can't find the perfect piece? Make it yourself!
Buying vintage and thrifted clothing is one sure-fire way to find unique pieces, but you can also personalize your clothing by creating your own little details and accessories. Many high-end clothing brands already make items with beautiful details—prints, embroidery, embellishments—and you can look to some of these designs for inspiration. Check out some of the beautiful DIY ideas below.
Detachable Collars and Cuffs
Running out of ways to spruce up your classic white shirts and blouses? Try making your own collars and cuffs. A lot of high-end designers make shirts with contrasting prints inside the collar or under the cuff. You can also achieve this look by sewing simple, detachable collars and cuffs out of contrasting colors, prints, lace, or fabric with other embellishments.
You can wear a detachable collar with a blouse or sweater. You can also wear a second, decorative collar under the collar of your button-up shirt. Probably the easiest way to wear a collar is to use a ribbon that ties in the back or the front. But you also can find instructions online that show you how to add snaps or buttons to keep them in place.
For cuffs, you can use your shirt sleeve as an outline. Once you've cut a piece of fabric to the size of your shirt sleeve, sew it front to front and then turn it right-side-out again so the seam is inside. Add a small button so that it looks like a regular cuff, and wear it under a sweater or slip it over your shirt sleeve. You can attach it with a safety pin underneath to make sure it doesn't slide off. You can also make cuffs out of faux fur to add to your outfits or jackets.
Epaulettes
Traditional military epaulettes have fringe, but you can also make epaulettes out of feathers, chains, jewels, beads, or other embellishments. You can make epaulettes to add interest to sweaters in the winter, or denim jackets in the summer. Their military association makes for a good contrast with softer, more feminine fabrics or cuts. Epaulettes are an especially good silhouette for pear-shaped ladies because they add width and volume to the shoulders.
To make epaulettes, you can buy black shoulder pads and decorate them. Epaulettes can be sewn directly onto your clothes, but many people use safety pins or sewn-on pins underneath so that they are removable (and therefore also more versatile).
Neckerchiefs
Neckerchiefs are a great way to add a dose of Audrey Hepburn to your style! These are a great accessory to add to blouses, shirts, dresses, or sweaters—and if they're made of cotton or another light fabric, they aren't too hot to wear during the summer.
You can easily hand-stitch a piece of fabric into a neckerchief. Just measure around your neck to make sure that you have enough fabric to tie it. Cut out a square, iron the edges over, and sew them down. If you have printed fabric and don't like how it looks with the print on just one side, you can also sew two pieces front-to-front and then turn them right-side out as you finish so the print shows on both sides of the neckerchief.
Sashes and Belts
A DIY sash can be worn with dresses, skirts, jeans, or high-waisted pants to personalize your look. There are so many different ways to wear a sash: with a big bow in the back, a loose knot in the front, as thin ribbon, wide piece of fabric, or a contrasting color.
 Making your own sash can be as simple as buying a ribbon to tie around your waist. If you are planning to use it for a wedding or formal wear, you can also embellish the ribbon with beads, patches, or silk flowers. If you decide to use fabric, then sewing a sash is just like sewing a neckerchief.
Tuxedo or Racing Stripes
You can also spruce up your pants by adding racing stripes or tuxedo stripes down the sides. Racing stripes can be made of any kind of stripe or ribbon down the outside of the pant leg, and are often a contrasting color whereas tuxedo stripes are specifically made of satin ribbons that are usually of the same color family.
You can add a stripe all the way down the side by ironing your pants flat and using fabric glue or Heatbond to affix a ribbon from the hip to the hem. (Or, if you have have more advanced sewing skills, there are also tutorials on how to cut your pants apart in order to add full-length stripes.)
You can choose a ribbon that is the same color or in the same color family as your pants, or you can choose a contrasting color.
Buttons and Embroidery
Two of the simplest ways to embellish your clothes are to swap out the buttons or add iron-on embroidery. Who doesn't love embroidered denim? Get some iron-on patches and decorate your old denim jackets and jeans.
Iron-on embroidery isn't just for a casual vibe: one or two elegant, well-placed patches can elevate a look as well. You can add small flowers to the shoulders or sleeves of your sweaters or to the pockets of your trousers. On outerwear, embroidered flower patches can look pretty sophisticated on the collar of your coat or at the small of your back.
Replacing the buttons on jackets, coats, and shirts is another way to elevate your look. Metallic and tortoise-shell buttons can look very chic in place of the neutral white or black plastic buttons that most clothing comes with. The great thing about swapping out buttons is that if you keep the old ones, it's no problem to switch back if you feel like it.
Creating your own details is a great way to refresh your wardrobe for a new season without buying whole new pieces. Many of these DIY details are also detachable and versatile enough for you to wear past summer, as well. If you chose to attach flower patches to your jeans, for instance, you could pair them with a light cotton top in the summer and a leather jacket in the winter. The time you spend crafting DIY accessories will add personality to countless outfits for many seasons to come.