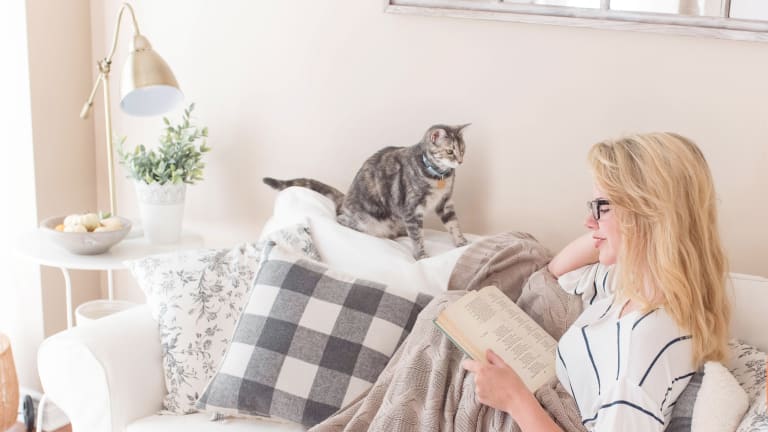 Rediscovering the Value of Young Adult Novels
There are lessons to be learned for both the young—and the young at heart.
I'm only halfway kidding when I say that I accepted a job as a middle school literature teacher a few years ago because I wanted an excuse to re-read all of my favorite middle school books. I have a soft spot in my heart for young adult novels. Choosing which books to share with my class was fun, though surprisingly challenging. There is such a wealth of good literature in this genre that at first I couldn't decide which adventurous, spunky, brave characters to introduce to my students.
One thing I realized while re-reading YA literature, however, was that my students weren't the only ones on the receiving end of the lessons contained within the books' pages. I gleaned valuable lessons for myself from each book too, and I clutch these little gems of wisdom and inspiration now as a mother, wife, and young woman navigating adult life.
Here are a few of my favorites:
01. Cheaper by the Dozen
"To be efficient, in the Gilbreth family, was a virtue on par with veracity, honesty, generosity, philanthropy, and toothbrushing."
Based on the real-life story of the Gilbreth family and written by two of the Gilbreth children, Cheaper by the Dozen is one of the most charming and hilarious books I've ever read. (Please don't judge this book based on the 2003 Steve Martin film adaptation, which does not tell the same story!) The Gilbreth family is real and relatable, despite being larger than your average family, and I especially appreciate the parents and the ways in which they lead their children with love, order, and discipline.
Mr. and Mrs. Gilbreth are "efficiency experts" who often employ their children in their experiments in conserving time and energy. (They do always seem to have their children's best interests at heart.) Mr. Gilbreth is a bit extreme in his efficiency ideas sometimes, but when I imagine what it would be like to have twelve children, I have to admit that he was probably on to something.
As I read about Mr. Gilbreth teaching his children the importance of always using one's time wisely and creatively, I found myself, consequently, evaluating how I use my own time. I reflected on all of the time I waste on social media, on worrying about everything I need to do instead of actually doing it, and on doing absolutely everything I don't need to do every night (baking, reading, you name it) before finally tackling my dirty kitchen. I'll admit it—I could use a little help in the efficiency department myself.
Especially now that I'm a parent, I recognize that Cheaper by the Dozen is more just than a collection of cute, funny stories about a large family—it's actually chock full of parenting (or just plain "adulting") advice.
02. The Outsiders
"Things were rough all over, but it was better that way. That way you could tell the other guy was human too."
Considering almost every character in this novel is male and not exactly sweet and gentle, it's a wonder that I felt such a connection with S.E. Hinton's The Outsiders growing up. (Okay, so I may have had a minor crush on dreamily handsome Sodapop.) However, as this book reminds the reader over and over again, this is simply a story about people—people who don't necessarily like each other, people who come from opposite ends of town, people who are going through hard times. Since The Outsiders is about gang life in the 1960s, it contains a fair amount of violence and hostility between two opposing gangs, but ultimately the book recognizes that people from different walks of life aren't so different after all.
Although it is a fairly "heavy" and sad book for young readers, this book has always made me reflect on inclusivity, belonging, and not judging people based on their circumstances. As one rough character in the book demonstrates when he rushes into a burning church to save the lives of strangers, everyone has the capacity for goodness—you just have to give them the chance. Anyone is capable of being a hero.
Although they find themselves in circumstances that are especially difficult for two young boys, the fourteen-year-old narrator, Ponyboy Curtis, and his buddy Johnny, focus on the good and affirm one another. As Johnny reflects, "The way you dig sunsets, Pony. That's gold. Keep that way, it's a good way to be . . . There's still lots of good in the world."
03. Heidi
"The happiest of all things is when an old friend comes and greets us as in former times; the heart is comforted with the assurance that someday everything that we have loved will be given back."
One is never too old for a heartwarming story about an unlikely friendship and new beginnings. Heidi tells the story of a young girl who is sent to live with her grandfather up in the Swiss Alps after her parents die. Though rocky at first, the relationship between granddaughter and grandfather blossoms into a love that is truly touching.
The elderly man has been living in total seclusion, and has locked something of his heart away in the process. It takes the help of a small girl to help him find his place in the world again. Not only does Heidi aid her grandfather with her love and encouragement, but she also aids a wealthy young invalid named Clara. Heidi's joyful, innocent spirit and eagerness to love others are truly inspirational. Heidi reminds me that friendship can be between the most unlikely people, as friendship knows neither age, distance, nor boundaries.
04. Anne of Green Gables
"It's been my experience that you can nearly always enjoy things if you make up your mind firmly that you will."
I'm not sure that there is another fictional redhead who holds a candle to Anne of Green Gables. Anne is the charming creation of L. M. Montgomery. Like Heidi, she is an orphan and has every reason to be disillusioned with the world; but, also like Heidi, Anne makes the most of her bad situation.
Though she's definitely melodramatic at times, Anne has a fighting, romantic spirit that cannot be broken, and I've always admired that about her. There is no other fictional character quite like Anne; her wonderful imagination and positive thinking make her a fabulous role model for young girls (and for adult women as well).
Plus, Anne's story does not end after one book. If you are feeling overwhelmed by life, or could simply use a little pick-me-up, any of the eight books in the series full of Anne's fierce optimism and endearing banter should do the trick. I'm always shocked by how reading her adventures ignites my sense of wonder and awe for the little things in my own life.
05. The Hobbit
"There is nothing like looking, if you want to find something. You certainly usually find something, if you look, but it is not always quite the something you were after."
Sometimes ordinary people are called upon to do extraordinary things. We've all heard such statements before, but it's easy to presume that we are not one of those people. Bilbo Baggins certainly never wanted to leave his warm, cozy home in the Shire to embark on an adventure involving dangerous trolls and goblins, oversized spiders, and a fire-breathing dragon.
But when Gandalf the wizard calls on quiet, content little Bilbo to join him and thirteen dwarves on an adventure, Bilbo suddenly finds that he is, in fact, capable of extraordinary things. As he overcomes trial after perilous trial, he gradually builds both the confidence and the skills necessary to become not only a brave hobbit but a real leader.
J. R. R. Tolkien's beloved classic contains valuable lessons not only for children learning about heroism, but for adults learning how to leave their comfort zones in order to make a difference in their homes, communities, and the world at large. Just as there is more to a little hobbit than meets the eye, there is more to us than we often give ourselves credit for. I find that when I muster up the courage to say "yes" to small adventures in my own life, I often get far more out of them than I imagined I would and discover something about myself in the process.
I will always have a soft spot in my heart for the characters in each of these novels. They are almost like real-life friends whom I grew up with during the awkward middle school years. Introducing my students to just a few of these characters gave me the opportunity to reflect even more on what they meant to me in my childhood and what they continue to teach me as an adult. And I have a strong feeling that I will meet them again (and again) in the years to come.