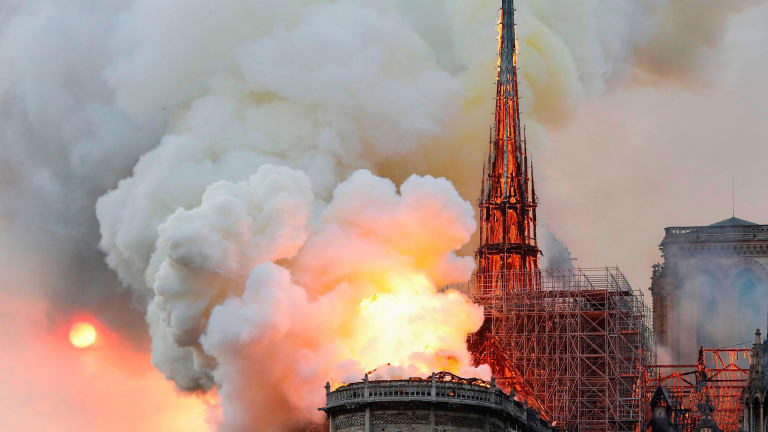 The World's Hearts Turn to Paris, and Other News from the Week
Catch up on all the news you might have missed with our handy summary of the week's top stories.
We're pleased to bring you "While You Were Out"—Verily quick takes on the happenings of this week.
Fire Ravages Cathedral of Notre Dame in Paris
A fire that broke out on Monday and burned for fifteen hours ravaged what's estimated as two-thirds of the wood-and-lead roof of historic Notre Dame Cathedral in Paris. The 856-year-old building is recognized as a masterpiece of Gothic architecture, which made it all the more heartbreaking to see its iconic spire fall in flames. People gathered in the streets to pray and sing hymns as four hundred firefighters battled the blaze. Two police officers and one firefighter were injured, but no one died in the fire.
The building was undergoing renovation, and at this point, authorities believe the fire to be accidental. Sixteen statues were removed from around the spire earlier this month, in order to restore them, and remain safe on other grounds. A number of sacred relics, including what's believed to be the crown of thorns Jesus wore during his Passion, were saved from the building. (See here for images of the cathedral before, during, and after the fire.) On Tuesday morning, the cathedral's structure was reported to be sound.
President Emmanuel Macron pledged to rebuild the cathedral with the aid of international fundraising. An expert suggests the process could take between twenty and forty years, in part because the materials used in the original construction are not as widely available now as they were nearly a millennium ago, and also because few artisans practice the medieval techniques that will be needed to mesh the new with the old.
It's painful to see a structure of such beauty destroyed, even partially. Let's hope in the days, weeks, and years to come, we see a different kind of beauty emerge in the efforts to rebuild and renew. —Lindsay Schlegel
Aretha Franklin Wins Posthumous Pulitzer
R-E-S-P-E-C-T is due to the Queen of Soul, Aretha Franklin, whose canon of music won a Pulitzer Prize this week. Franklin sang jazz, soul, gospel, and rhythm and blues with electrifying whoops and a terrific range. With 18 Grammys to her name, she became the first woman ever inducted into the Rock and Roll Hall of Fame. Franklin died of pancreatic cancer last August at age 76.
The announcement of the Pulitzer Prize coincides with the release of a documentary on Aretha Franklin called Amazing Grace. The documentary covers the making of a concert at New Temple Baptist Mission Church in Los Angeles in 1972. The tone of the documentary is reverent, the antithesis of the rollicking celebration of her pop concerts. It reveals another side of her personality. Whether she's singing "Amazing Grace" (official audio here) or "Natural Woman," Franklin's evocative, soulful tunes are a treasure. —Rachel Wilkerson
TIME's 100 Most Influential People Are Revealed
This past week, TIME magazine released their annual list of 100 Most Influential People. The diverse and seemingly eclectic list notably included Michelle Obama (with her entry written by Beyoncé), Pope Francis, Ariana Grande, President Trump, Brie Larson, LeBron James, and others. The list was divided into categories including pioneers, titans, artists, and leaders and each profile was written by another person of note.
The list is a unique reflection of society's values and it paints a clear portrait of how the last year looked for people around the world, based on our leaders—notable or notorious— and our celebrity icons. One key example is that both Supreme Court Judge Brett Kavanaugh and Dr. Christina Ford Blasey, who alleged that Kavanaugh had sexually assaulted while in high school, were included on the same list, albeit in different sections. Moreover, the list included more woman than ever before. "Obviously still a ways to go in our society, and the list is in some ways a reflection of our society," said Edward Felsenthal, editor-in-chief and CEO of TIME magazine. "But it's been an amazing year for the women on the list."—Gabriella Patti
What You Need to Know About How Data from Fertility Tracking Apps is Used
Fertility tracking apps are falling under scrutiny as privacy experts struggle to keep up with the new era of femtech and cycle-charting apps. According to a Washington Post article this week, period tracking apps are a minefield of conflicting objectives. On the one hand, they offer a convenient way to track vital health information; they have helped women conceive, made them aware of high-risk pregnancies, and promote wellbeing. However, some of these apps are designed not for the women but to drive revenue for the app developers.
The Post article revealed that many companies rake in profits by selling aggregated data to third parties like marketing agencies, insurers, and sometimes even employers. The tracking app Flo sent data to Facebook to provide targeted ads when users were trying to conceive. In 2016, a security oversight allowed anyone to lookup the personal information of a woman who used the app Glo—including a record of sexual encounters. The app Ovia incentivizes women with $1/day coupons to log data that it then sells to their employers in aggregate. While aggregating data may seem to hide individuals' identity, it is almost always easy to re-identify the data. Data on pregnancy is particularly vulnerable as typically there are not many women pregnant in a workplace at the same time. Further, selling data to the employers as a means of minimizing health spending and increasing workplace productivity has proved to be highly lucrative. While neither of these are bad objectives, the cost to a women's personal agency may be too high.
Period tracking is a powerful tool for understanding fertility and overall women's health. Unfortunately, the motivations of many of the app creators is not as clear cut. While there are some charting apps that do not misuse women's data, this news may remind women the value of charting their cycle on paper (how many start out when learning a fertility awareness-based method of charting), which ensures no one benefits from a woman's personal information but herself. —RW
Will Meghan and Harry's Baby Be Revealed Over Easter?
Speculators are predicting the Baby of Sussex is either already born or about to be born over the Easter holiday. The Duchess of Sussex Meghan Markle and Prince Harry have kept details about their delivery private, leading some to believe it may be a home birth. Whether or not the baby is born, many around the world are eagerly awaiting the royals' Easter greeting for some kind of update.
Meanwhile, Vogue editor Anna Wintour delightfully commented on Meghan Markle's pregnancy style, adding that since pregnancy is a joyful time, women shouldn't feel the need to hide it in their outfits. I hope Meghan, like Duchess Kate, doesn't feel the need to hide her post-baby body either. —Mary Rose Somarriba
Carly Simon is Writing a Memoir About Jackie O
Singer/Songwriter Carly Simon is set to publish an "intimate, vulnerable" memoir about Jackie Kennedy Onassis later this year. Simon and Onassis became fast friends after meeting during a summer party at Martha's Vineyard, and the two starkly different women had a lasting friendship until Onassis' death in 1994. "When I first met Jackie, I didn't imagine we had that much in common much less expect her to become my book editor, confidant, protective mother figure, and mischievous pal," Simon said. "She arrived when I least expected to make a new friend and she stayed up until the time of her death."
The book, entitled Touched by the Sun, named for one of Simon's famous songs, is scheduled for release on October 22 by publisher Farrar, Straus, and Giroux. —GP
Beyoncé Drops Surprise Album on the Occasion of Her Netflix Coachella Recording
Last week in "While You Were Out," we informed you that Beyoncé's Coachella performance was due to release on Netflix this week. What nobody knew last week was that Beyoncé was planning a surprise album drop to go along with it. The album Homecoming, released Wednesday, has 40 tracks including songs and interludes from the live Coachella performance.
While at first blush it may appear as just another live album from an artist, listeners will find the songs from Beyoncé's first major concert after having her twins to be something very different. The singer was accompanied musically not by a traditional band but with a drumline and dozens of marching-band players, producing a sound that is undeniably unique and fun. I enjoy some songs of Beyoncé's more than others, but many of the brass-infused renditions of her tunes were quite electric, such as "Freedom," which is viewable below as this week's "Watch of the Week." Enjoy! —MRS
Good News of the Week
Three historically black churches raise over $1 million after the Notre Dame fire brought awareness of need, NBC News reports. These Louisiana church communities have been suffering since the end of March, when all three churches were set ablaze within a 10-day period. Police believe that the fires were intentional hate crimes and have arrested a suspect, but plans for renovation were not clear.
But, in an unexpected turn of events, these churches received greater awareness following the tragic burning of the historic Notre Dame Cathedral in Paris this week. As pledges rolled in from benefactors to rebuild the centuries-old cathedral in France, many turned their attention to other churches hurt by fires and in need of repair. Last Sunday, a GoFundMe page for these churches had received around $50,000 in donations. By Thursday, they had raise approximately $1.8 million. "I donated because if billionaires can give billions to rebuild Notre Dame, I can at least donate $50 to rebuild these churches," said one user named Chester Fischer on the GoFundMe Page. The money will be equally distributed to all three churches. "It gives you a new hope in society," one pastor said. "It gives you a new hope in people because it shows a lot of people have a good heart." —GP
Watch of the Week
Beyonce sings the Lemonade ballad "Freedom" with marching-band accompaniment at Coachella. Try not to get pumped up.
Articles of Note