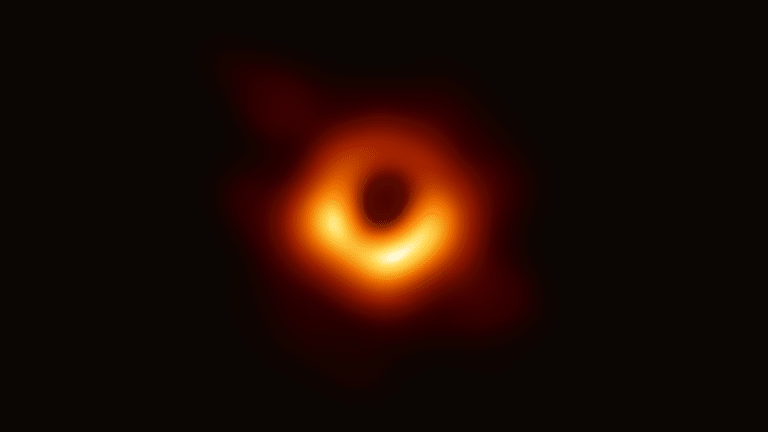 Historic First Photo of a Black Hole Made Public, and Other Notes from the Week
Catch up on all the news you might have missed with our handy summary of the week's top stories.
We're pleased to bring you "While You Were Out"—Verily quick takes on the happenings of this week.
Historic First Photo of a Black Hole Made Public
An international team of researchers stunned the world this week with the first-ever photo of an black hole, previously thought to be an impossible feat. Black holes have a spectacularly powerful gravitational pull; beyond the event horizon, nothing, not even light, can escape. The ring in the picture is actually superheated gas falling into the perfectly circular black hole. This particular "monster" of a black hole is at the center of the M87 galaxy, over 55 million light-years away. To get an idea of the resolution and scale of the image, imagine being able to read the date of a quarter in Los Angeles from New York (or check out this cartoon).
Rarely has a picture required such dedication and precision to produce. Professor Heino Falcke of Radboud University in the Netherlands pursued the funding for the project for 20 years before the funding council approved the building of an elaborate series of telescopes called the Event Horizon Telescope. With eight different sites from the mountains of Hawaii to research stations in Antarctica, the EHT detects a particular kind of radio emission produced by the black hole. After a painstaking collection of data supported by hundreds of scientists and astronomers, the data was processed by a customized algorithm proposed by Katie Bouman, a researcher at MIT.
The image of a black hole has not only satiated an abiding curiosity of the public and Hollywood directors alike, but also offered confirmed existing theories in physics. —Rachel Wilkerson
'Beychella' is Coming to Netflix Next Week
In 2018, Beyonce emerged atop bleachers in full regal Egyptian garb, ushering in a Coachella performance that proved to be a cultural tour de force. Soon, audiences can catch it on Netflix! Her historic Coachella act jubilantly covered the richness of black musical traditions encompassing hip-hop, ragtime, jazz, funk, and gospel. It included songs from Nina Simone, speeches from Malcolm X, and even reunited Destiny's Child mid-act, not to mention the five extravagant costume changes. Beyonce became the first black woman (and only the third woman) to headline the festival.
To chronicle this achievement, Netflix is releasing a new documentary, titled Homecoming, offering viewers the chance to experience the act anew. The trailer is a celebration of the black college experience—complete with marching bands and step routines. In a beautiful tribute to black culture, the voiceover on the trailer draws from a 2013 interview with Maya Angelou: "What I really want to do is to be a representative of my race, the human race. I have a chance to show how kind we can be, how intelligent and generous we can be." Beyonce merges the wisdom of Angelou with the high-voltage spirit of a college drumline for a documentary that promises to be a legendary cultural work. Look for Homecoming on Netflix on April 17! —RW
Georgia Heartbeat Bill to Be Signed, Amid Public Debate
Georgia's controversial "heartbeat bill" has progressed to Georgia governor Brian Kemp's desk, and he says he intends to sign it. If signed into law, the measure would ban abortion once a heartbeat is detected within a woman's womb. The bill, known as House Bill 481, passed that state's senate along party lines before barely passing in the House (it received 92 "yea" votes when procedure requires 91). The governor has until May 12 to sign or veto.
Opponents argue that many women do not even know they are pregnant before six weeks, and so the legislation would significantly restrict opportunities for abortion. Others suggest that what is identified as a heartbeat may actually be "practice motions of developing tissues."
Similar bills are being introduced and voted upon in other states, with varying results. The Mississippi heartbeat bill has become law; the Kentucky bill was signed by the governor, and blocked by a judge just hours later; and Ohio's heartbeat bill is expected to be signed by the governor. Much of the commentary on such legislation points to the 1973 ruling of Roe v. Wade and efforts in the forty-six years since to overturn it. While momentum seems to be building for more restrictive laws concerning abortion, the issue is still contested on both sides of the debate. The only thing each group can seem to agree on is their determination to keep fighting. —Lindsay Schlegel
Sudan's President is Overthrown, While Photo of Woman Leading Protests Goes Viral
This week, Sudan's president Omar al-Bashir was taken into military custody, after months of protests. Women played a central role in Sudanese anti-government protests, which had been building momentum since December. Just prior to al-Bashir's overthrow, an image of 22-year-old Alaa Salah, standing atop a car leading chants, her finger pointed skyward, went viral. A student of engineering and architecture at Sudan International University in Khartoum by day, Salah told her best friend hours before the demonstration that she wanted "to overthrow the regime because the situation is unbearable for Sudanese people."
Omar al-Bashir had ruled since 1989, but had been indicted by the International Criminal Court on charges of committing genocide and crimes against humanity in the Darfur region. Among recent problems, bread costs tripled in the last year, and the government banned social-media use.
Despite the government's attempt to regulate Internet use, many of those surrounding Salah in the photo have smartphones raised to record the demonstration. Salah's attire was significant, as her earrings and dress are reminiscent of those worn by women in the sixties, seventies, and eighties marched to protest military dictatorships of their times.
While we can be encouraged by the strength of Salah and other Sudanese women speaking up for justice, let's be sure not to romanticize the situation and rather continue raising awareness for just leadership to follow for the Sudanese people. —LS
Scarlett Johansson Wants Paparazzi to be Legally Tried as Stalkers
This past Tuesday, actress Scarlett Johansson shared with Entertainment Tonight that she thinks members of the paparazzi need to be treated as strictly as stalkers in the criminal justice system. Her statement came last week after members of the paparazzi overpowered her security team. As she explained, "Yesterday, after leaving the Jimmy Kimmel Show, I was followed by five cars full of men with blacked out windows who were running red lights and putting other drivers and pedestrians at risk so they could follow me to find out where I was staying." Johansson ultimately sought help at a Los Angeles police station and added that the paparazzi continued to "subsequently stalk me and my young daughter for the duration of my stay."
"The paparazzi consistently go to increasingly dangerous lengths to stalk and harass the people they are photographing. Even after Princess Diana's tragic death, the laws were never changed to protect targets from the lawless paparazzi," she stated. "Many paparazzi have criminal pasts and will perform criminal acts to get their shot."
Johansson urged more people to bring incidents with the paparazzi to police departments. "Women across the U.S. are stalked, harassed, and frightened, and a universal law to address stalking must be at the forefront of law enforcement conversations. Until paparazzi are considered by the law for the criminal stalkers they are, it's just a waiting game before another person gets seriously injured or killed, like Princess Diana," she said. The lady has a point. —Mary Rose Somarriba
Chip and Joanna Gaines Reveal Plans for Cable Network
When Chip and Joanna Gaines' show Fixer Upper aired its final episode in April last year, the couple reported their need to catch their breath and focus more on their family—their fifth baby, Crew, was born in June—and businesses—which may be better described as a gorgeous design empire.
Just a year later, there's big news from the Gaines crew: in 2020, they'll launch their own cable network, with related website and streaming app. We don't have a name yet, but we do know the channel will replace Discovery's DIY network and the branding is expected to relate closely with the Gaines' Magnolia banner.
The couple anticipates starring in at least one series on the new network, in which they are excited about sharing their story beyond construction and design. There's some talk of food programming, and the couple confirms that their kids have some ideas, too. The Gaineses say they are looking forward to curating content that tells other people's stories in ways they can't accomplish through their quarterly magazine, Magnolia Journal, or website.
We can't wait to see what they have in store. If it's anything like what we've seen so far—beautiful homes, a playful marriage, and a family around which it's all centered—consider us all in. —LS
Kim Kardashian is Studying to Become a Lawyer
Keeping Up With the Kardashians star and beauty mogul Kim Kardashian West recently announced her plan to become a lawyer. In her Vogue cover story published this past Wednesday, Kardashian West said that she has been working a four year apprenticeship with a law firm in San Francisco, with the goal to take the bar exam in 2022. This news is less shocking to those who closely follow Kardashian news, as Kim is the daughter of Robert Kardashian, a well-known lawyer who was part of O.J. Simpson's defense team (he passed away in 2003), and last year she was instrumental in securing clemency for 63-year-old Alicia Johnson who had been in prison since 1996 on a non-violent drug charge. Kardashian West lobbied the White House on Johnson's behalf, eventually securing a full pardon from President Trump.
"I had to think long and hard about this (decision)," Kardashian West said. " I wanted to be able to fight for people who have paid their dues to society. I just felt like the system could be so different, and I wanted to fight to fix it, and if I knew more, I could do more." Many critics have already mocked her decision, but personally I think it is commendable that the reality star will use her considerable fame to fight for others rather than peddle beauty products or a self-serving television show. —Gabriella Patti
Good News of the Week
On your mark, get set, bake! If that simple phrase fills you with joy and delight then you will love this week's good news. Nearly all of the competitors from season five of The Great British Baking Show reunited this past weekend to celebrate Martha Collison's wedding. Collison (one of the youngest ever contestants on the show, and now a food columnist) got married in the English countryside, surrounded by all but two of her fellow bakers. The season's winner, Nancy Birtwhistle documented the joyous occasion on Instagram. Moreover, everyone baked a personal wedding cake for the happy couple, which resulted in a dessert table that gives us a sugar coma just looking at it! —GP
Watch of the Week
Sara Bareilles sings her new song "Fire" on the Late Late Show.
Articles of Note