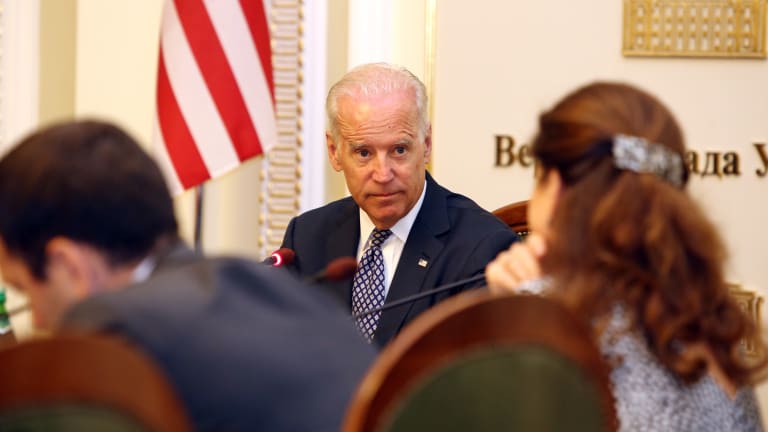 Woman Alleges Inappropriate Kissing from Joe Biden and Other Notes from the Week
Catch up on all the news you might have missed with our handy summary of the week's top stories.
We're pleased to bring you "While You Were Out"—Verily quick takes on the happenings of this week.
'Unplanned' Film Doubles Box Office Expectations, Despite Twitter Setbacks
Last week debuted the movie Unplanned, which depicts the story of Abby Johnson, former director of a Planned Parenthood clinic who resigned after witnessing an abortion performed at her clinic and became an anti-abortion advocate. According to Box Office Mojo, the movie brought in $6.4 million dollars, beating out Captain Marvel's $5.4 million the same weekend, and surging past the $3 million dollars it was projected to bring in the first weekend.
In the midst of the opening weekend success, the film ran into a PR nightmare: the film's Twitter account was suspended without announcement on Saturday, March 30, then was reinstated that evening, but the follower count was reset to zero. At one point, accounts reported that the Twitter profile had dropped from 230.4k followers to a mere 15.1k and Twitter users reported that they were no longer able to "follow" the account.
Actress Ashley Bratcher, who played Abby Johnson in the film, stated, "I think it's outrageous. . . . I couldn't even follow my own movie." Abby Johnson similarly noted the irony that she couldn't follow the account for the film based on her own life story. Ultimately, the issue slowly resolved itself, gaining followers in the meantime, and currently stands at 345,000 followers less than a week later.
Many of the film's supporters have alleged that Twitter participates in shadow banning, suggesting that they block a user from their subscribed content without the knowledge or consent of the user. Missouri Senator Josh Hawley called for an independent audit of Twitter following these actions. —Clare LoCoco
Woman Alleges Inappropriate Kissing from Joe Biden
Former Vice President Joe Biden has been on the hot seat this week following statements from several different women who expressed their discomfort with the way he had touched them. Lucy Flores, a former Nevada legislator published an essay last Friday in which she described an uncomfortable incident where Biden had placed his hands on her shoulders and kissed her on the back of the head. Following Flores' statement, two more women came forward to the New York Times with allegations of uncomfortable and inappropriate touching from the former VP. In total, seven women have made statements regarding Biden.
These allegations come following Biden's hints that he will run for president in the 2020 election, and following his statement of regret for the role he played in the Anita Hill hearing. The responses have varied, with some expressing doubt about the allegations or defending Biden, and others speaking up in support and solidarity with Flores. Many have insisted that Biden is known for being personable (if a bit awkward), and has been dubbed "America's Favorite Uncle," deeming his actions harmless. For her part, Flores has maintained her allegations and added: "I'm not suggesting that Biden broke any laws, but the transgressions that society deems minor (or doesn't even see as transgressions) often feel considerable to the person on the receiving end," she writes. "That imbalance of power and attention is the whole point—and the whole problem."
In a video response, Biden addressed the allegations, saying that he would be more mindful of people's personal space and boundaries, but he also defended himself. "In my career, I've always tried to make a human connection—that's my responsibility, I think," Biden said. "I shake hands, I hug people, I grab men and women by the shoulders and say, 'You can do this.' Social norms have begun to change, they've shifted, and the boundaries of protecting personal space have been reset and I get it. I get it. I hear what they're saying." What he just described is different than an unexpected kiss on the back of the head, though, which enters the territory of clear sexual misconduct. —Gabriella Patti
Measles Cases Hit Second-Highest Level Since Elimination in 2000
Communities in the United States are battling a severe measles outbreak. Worldwide, measles remains a threat responsible for over 110,000 deaths worldwide. Ensuring that the vaccine is accessible internationally remains a priority for global health advocates. However, these cases largely have not occurred in the United States, until now, thanks to a readily available vaccine.
Although the measles vaccine is highly effective, with a success rate of 97 percent, communities are at risk when a critical percentage of children opt out of the immunizations. A simulation shows how not vaccinating a certain percentage of the population puts even vaccinated children at risk. As measles is particularly contagious, experts believe at least 92 percent of a community should be immunized to prevent outbreaks.
This latest outbreak is concentrated in New York, Rockland County, which has declared a state of emergency with more than 150 cases. Several other states have reported cases as well. Against the complex challenge of addressing misinformation in isolated communities, health officials continue to urge parents and children to be vaccinated. —Rachel Wilkerson
Comprehensive Women's Health Clinics Get Millions of Dollars Under New HHS Family Planning Rule
Last Friday the federal government granted $5.1 million in Title X funding to the Obria group, whose website describes it as "a nonprofit affiliate network of full-service medical clinics providing professional, comprehensive, and life-affirming care to low-income women and men across the country." What does Obria not provide? Abortion, abortion referrals, or contraceptives. What's more, Title X itself specifically blocks federal funds to providers that offer, or refer for, abortions.
Unsurprisingly, Planned Parenthood is up in arms over the decision, especially after four of their affiliates were stripped of funding as a result of the grant. Planned Parenthood's president Dr. Leana Wen posted a personal statement, characterizing the administration's move as an "attack on healthcare" by "forcing out trusted health centers." She also accused the Obria group of not providing "evidence-based treatment."
Interestingly, Obria clinics actually provide a number of more extensive health services that Planned Parenthood does not (i.e. cancer screenings, prenatal care, and training in fertility awareness-based methods of health management and family planning). Obria, for its part, hopes that this grant will help fund its plan for national expansion. If all goes according to their vision, they could end up rivaling, or even replacing, Planned Parenthood as the nation's most prominent federally-funded source of reproductive health care. —Mariel Lindsay
New 'Emma' Adaptation Begins Filming
When Jane Austen set out to create "a heroine that no one would like but myself," no doubt she did not expect the legions of Emma fans to warrant three classic film versions, a beloved nineties modern-day film adaptation, and even a vlog adaptation. Austen fans can expect another Emma debut as filming is underway for a glamorous new rendition.
A strong creative vision and excellent cast promises to make this latest adaptation an cinematic delight. Fashion photographer turned director Autumn de Wilde promises to deliver dreamy period costuming, and the beloved script is in the safe hands of Man Booker Prize-winning novelist Eleanor Catton.
The cast includes Anya Taylor-Joy as the title character, Johnny Flynn as the inimitable Mr. Knightley, and Mia Goth as Emma's unsuspecting friend, Harriet. Personally, I might be most excited to see Bill Nighy play Emma's hypochondriac father Mr. Woodhouse. Filming is ongoing this spring, so more news should be forthcoming! —RW
Netflix Sued for Allegedly Firing Employee Because She Is Pregnant
On Tuesday Netflix was sued by a former employee who claims that she was fired after announcing her pregnancy. The plaintiff, Tania Zarak, worked as a manager in Netflix's International Originals division. After announcing her pregnancy in November of last year, she began to receive different treatment at the workplace. She was cut out of meetings, removed from a show she was working on, and alternatively ignored and ridiculed by her supervisor, Francisco Ramos.
After a while of enduring the mistreatment, Zarak complained to HR. They communicated quickly with Ramos, who met with Zarak later that same day and reassured her that she would be able to work while pregnant. He became "visibly agitated," however, when she said she would be taking maternity leave after her due date this May. According to the lawsuit he then "suggested she accept some sort of payout with insurance." The next day she was fired, after which she told HR: "This is because I'm pregnant."
The lawsuit repeatedly references what it calls "Netflix culture,' insinuating that while the streaming service company officially allows newborn childcare leaves of up to one year, in reality it punishes those who seek to utilize that offer. Netflix has since denied the charges in the lawsuit, stating that they are "unfounded." For those familiar with Netflix working culture, however, Zarak's accusations ring true. —ML
Amazon Ends Four-Film Contract with Woody Allen After #MeToo Comments
In legal documents filed this week, Amazon cited statements by Woody Allen in ending a $68 million contract with the filmmaker to produce four films for the website. Among Allen's comments were these words from an Argentinian news interview last year, in which he said, "I should be the poster boy for the #MeToo movement . . . I've worked with hundreds of actresses and not a single one—big ones, famous ones, ones starting out—have ever, ever suggested any kind of impropriety at all."
As Amazon announced in a statement: "The [New Yorker article by Ronan Farrow] became the catalyst for a broad public reckoning over the persistence of sexual harassment in entertainment and other industries. Despite immediate consensus on the importance of acknowledging and addressing this issue, Allen made a series of public comments suggesting that he failed to grasp the gravity of the issues or the implications for his own career."
Woody Allen, who has denied allegations of sexually abusing his adopted daughter Dylan Farrow in the 1990s, and who publicly had a sexual relationship and married an adopted step-daughter of his, Soon-Yi Previn, has long evaded public consequences for his sexual abuse accusations. I, for one, am glad to see that Amazon could see Allen's recent words on #MeToo belie either an ignorance of the issue's importance or a hubristic sense of imperviousness to it. —Mary Rose Somarriba
Celine Dion Announces New Album and World Tour
Today's living legend Celine Dion announced this week a new album expected in November 2019 called Courage, and a world tour to go with it. Dion made the announcement to a Los Angeles crowd, explaining that she will be ending her Las Vegas residency and taking her first on-the-road tour in a decade. After the death of her husband and manager in 2016, she told listeners that she feels more "centered, balanced and spiritually connected" these days. We couldn't be more excited to see what's in store from a lady who we didn't think could outdo herself any more than she already has. —MRS
Good News of the Week
We love a true story with a happy ending—this week, news broke that the director of nursing at a children's hospital in Massachusetts adopted an infant who did not have visitors for 5 months. Liz Smith, said that baby Gisele immediately captured her heart with her bright blue eyes and the single curl on her forehead. Giselle was born prematurely with neonatal abstinence syndrome, and was in need of a nurturing and healthy environment in order to thrive. Smith had hoped to have a baby of her own and thought that she had exhausted every last resource to make this a reality. However, Smith was able to put in a foster request for Giselle, and late last year their little family was made official! Giselle has since thrived and loves avocados, cheese, and bursting into spontaneous song. Their joy at finally being a family is palpable, and we feel it too! —GP
Watch of the Week
This week, a Beautycounter video caught our eye—not because we're trying to get you to become a consultant, but because this video captures one rendition of what a beautiful woman-friendly work environment looks like. 
Articles of Note
We hope you'll enjoy this new feature of While You Were Out, where we'll share a few articles that caught our eye this week. 
What are you reading this week?