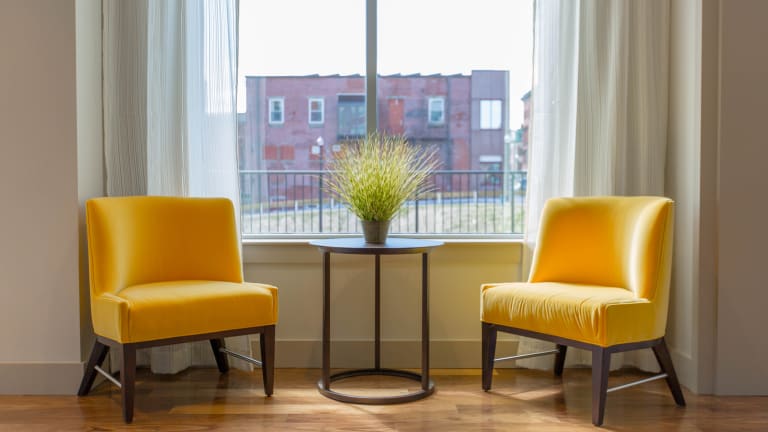 Finding the Courage to Go to Counseling
Three reasons you might be avoiding it—and solutions to help.
Sometimes the hardest thing to do is to ask for help.
Recently, I started attending counseling sessions for mild depression. Even typing those words feels weird—like admitting that I am going to counseling is somehow admitting failure.
I've always thought of courage as something you need in great moments, when you are saving someone's life or standing up for what is right in some dramatic way. I don't think I ever realized that courage could be essential, too, in the small, quiet moments that nobody knows about. But courage was what I most needed to start this journey.
In the last few months, I realized that what I was dealing with was not some sort of "normal" tough time; it was more than that. I didn't know what to do to fix it, but I knew for sure that I didn't like it. It was a close friend who first said that it sounded like depression. My fiancé agreed with her. Counseling was the logical first step to try to work through this, but I was less than thrilled at the idea. I didn't want to admit that something was wrong, and I was scared to actually start the process and find out what counseling would entail.
I needed the courage to admit that I wasn't perfect, and that it was okay not to be perfect. My fiancé, family, and close friends all assured me that counseling would be a good idea, that this didn't mean I was a failure in any way. One friend even said that it is a sign of maturity to admit that you need help and to reach out for it.
I didn't feel like I had something to prove to those close to me, but I did feel like I had something to prove to myself. I didn't want to be imperfect—but, last I checked, we are all imperfect. To admit your own imperfections and weaknesses is to admit your humanity. It is to face reality. And, when that reality is uncomfortable, that can take courage.
It can also take courage to take the next step—reaching out for help. There are many situations in which we need to reach out for help, and everyone's situation is different. For me, this meant starting counseling to work through my recent struggles. I didn't want to do it, but slowly I began to realize that this was exactly what I needed to do. A few close friends were essential in this process, convincing me that counseling can be incredibly beneficial as a way to gain the tools to deal with life better.
So, I took the plunge and started making phone calls and asking for recommendations for a good counselor. And I went to my first session.
It's an odd experience to sit down with a stranger and tell them personal details about your life. It took courage to begin to open up about my own struggles. However, after that first awkward session, it's gotten much easier. My counselor has been really helpful, asking questions and offering insights that, so far, have been spot on.
The need for courage did not stop when I walked in the door for the first session. It continues to take courage to be willing to touch on parts of my heart that may be slightly tender. It takes courage to continue to be open and honest. But it has started to pay off. I have learned things about myself that help me to understand why I do certain things; now I have tools to help me respond better to different situations and to re-train myself out of my instinctive reactions. These tools are helping me to become a better person, a happier person—a woman who is thrown off less by little things that go wrong and is better able to go out and make the world a better place.
I'd like to offer a few words of advice to those who might be considering counseling but are hesitant. Below are just a few of my own excuses, ways I tried to tell myself that I didn't need to start counseling, because, ultimately, I was scared. Working through these excuses helped me to gain the courage to take the first step.
01. I don't have time.
So many of us are living with very full schedules. I'm currently juggling grad school, way too many hours of work, and wedding planning. Life is busy. But many counselors actually offer hours in the evenings or on the weekends—I can make regular sessions without losing hours at work.
I've also found that, by making time for counseling, I'm losing less time to struggling with depression. When I was struggling with motivation or dealing with sadness, it was easy for hours to pass without me actually accomplishing anything. If I am generally dealing with life better because of counseling, then I'm not wasting those hours. Even with time spent at counseling, I end up with more time to get things done overall because I'm happier and more efficient.
02. I don't want to talk to a stranger.
You know what is great about talking to a counselor? She is a stranger! I'm free to say whatever I want without worrying about it getting back to somebody, or about whether the person to whom I am speaking really should know this information.
When the counselor is commenting on a situation in my life, I appreciate hearing her objective thoughts on the matter without wondering if she is only taking my side in something. She doesn't know anyone who is involved, so she has no reason to take sides. This helps me to step back and look at the situation objectively.
03. It's expensive.
Money is tight. I get it. However, many insurance plans have some sort of coverage for this type of thing. If not, many counselors offer a sliding scale to help those in financial difficulties (they might be able to offer you one of a limited number of lower-paying slots). It took some digging, but I found a counselor who accepts my insurance. (Turns out, I have surprisingly good coverage for this.) Before you rule it out, look at your insurance plan and see what it actually covers. Many plans have a co-pay or limit on sessions, but of course that's also the case with medical care.
Our mental health can be easier to ignore because it doesn't cause the same dramatic effects as a broken leg or the stomach bug. But stress, depression, and anxiety all have physical ramifications as well as huge implications for our everyday lives. We take care of our physical health—our mental health should get the same care, concern, and treatment. Insurance agencies often understand that, so put that awareness to good use. Don't let finances stand in the way of getting the help that you need.
As I continue to go to counseling, I learn new things about myself and how I interact with the world. I've realized that I want to be a healthier, happier person for my fiancé, family, and friends. But, more than anything, I want to be happier and healthier for my own sake. This continues to take courage, but I've learned that it's so worth it. Have the courage to ask for help, to admit that you aren't perfect, and to let those around you love you even with your imperfections. It's worth it. 
Editors' Note: Verily's mission is to empower women to be less of who they should be, more of who they are. If you support this mission and you want to see us go to print, subscribe today to Verily Yours. You'll receive exclusive, quality content that will simplify and elevate your everyday, while supporting empowering women's media.