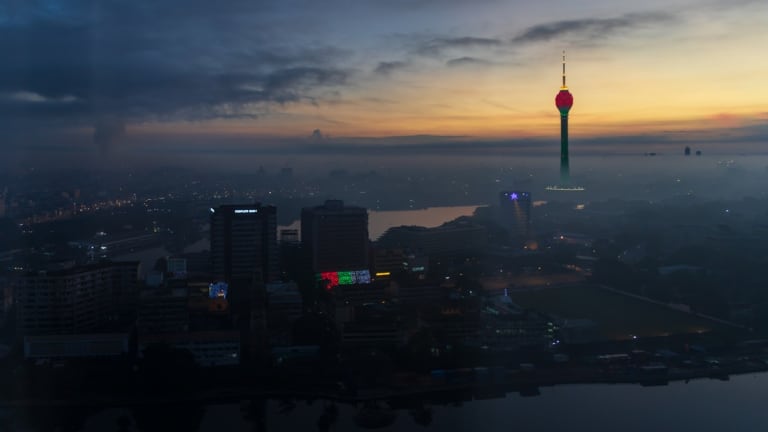 Sri Lanka Mourns Losses Following Deadly Terrorist Attack— and Other Notes from the Week
Catch up on all the news you might have missed with our handy summary of the week's top stories.
We're pleased to bring you "While You Were Out"—Verily quick takes on the happenings of this week.
Sri Lanka Mourns Losses Following Deadly Terrorist Attack
Sri Lanka and the international community continue to reel from a series of suicide bombs that ripped through the towns of Colombo and nearby towns early on Easter Sunday. More than three hundred have lost their lives, with another five hundred injured in the deadliest attack the nation has seen since a brutal civil war. The casualties are largely Sri Lankan, but nationals from over a dozen countries are among the casualties. The attack targeted members of the U.S.-led coalition in Sri Lanka and the nation's Christian minority.
Bombers targeted churches with huge crowds for Mass in addition to three hotels downtown. The attacks fit the ideology of the Islamic State although their claims of responsibility are currently under investigation. To prevent further attacks, the police implemented a state of emergency, and more than 60 people have been arrested.
St. Anthony's Church, one of the targets, continues to anchor the Christian minority in the country. For members of the neighborhood, the church represents not only a refuge for those of Christian faith but also a place of welcome to the wider community. Accounts of heroism continue to emerge, such as Ramesh Raju, a contractor who blocked a bomber from entering Zion church, preventing many more casualties. —Rachel Wilkerson
Women in Venezuela Are Selling their Hair Just to Get By
The financial and political crisis in Venezuela continues to deepen and its effects on citizens are increasingly inhumane as they scramble to think of new ways to make ends meet. This week news broke that a growing number of Venezuelan women are now selling their hair, a felt sacrifice for many in an aesthetics-steeped culture that often connects beauty to long locks.
Struggling to afford even the most basic necessities like food and medicines, some women have turned to cutting off and selling their hair to be used in wigs and extensions. What's more, hair itself has become too expensive and high-maintenance for many Venezuelan females, who have been reduced to washing their hair with dishwashing liquid because actual shampoo now costs more than the average monthly salary. Couple that with the frequent water shortages, and washing a long mane of hair becomes next to impossible to do properly.
Hairdressers and other beauticians, too, have had to adapt to this changing environment in which beauty and self-care are pipe dreams for those fending off starvation. Struggling to make ends meet, they barter for their services, accepting food and other necessities in exchange for pedicures and the like. Sadly, other Venezuelans have turned to selling their bodies for a meager income.
Tragically, the crisis in Venezuela shows no sign of slowing down under Nicolás Maduro's wildly corrupt despotism. The United States, for its part, refuses to recognize Maduro as the rightful president, and President Trump has stated that military intervention is not out of the question. —Mariel Lindsay
Beyonce Drops 'Lemonade' to Spotify and Apple Music
Last week Beyonce's long-awaited Coachella documentary Homecoming hit Netflix, as did her surprise live album from last year's festival performance. This week, her most unforgettable album to date, Lemonade, which was released exclusively to Tidal music service three years ago, is finally available to stream on Apple and Spotify.
Many of us, even those of us who are not normally fans of Beyonce's music or image, have been eagerly awaiting this moment, thanks to visual album Lemonade's singular, stunning spoken word and poetry, much of which are owed to the genius of poet Warsan Shire. The genre-defying collection combines a primordial pain and redemptive wisdom to the catchy rhythms for which Beyonce is most known.
As Apple music puts it, this surprisingly raw, insightful album is "deeply tied to Beyonce's identity and narrative (her womanhood, her blackness, her husband's infidelity)," and her brave overcoming and dedication to starting again. Anchored in social themes, yet still deeply personal, this album is well worth the listen. —ML
'Avengers: Endgame' Opens in Theaters
This weekend marks the premiere of Avengers: Endgame, a film that is a culmination of 21 movies, and 11 years of the Marvel Cinematic Universe, dating back to Iron Man (2008). Endgame is already breaking records in advance ticket sales, and it is expected to potentially rake in a whopping $1 billion within its first week of release worldwide.
Fans have been itching to see the movie all year, despite its listed run time of just over 3 hours. Expectations have remained high, even as Marvel has gone through its ups and downs with some critic flops and the constant controversy about the lack of significant female representation. (That is, until the introduction of Brie Larson's Captain Marvel!) I, for one, enjoyed the movie and—without giving away any spoilers—think that it offered a fitting end to the series!—Gabriella Patti
The R Data Science Community Takes a Stand Against Sexual Assault
In what has likely become a story template for Business Insider, an executive of a tech company, Jonathan Cornelissen, sexually assaulted a colleague at a work event. The company in question is DataCamp, a startup that offers an online learning platform for data science, particularly the programming languages R and python. What sets this story apart, though, is how Data Camp's course instructors have chosen to stand with victims of sexual assault at a real professional cost.
DataCamp aggregates course content from academics and researchers around the globe. When people in the community gradually became aware of how DataCamp attempted to disregard and downplay the assault, they sought an internal audience within the company. As the company's response remained inadequate, more than 100 instructors signed an open letter to DataCamp requesting transparency on the issue. The issue escalated when DataCamp issued a blog post, hidden from search engines with an HTML tag, which described the event using downplaying language and offered no evidence of recourse to the victim, in an effort to dismiss the sexual assault. 
The instructors in the R community, leaders in the data science field have now urged people not to take their course online, and have compiled open source alternatives to using the DataCamp platform. For many members of the community, the royalties from the course offer key income streams. Groups within the community, R Studio, R-Ladies, and satuRdays have also cut ties with DataCamp.
In a work culture where there are often no repercussions for inappropriate sexual contact for CEOs, it's heartening to see a group of coders band together to insist on transparency. —RW
Nicole Kidman Raises Kids without Instagram or Smartphones — Smart Lady!
In an interview with Vanity Fair, actress Nicole Kidman shared something of her unconventional—and perhaps unpopular—parenting techniques. Her two younger daughters, Sunday Rose, 10, and Margaret Faith, 8, don't have smartphones, nor do they have Instagram accounts. She and husband Keith Urban also take their children to church, which she says is something else her friends tease her about. Her upbringing and a strong belief in God are pivotal to the way she's raising her girls, she says, and she doesn't apologize for it.
Kidman is arguably one of the most successful and dynamic actresses of our time, and it's encouraging to see the intention behind her choices to live a relatively simple life. She says she tries to spend as much time with her children as possible. In a culture where the conversation about work-life balance never seems settled, Kidman's situation suggests that priorities can be kept even in high-pressure situations. Her commitment to boundaries can be a reminder to us all that no matter where we live or what work we do, we are human, and it's when we acknowledge our limits that we create the potential to truly thrive. —Lindsay Schlegel
Report Finds Number of Senior Enlisted Women in the Military Has Doubled Since 2000
A new study shows that the number of high-ranking and senior enlisted women in the military has increased dramatically since 2000. The Service Women's Action Network (SWAN) released the report earlier this month, which showed that the number of women in the three senior enlisted pay grades (E7-E9) has increased from less than 4 percent in 1988 to 11.8 percent in the Army, 20.3 percent in the Air Force, 11.6 percent in the Navy, 5.6 percent in the Marine Corps, and 8.7 percent in the Coast Guard. In 2000, there were 30 female generals and admirals on active duty in all five branches, and as of February 2018, there were 63. Additionally, an increasing number of senior enlisted women are minorities.
The significant increase is in part due to the wider availability of military occupational specialties to women and, according to Retired Navy Capt. Lory Manning, who authored the SWAN report, "a lot more women are staying in the military, and staying longer." —GP
Good News of the Week
This weekend, abduction survivor Elizabeth Smart will air a special televised program that brings together a number of other abduction survivors and shares how they have reclaimed their lives. The program, Smart Justice, which airs on Lifetime this Saturday at 8pm ET, aims to help the recent survivor Jayme Closs, who this past year made headlines for being kidnapped after an abductor killed both her parents.
Smart thinks a reminder that there are other survivors could help Closs feel less alone in her recovery. "Each one of these women is a fellow abduction survivor and has gone on to triumph over their pasts and reclaim their lives," Smart shared on Instagram with a photo of the women who joined her. " My hope is that any survivor could watch this and walk away feeling that 1. They are not alone. 2. No matter what they have been through they can overcome what has happened. And 3. Life is beautiful and meant to be lived, and just because something bad has happened it doesn't mean that what happened has to define you." It's fair to say that advice can benefit people everywhere, no matter their hardship. —Mary Rose Somarriba
Watch of the Week
Kelly Clarkson belts her new song "Broken & Beautiful" alongside characters in the kids' film UglyDolls (opening May 3). Oh, and Clarkson's four-year-old River Rose makes an appearance.
Articles of Note