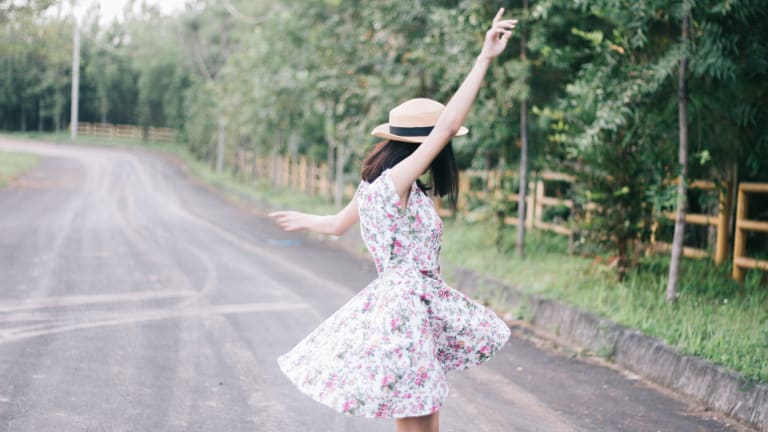 Building a Spring Capsule Wardrobe
Elevate your basics to kick off spring in style!
Minimal dressing is all the rage these days and I, for one, am a fan! Capsule wardrobes counteract the throwaway culture by making a limited number of timeless pieces work in a variety of ways—and they make dressing each day quick, painless, and successful.
At the same time, trends come and go, and part of feeling great in what we wear is merging timeless style with the here-and-now. The capsule wardrobe can be a great way to do just that: the idea is to either pull out key pieces you already own or to purchase a few things to make your wardrobe meet the needs of both fashion and function. The key to successfully building a capsule wardrobe is to know your own personal style. I've learned that there's often a difference between what I like on the rack and what I love to wear—shopping indiscriminately can lead to a closet full of clothes that I don't want to wear. As you assess your style, be honest about what you like and what you will wear.
While each person's capsule wardrobe will look different, I've found it helpful and inspiring to see my friends' and favorite bloggers' capsules. So here is my spring "capsule wardrobe." Mixing pieces like these into your spring rotation can help jazz up your basics with spring's most popular and versatile looks while keeping shopping to a minimum!
 01. Wide-Leg Cropped Pants
From what I've seen, this is the "it" item of the spring/summer season. Most pairs are high-waisted, making these pants easy to pair with crop tops, tied button downs, and basic T-shirts. Ladylike enough for date night, fresh enough for brunch, hip enough for beer gardens, and breezy enough for escapades around the city—this piece is the versatile spring-to-summer item you've been looking for. 
02. Cropped Wide-Leg Jumpsuit
My roommate and I recently did wardrobe assessments and discovered that between us we own 20 jumpsuits. (Note: this does not include the romper count. We left that for another day.) As any jumpsuit lover knows, there's nothing that makes you feel cooler than a jumpsuit—and I mean this literally, if you grab a wide-legged one in a light summer fabric. I have my eye on these ones:
03. Mom Jeans
This trend showed up a few years ago and seems to be here to stay—a happy development for denim lovers everywhere. I don't know about you, but when the weather warms up I want to ditch my skinny jeans right off the bat. If you want something with the comfort of leggings and the cool-factor of denim, these are the item for you. More flattering than their sister the boyfriend jean, this high-waisted, wide-legged number pairs well with just about anything you own: dress them up with heels and a blazer, down with tennies and a T-shirt. Go with light wash for the spring-summer transition (though these can even go through the winter with chunky sweaters and teddy-bear coats!). The Madewell Perfect Vintage Jean has been a widely-known favorite in this genre, but their new "Mom Jean" has an even higher rise well suited to fuller-hipped women. 
04. Striped Button-Down
You probably already own one. (Or, like me, several!) But if you don't, you won't regret adding this to your spring rotation. A menswear vibe mixed with a sheerer fabric and more feminine colors or styling makes this a playful everyday piece. Tucked in, tied up, or worn over a tank dress, a striped button-down can go everywhere you do.
05. Feminine Florals
This is a bit outside my comfort zone. I'm much more a solids-and-stripes kind of girl, but florals are a big trend this season, and I find myself wanting to participate. To keep things a bit edgier, I gravitate towards a floral jumpsuit, but great skirts and dresses abound. Find one pattern you love and see how you can fit it in with the rest of your wardrobe.
06. Ruffled Skirt or Dress
Again, while I'm not a fan of traditionally "girly" styles, for some reason this ruffle trend is really catching my eye—especially when done in a solid or eyelet fabric. Give a nod to Spanish señoritas and anticipate the summer heat in this fresh and feminine style.
07. White Loafers
Now, stay with me here. I bought a pair of these four or five years ago that my roommate designated my "Florida Old-Man Shoes," but they've proved to be a staple in my wardrobe. They add crispness to your basics, and while they mimic the playful sneakers trend, they're more polished and therefore more versatile, taking you effortlessly from work to play and everywhere in between. I'm in the market to replace the Florida Old-Man Shoes this season, and I have my eye on these:
08. Nude Heeled Mules
This look has been around for a couple of seasons now, and I am eager to give it a try. The vibe is comfy-chic: pair them with your go-to weekend denim or jumpsuit for an elevated casual look and spare your heels the pain of breaking in new shoes. I haven't decided whether I want an open-toed version or a close-toed version, so here are a few different options.
09. Leopard-Print Something
Though animal print has long been a fall-winter wardrobe staple with its luxurious mix of blacks and browns, this print turns spring-y in a lighter hue (think black and white, emphasis on the white). Whether you opt for a playful shoe, pant, or blouse, leopard print (along with its near relations) is the new "it" summer fabric. 
10. Acetate or Resin Hoop Earrings
These fun geometric pieces add texture and complexity to your basics. They're a definite statement piece (especially with your hair pulled back), but they're also unbelievably lightweight! Here are some of my favorites:
With a few fresh pieces, you'll be feeling and looking like spring. Happy outfitting!