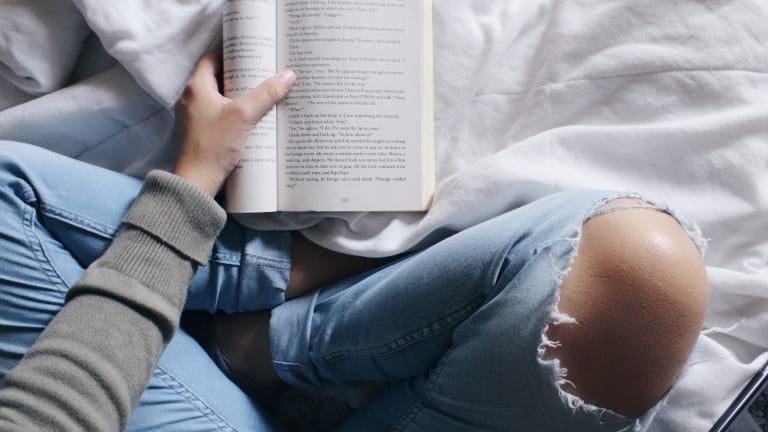 Spring Reads For The Various Needs of The Heart
Whatever this season is bringing, we've got the book for you.
Those cold winter days of snuggling under a blanket with a book have faded away, but it's not quite time to break out the summer beach reads. Still, as the season of growth and renewal, spring is the perfect time to pick up a good book. As we nurture our gardens, let's not forget to nurture our minds and imaginations. Here are some ideas, tailored to different needs, to add to your spring reading list.
When you want to quit the comparisons
Love Your Life Not Theirs, by Rachel Cruze
On a surface level, this is a book about money habits. But on a deeper level, it's a book about quitting comparisons and cultivating contentment. Cruze offers practical tips for building a contented mindset, and she presents concrete strategies on how to manage our money so that we can truly live our best lives. Insight on budgeting, homebuying, vacationing, and grocery shopping are interspersed with big-picture ideas on money. But don't worry—Cruze is no Scrooge. As a natural spender herself, she knows the importance of enjoying our money. Her many relatable anecdotes make this book feel less like self-help and more like a coffee date with an honest friend. You can find a sample chapter here.
When you're trying to find your way in life
Make Something Good Today, by Erin and Ben Napier
Even if you're not a fan of HGTV's Home Town, this book will encourage you. With chapters written in Erin and Ben's distinct voices, the book details their life's journey: how they met, how they took a chance on their dreams, and how they overcame challenges. One of the book's core themes is gratitude, and it offers a refreshing reminder that there is something to be grateful for in each and every day—even if life hasn't turned out the way we expected it to. Here's a short excerpt, published in Southern Living.
If you're looking for a similar dose of inspiration, The Magnolia Story by Fixer Upper's Chip and Joanna Gaines also fits the bill. With heart, humor, and hope, the Gaines' story illustrates the importance of hard work, the beauty of perseverance, and the joy of embracing the unexpected.
For your love life (if you're single)
Boundaries in Dating by Dr. Henry Cloud and Dr. John Townsend
This book is rich with lessons on how healthy boundaries promote healthy relationships. Cloud and Townsend define a boundary not as a wall, but "a property line." The way they see it, boundaries define us and protect us. Boundaries help us make decisions out of freedom, based on what we value, and they allow us to date with a sense of responsibility and maturity. The authors explain that a lot of common dating pitfalls—control issues, being with the wrong person, or even not dating at all—stem from boundary problems. When we have proper boundaries in place, we are better able to protect ourselves at the soul level. As Cloud and Townsend put it, "Boundaries surround the life God has given you to maintain and mature, so that you can become the person he created you to be." If this sounds intriguing, you can read a sample chapter here.
For your love life (if you're married or engaged)
Love and Respect by Dr. Emerson Eggerichs
Lots of relationship books focus on love, but this one stands apart because of its unique emphasis on respect. The basic premise of the book is that a woman's deepest need is love, while a man's deepest need is respect. That's not to say that women don't need respect and men don't need love, but rather, that at our core, we are motivated by two different things. When these basic needs aren't met, men and women react negatively to each other and begin spinning on what Eggerichs calls "the crazy cycle." With insight based on counseling experience, scientific studies, and the Bible, Eggerichs shows couples how treating one another with unconditional love and respect can revitalize their relationship. You can learn more about Love and Respect ministries here.
As a bonus, if you read this book out loud with your spouse or fiancé, you'll also experience the ways in which reading aloud together can benefit your relationship.
When you're traveling with friends
The People Code by Dr. Taylor Hartman
You'll get to know your friends—and yourself—in a new way with this book. Previously published as The Color Code, this book provides an in-depth look at four different personality types, each identified as a different color: red, blue, yellow, and white. What sets this book apart is that it explains personality in terms of motive—what drives you. The book is nuanced enough that you won't feel boxed in; Hartman takes into consideration that, while each of us has one dominant motive, we're also strongly influenced by secondary motives. These motives affect the way we work, parent, and relate to others. You can also complete Hartman's personality profile online.
For historical fiction lovers
The Plum Tree, by Ellen Marie Wiseman
This World War II novel tells the story of Christine, a German girl who falls in love with a young Jewish man named Isaac. As a result of her attempt to hide Isaac, Christine is sent to Dachau, where she labors as a cook for a German officer. She survives, but upon her return home, she faces new tension and even tragedy. This book was inspired by the author's own mother, who grew up in Germany during the war. Her real-life stories are woven together with fiction to offer a vivid depiction of wartime. You can read an excerpt here.
If you're looking for more WWII stories, Verily has a list of six must-reads set during that time period.
When you want a book with lots of emotion
A Fall of Marigolds by Susan Meissner
Two stories of loss and love intertwine in this gripping novel. Both take place in New York City in the aftermath of tragedy. The modern-day story follows Taryn, whose husband died in the 9/11 terrorist attacks. When an old photo unexpectedly surfaces, the crushing memories of her husband's death come rushing back—along with regret she has kept buried deep inside in the 10 years that have passed since then. One century earlier, Clara is trying to escape the grief and horror of the 1911 Triangle Shirtwaist fire. As a nurse on Ellis Island, she seeks the solace of "an in-between place." These two stories, set a century apart, are connected through time by a marigold scarf. If you enjoy this book, you can also check out Meissner's other books, set in a variety of different times and places.
When you want a good mystery
The Lake House by Kate Morton
A missing baby, an abandoned estate, and a lifetime of family secrets make this book a compelling read. Sadie Sparrow, a young detective on leave from work, stumbles into an unsolved mystery involving the family of a successful novelist. As Sadie's investigation unfolds, the novelist, Alice Edevane, must confront the secrets of her past. The story moves back and forth in time, moving from the modern day to 70 years prior, when the Edevane family's life forever changed for the worst. The truth eventually surfaces, but not without plenty of unexpected twists along the way. You can find a short excerpt here.
For your inner child
Little Women, by Louisa May Alcott
This year is a particularly good time to read or reread this classic, as the beloved March sisters have been in the spotlight quite a bit. Last year brought a modernized remake and a PBS miniseries, and the newest film adaptation is set to hit theaters in December. For those of us who cherished this book throughout childhood, rereading it may feel like meeting up with a long-lost friend. At the same time, we may also gain new insights as we read this book from a grown-up perspective. First-time readers will likely fall in love with Meg, Jo, Beth, and Amy, and be swept up in the story of their close-knit family.
Childhood favorites, in general, can be a welcome presence when we carry them with us into adulthood. As Verily's Emily Lehman has noted, we're never too old to enjoy "little-girl books" like Anne of Green Gables, The Secret Garden, and other treasured tales.
For audiobook fans
Unbroken, by Laura Hillenbrand (narrated by Edward Herrmann)
Hillenbrand's name might sound familiar, as she is also the author of Seabiscuit. In Unbroken, she tells the true story of Louis Zamperini, an Olympic athlete who became a soldier during WWII. After his plane was shot down over the ocean, he survived on a raft in shark-infested waters, only to be captured by the Japanese. As a POW, he endured unspeakable torture, and the memories burdened him long after the war ended. Zamperini's is a story of human resilience, and his journey is truly inspiring. Aside from being a compelling story, the pacing, tone, and writing style make this an excellent book to listen to. Another part of what makes this audiobook particularly good is the narration—the narrator, Edward Herrmann, is the actor who played Rory's grandpa in Gilmore Girls. Even if you've seen the 2014 film adaptation of this book, along with the 2018 sequel, it's definitely worth experiencing the full story.
For more ideas, check out some of the other book recommendations from the Verily archives: