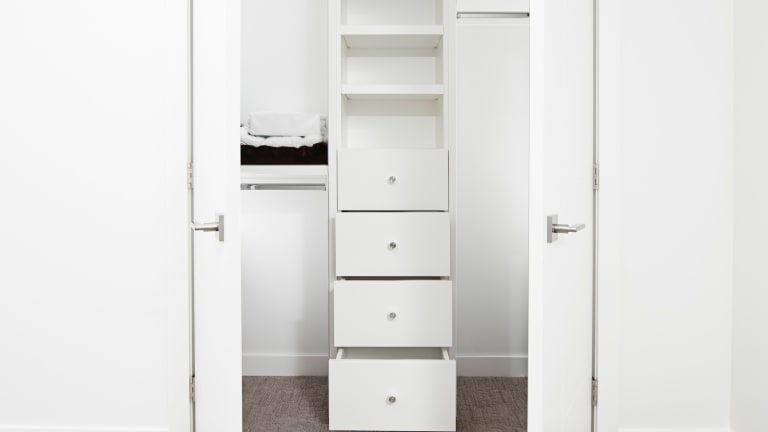 10 Smart Storage Solutions For $5 and Under
Minimize your stress by maximizing your space.
I'm a self-proclaimed perfectionist. I get anxious when the space around me is a mess, even if that "mess" only consists of crumbs on the dining table. My desk and drawers are always pristinely organized. And I have a Pinterest board of neat methods and simple spaces that inspire me to whip my own home into shape.
Some may argue that buying storage solutions is a waste of money, but they're the only items tidying expert Marie Kondo buys more of when she's transforming clients' homes from cluttered to captivatingly clean. In her Netflix show Tidying Up With Marie Kondo, Kondo always brings boxes of all sizes to help families better organize everything from the kitchen to the closet. People are always surprised by her gift, but they quickly realize these boxes are total game changers. In her show, Kondo uses boxes to put away clothes on open shelves, fit tech accessories inside a larger storage bin, and hold odds and ends like spare batteries and light bulbs in the garage.
Needless to say, smart storage is an investment that pays returns in the form of a more relaxing environment. An organized space will save you the time and energy you'd otherwise use going through all your stuff. Kondo also notes that being more organized can save you money in the long run. You'll be able to see everything you have easily so you can avoid buying another jar of spaghetti sauce or pack of toilet paper rolls you don't need.
You can find affordable and smart storage solutions at design-conscious home shops like IKEA, the Container Store, and Muji—all for $5 or less. Below are 10 organizers I use in my own home that have transformed my day-to-day living.
Linens
Antonius white wire basket, IKEA, $2.50
The Antonius wire baskets were designed to fit shelf units, but I use them around the house to store cleaning cloths, sheets, and towels. They're easy to pull in and out because they're light, and you can quickly survey what's inside them.
Technology
Tjena storage box with lid, IKEA, $1.99
I use these eye-catching boxes to store items on my shelves that would otherwise be an eyesore. Because it's so affordable, I don't feel guilty for cutting out a hole on the back of the box to store our modem and digital media player along with their awkward cords. Available in multiple colors and pattern, they're a pretty way to corral chargers, cables, and remotes too.
Toiletries
If you open the cabinets under our bathroom sinks, you'll find two or three of these high-low shaped open containers. We keep extra toiletries in one box, feminine hygiene products in another, and first aid supplies in another one. Because the backs are high, they can hold taller bottles while the low frontside makes shorter products visible as well.
Keepsakes
Smarassel box with lid, IKEA, $2.99
I'm guilty of hoarding old photos, greeting cards, letters, brochures, and more. I finally picked up a few Smarassel boxes to organize and protect these keepsakes. They come with labels and label windows so you know exactly what's inside.
Arts & Crafts
Kuggis box with lid, IKEA, $2.99
You know something is well-designed when you buy it for the exact purpose it was made for without knowing it. That's how it was for us and the Kuggis lidded box. I had no idea what it was for, but I knew it would be useful so I took one home. The design is so modern and chic that no one would guess the Kuggis is holding our kids' art supplies, construction paper, stickers, and coloring books.
Pantry Items
Clear plastic storage bin with handles, Container Store, on sale for $4.49
Snacks, baking ingredients, non-perishable foods—you name it, and it's probably stored in one of these inside our pantry. The clear plastic shows you what goodies each bin contains. Since the handles make these easy to pull out, you'll have fewer expired foods that have been sitting in the back of the cabinet for years.
Coats, Hats, and Umbrellas
Design Ideas white over the door J-hook, Container Store, $1.99
The J-hook is small but mighty. This one is made of steel so it can handle the weight of your beloved outdoor accessories. You won't need screws or tools–just hang it on the back of a door and call it a day. At such an attractive price point, you can even get one for every door in the house. The more smart storage, the merrier!
Drawers
Madesmart interlocking bin organizers, Container Store, on sale $2.24/ea. - $3.74/ea
These madesmart interlocking bin organizers are brilliant. I've bought and returned drawer compartments multiple times because they don't quite fit into the space. With these, you can mix and match pieces by size and shape whether you're using it for makeup, office supplies, or kitchen tools.
Papers
File Box Standard, Muji, $5.50
Paperwork is neverending. We get so much mail that I've had to get bigger and bigger file folders to store important documents like bills and bank statements, school and health records, proof of insurance and warranties, and so much more. Instead of using flimsy file folders, I now have a file box for different types of paperwork. They come in neutral colors that can easily blend with any decor.
Small Miscellaneous Items
Acrylic Storage Pot with Lid, Muji, $4
These small clear pots are ideal for holding odds and ends. I keep one in the guest bathroom filled with personal hygiene items like bandaids, floss, cotton swabs, and cotton pads. On my desk, one holds paper clips and binder clips of different sizes and another holds rolls of washi tape. Use them for rubber bands, old batteries for disposal, or whatever else tends to end up in a junk drawer.
If you try any of these, send us a photo on Instagram @verilymag and let us know how your clever storage solution has changed your life for the better.