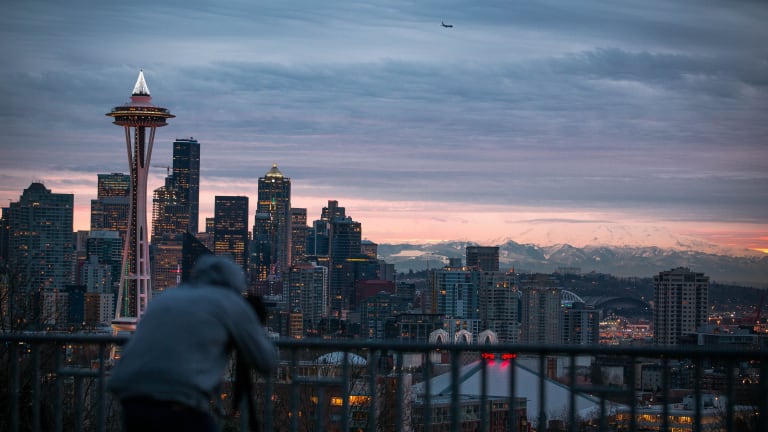 Travel with a Local: Seattle, Washington
A caffeinated tech hot-spot with a 90s grunge feel
Why should we visit your town/city?
A mix of tech boom and old-school grunge, the city of Seattle is surrounded by water and filled with vibrant, green city parks. And yes, there is a coffee shop on every corner.
Where should we stay?
How about a treehouse? Washington is the Evergreen State, after all! Snuggle up among the treetops and stay within the city limits with the Seattle Urban Treehouse—or head to the charming Seattle suburb of Issaquah to stay at Treehouse Point.
If a treehouse doesn't sound like your thing, boutique hotels downtown include Hotel 5, Ace, and Hotel Max.
Where should we eat?
Don't miss out on seafood when you visit Seattle. In a city surrounded by water, the fish is fresh—and Seattle chefs know how to prepare it. Visit The Walrus and the Carpenter (thewalrusbar.com/) for fresh oysters, or grab a salmon sandwich inside Pike Place Market at The Market Grill. (They are only open for lunch, and go early before they run out!) If it's rainy outside, warm up with a bowl of Market Chowder at Pike Place Chowder.
Which coffeehouses are the best and why (for coffee, for atmosphere, for both)?
Seattle is a city of coffeehouses! You might even say it all started here—Seattle is home to the first Starbucks, and the city's coffee shop scene is booming. La Marzocco at KEXP is one of my favorites. Housed in the headquarters of a local indie radio station, you can shop for records or watch the live radio broadcast while you sip your coffee. The baristas know what they are up to, and the coffee selection rotates each month. Plus, it's a touristy bonus that La Marzocco sits at the base of one of Seattle's most famous landmarks, the Space Needle.
Milstead & Co., in the Fremont neighborhood, is the spot to find the perfect pour-over. Across from a beautiful lake and around the corner from the famous Fremont Troll, a statue of a troll built under a highway bridge, Milstead's quirky location and modern vibe make if perfect for a morning spent with a book or meeting friends.
If you can't leave Seattle without a Starbucks experience, I recommend the Roastery on Capitol Hill. A short walk or ride from downtown, this enormous Starbucks won't feel like any Starbucks you've ever been to—there's even a coffee library!
What sights should we see?
If you are headed to Seattle, you'll have no shortage of options for spots to see great city views. In my opinion, nothing tops the Space Needle for a classic tourist "view" experience, and the Columbia Center Tower observation deck is the highest viewpoint, but there are plenty of free places you can add to your list if you're trying to keep your trip on a budget. Popular parks like Gas Works Park in Fremont, Kerry Park in Queen Anne, and Alki Beach Park in West Seattle offer great skyline views.
Or, see the view from the water. The views of the city skyline from the ferry are some of the best—on a sunny day the whole city sparkles. On a drizzly day the city is moody and gray and the water is gray-blue and choppy—it feels like stepping into a mystery novel. Ferries leave from Pier 52 in downtown Seattle on a regular schedule. My ferry of choice is from downtown Seattle to Bainbridge Island. An adult walk-on roundtrip passenger ticket is $8.20, and you can ride the ferry to Bainbridge, get off, and get right back in line to return to Seattle. (The ride to Bainbridge is about 35 minutes each way.)
Pike Place Market is the heart of Seattle. It can feel touristy, but locals go there too. Watch people throw fish at the Pike Place Fish Market, add your chewed gum to a wall of gum, find out what flowers are in season by wandering past stalls with hundreds of bouquets, and take time to sit and people-watch. You won't be disappointed.
If you're looking for an indoor activity, the Seattle Public Library Central Branch is a great building to explore (1000 4th Ave). I always start by taking the elevator up to the top for the viewpoint—follow the signs right to it. Then take the stairs to the 4th floor "Red Hall" for a fun surprise. On the way down, ride the escalator and appreciate the art installation in the wall!