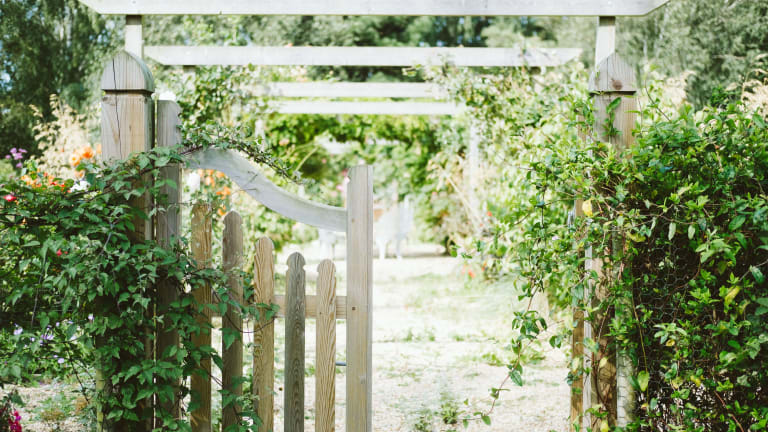 What Britain's Favorite Gardener Has to Teach Us About Life
Cheers to horticultural wisdom from across the pond.
While I've never been much of a gardener, I have always loved British culture, and I thank my lucky stars that my Anglophile best friend knew where to direct me after I polished off every available episode of The Great British Baking Show (Masterclass included). Her suggestion was a show streaming on Netflix called Big Dreams, Small Spaces.
Each episode of the show follows different amateur gardeners as they renovate the garden of their dreams from concept to completion—all with the affable assistance of Britain's favorite gardener and the show's host, Monty Don.
Monty Don isn't a household name in the United States, but my guess is that it's only a matter of time. If you're not yet acquainted with Monty, he's a gardener who has learned his trade through a lifetime of experience. His formal training is in writing (he's authored a number of books on gardening), and he's overcome his share of hardship. Both of these elements of his background contribute to how relaxing and encouraging it is to hear him converse with the people he mentors on his show.
The show is so much more than watching grass grow. With Monty's guidance, amateur gardeners create sensory gardens for children with special needs, jungle spaces reminiscent of childhoods spent in the Philippines, and so much more. Communities are strengthened. People find hope in their grief. And the world becomes a more beautiful place, one plant at a time.
My garden is still a moderately-sized dream, but that doesn't mean I haven't learned a great deal from Monty from the comfort of my couch.
01. Big dreams are a great place to start.
At a gardener's first meeting with Monty, he or she presents drawn plans for the space. Often in the initial conversation, Monty encourages his mentee to question supposed limitations and to think bigger. Over time, these plans may be scaled down, but he shows how it helps to let your imagination play when you're embarking on something new.
02. Focus is key.
Time and again, Monty emphasizes that simplicity is the common element in most successful gardens over time. This doesn't contradict the previous point: dreaming big allows you to home in on what you really want, not what you think you want or what you think you ought to have. Once you have a clear vision, it's best to stick to it and not let other ideas crowd it out. Try to do too much at once, and your idea ultimately won't translate to success.
03. Humility helps you stay the course.
The show isn't a competition, so there are no winners or losers. All participants on the show are there because they want to accomplish something that requires more skills and knowledge than they have. The manual labor required to create a garden is too much for one person, so everyone needs to ask for help from neighbors and friends. The goal is neither to be the best at something nor to achieve some level of acclaim or esteem. Rather, the goal is to learn and grow, to blossom in one's own home in a brand new way.
04. Look to others for inspiration.
Monty selects a garden or specialized gardener for each of his amateurs to visit in the course of the show. Ideas on paper are not the same as flourishing finished projects in real life. Seeing your idea approached from another point of view can illuminate and inspire your vision, and will often breathe new life into endeavors that have started to feel unwieldy.
05. Good things take time.
American reality shows tend to rush things or pretend that extraordinary things happen in an instant. The British take a different view. Just as you'll occasionally see a Great British Baking Show contestant sipping tea while waiting for bread to rise, a single episode of Monty's show elapses over the course of about four months. There's no hiding that a garden needs time to grow, and that reality is embraced as part of the journey. Different elements respond to various levels of care, and so there are choices every step of the way. A garden is never finished; it is always a work in progress. But that doesn't mean it can't be enjoyed for the living, breathing, beautiful creation and labor of love that it is, right now.
Perhaps it's contradictory to suggest that in an age when we already spend too much time in front of screens, we can benefit tremendously from Monty Don's Big Dreams, Small Spaces. But then, maybe this reminder of the beauty of nature and the encouragement to get our hands dirty and care for our outdoor spaces as a means of caring for ourselves is simply a good use of the technology and media we have available today. We all need to start somewhere.
If Monty Don has taught me anything, it's that "however small your garden is, everybody can cultivate a big dream." 
Correction: An earlier version of this piece identified Monty Don as an "expert" gardener; however, he has no formal training in horticulture.