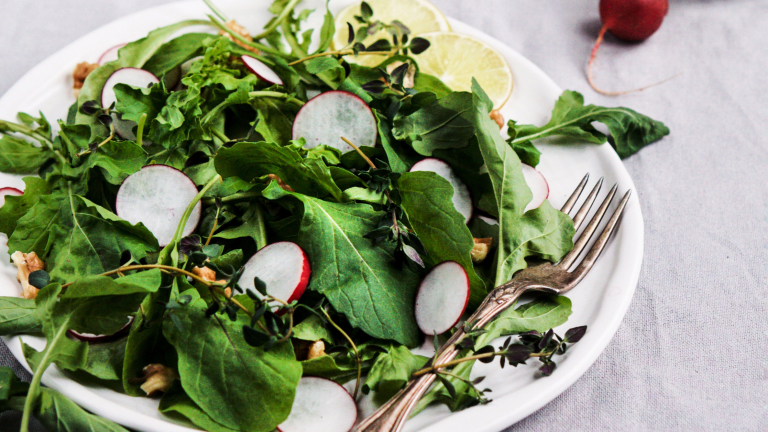 Community-Supported Agriculture: Is It Right for You?
CSAs might be the sustainable key to nutrition.
There's something charming about the idea of buying local produce. I envision an open-air market, a rainbow of fruits and vegetables (some of which I can't even name), and a farmer with whom I'm on a first-name basis. Once home, I prepare a Pinterest-worthy feast for my family, and we are all left feeling nourished and fulfilled.
More often than not, though, I have taken the seemingly easier route and hit the grocery store for produce sourced from all around the world, more concerned with the price per pound than the country of origin.
A few years ago, I listened to an audiobook that helped to shift my perspective. Animal, Vegetable, Miracle: A Year of Food Life by Barbara Kingsolver opened my eyes to the economic, societal, and nutritional benefits of buying local, seasonal produce. When food doesn't have to travel far to get to you, your purchase has a smaller carbon footprint. And you get more valuable nutrition from fresher food.
Enter the CSA
When my husband and I were first married and lived in Brooklyn, we signed up for a share of a community-supported agriculture (CSA) program. Here's how it works: sometime between February and April, you sign up for a share of a farm's weekly produce. Generally, you pay up front, but some farms may have other payment options. Once the season starts, you pick up a box of whatever's available at the farm that week.
Our first go-round, there was very little fruit and a whole lot of leafy greens. There was an option to swap something out if another patron had chosen not to take part of his or her box home, but I picked up early, so that rarely happened. To be honest, we wasted a lot of food that year. Even with a "reduced" share, which was supposed to feed a family of two for a week (it was just my husband, our one-year-old son, and me), it was more than we needed.
A Second Try
A few years (and a few more kids) later, we found ourselves in New Jersey, and I was fired up from reading Kingsolver's book. I did an Internet search for local CSAs, but the pick-up locations were too inconvenient to commit to a weekly trip five months out of the year. Then one day, on the way home from a favorite park, I saw a sign for a program I hadn't found online. The date and time were a perfect fit. I found their website and the sample boxes shown looked more like what we ate on a weekly basis.
We're currently in our third season with this CSA, and I'm so grateful I found a program that is so well suited to our lifestyle and also has helped us to eat better. Last year, we ate almost everything we got!
Wondering if a CSA is right for you? Consider these questions:
01. How much produce do you eat in a week?
Most programs offer multiple sizes of their shares and websites show images of sample boxes. For my family of six, the still-generous "reduced" share in my program is plenty. We like that this CSA includes a sizable share of fruit, as well as the occasional bottle of cider. Our pick-up location also sells baked goods and flowers, which is a nice option when I know we're having company that week.
02. How much do you spend on produce each week?
Look at your grocery receipt over a couple of weeks. Then do the math for your program (total cost / weeks = price per week). On average, our CSA turned out not to cost more than our grocery store produce expenditures. But remember: it's only worth it if you're actually going to eat the food!
03. Is the pick-up time convenient?
If it's going to mean going out of your way every week to pick up your box, you may not stick it out for the whole season. Some CSAs have pick-ups every other week. You also might tag-team with a friend or neighbor and alternate pick-ups.
Be sure to inquire about when you'll know what's in your box. My CSA sends an email on Sunday with what they expect to have for my Wednesday pick-up. I've adjusted when I plan my meals and do the rest of my grocery shopping to be sure to make the most of my box.
04. How much are you (really) going to cook?
Be honest with yourself. Some seasons of life allow more time for meal prep than others, and getting to know a new fruit or vegetable requires more planning and time in the kitchen. I know how to cook a potato, but if I get a parsnip, I'm going to have to do a little research. Two years ago, I was in the first trimester of a pregnancy when our CSA season started, and I could barely look at bok choy. The next year, I was feeling more energetic and looked forward to the challenge of a new item. We ate very well that year!
To Everything There is a Season
If a CSA seems like the right fit for you this year, I encourage you to give it a try. But if this isn't the right time for you or your family to invest in a season's worth of food in one shot, don't stress about it. You can still prepare nutritious meals and reduce your carbon footprint by buying food at the supermarket that is in season and choosing items that didn't travel as far to get to you. Even then, trying to eat locally doesn't mean you can never eat a banana again. Being more thoughtful about your purchases—even by just making little changes—can go a long way for you and for the environment. 
Editors' Note: Verily's mission is to empower women to be less of who they should be, more of who they are. If you support this mission and you want to see us go to print, subscribe today to Verily Yours. You'll receive exclusive, quality content that will simplify and elevate your everyday, while supporting empowering women's media.