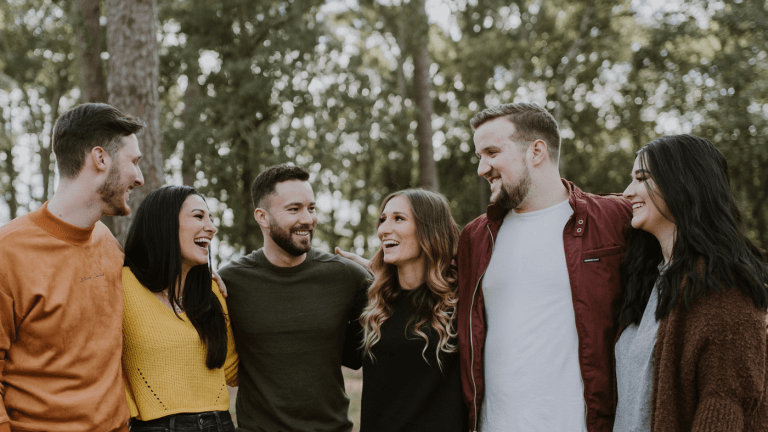 Keeping in Touch with Siblings as Adults
Four ways to strengthen your relationships
There were never such devoted sisters as my three younger siblings and I. All of us are extremely close in age so we grew up doing everything together: sports, debate team, and drama club . . . some of us even attended college together!
But now that the youngest is about to leave home for college, it's dawning on me just how much has changed now that we are all living in different parts of the country. As the oldest, I am living in Washington, D.C., a few hours from my hometown. The next sister is finishing up college, and the next is a college freshman. As we enter adulthood, we have had to be much more intentional about staying in touch.
Fortunately, there are a lot of ways to stay close, even when your siblings are far away. I sent my sisters a group text to ask what gestures have made living apart easier, and here is what we came up with.
01. Text and call with intention
I am all about reducing screen time. But when you do decide to pick up your phone, make that time count. Use it as an opportunity to touch base with your family!
My sisters and I have a running group chat so that we can share personal news, like upcoming events and prayer requests, and share a few good laughs (our last chat centered around why Duckie is the real teen heartthrob in Pretty in Pink).
If you don't have one already, set up a family group on your preferred messaging app or social media platform, and make a point of checking in at least once a week.
Phone calls are also a great way to make quality time for your siblings. You get to hear their voice, and if you use an app like FaceTime or Skype, you can see each other too. Making time for a phone call is a good way to be intentional with your time and show your family that you care.
Calls don't have to be long if you are tight on time. This week, my sister and I FaceTimed for a quick fifteen-minute catch-up session while I cooked dinner. In that time, she was able to catch me up on her college studies, and I told her all about a recent work trip. A little time can go a long way!
02. Send snail mail
There is something so special about receiving a handwritten note in the mail. Maybe it's because keeping in touch via letters makes me feel like a Jane Austen heroine or because reading someone's handwriting feels so much more personal than letters on a screen. Either way, I suspect that you too enjoy receiving surprises in the mail.
Try out letter-writing with your siblings and see if it takes off. Letters are special because they force us to slow down, organize our thoughts, and give our correspondence a personal touch. You can also return to old letters and revisit the memories (I keep mine stored in a box for that reason).
If you don't have time to write a full letter, try sending postcards or a care package. This year, I sent packages with small notes and chocolate to all of my sisters, just because. These small gestures are a unique way to stay in touch with those you love.
03. "Synchronize watches"
One of the challenges of living far from your family is that you can't do things together like you used to—go for a walk, watch a movie, share a meal. But with a little creativity, you can still share experiences with your siblings in real time.
Find activities that you and your siblings can do at the same time while on the phone or texting. I have yet to do this with my sisters, but one of my college friends and I would coordinate a time to stream the same episode of our favorite period drama and send each other our reactions over Google Chat as the drama unfolded. You might also try reading the same book or article and then finding a time to discuss it all together.
Or you could do what my sisters and I did, admittedly by accident: we all called home at the same time. Our parents put us all on different lines and then placed all the phones on the dinner table so that, at least for a few minutes, we could be together for supper and talk like we used to.
The main idea is to find some activity that you can do separately but still experience together!
04. Make a "grand gesture" by traveling to be with your siblings
Sometimes this isn't an option for siblings who live far apart. But if you have an opportunity to see each other, take it! Nothing can replace in-person quality time. It may require some sacrifices, but it's worth it.
I find that it's nice to have some time together outside of the busy, stressful holiday season. My youngest sister, who is still living at home, has been able to make a few trips with my mom to see each of us this year. It was a great chance for us to make new memories together.
If you have siblings in college like I do, it's a good idea to write down the dates of their breaks in your calendar. For you working ladies, make sure to loop in your siblings about your vacation plans, and stay-at-home moms, be sure to share the family calendar with your extended family too. Then you can all look to the future to plan weekend visits.
Some of our close family friends have a group Google Calendar that seems to do the trick; for our family, our mom's old-fashioned paper calendar serves as a good reference.
The common denominator of all of these ways of staying in touch is intentionality. As adults with full workloads and lots of commitments, my siblings and I find that it's a lot harder to spend quality time than when we were kids living under the same roof. However, by making time for each other in a clear and deliberate way, my sisters and I are just as close as ever. We are making lots of new and exciting memories in this next phase. Staying in touch is one hundred percent worth it.