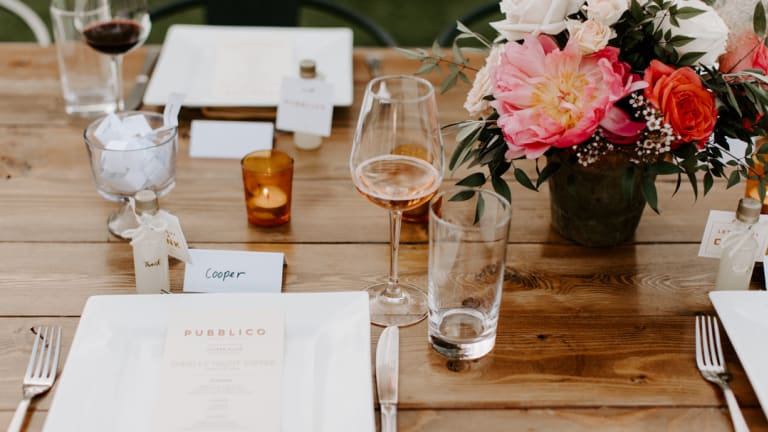 The Art of the (Fairly Simple) Dinner Party
A hosting guide to spare stress and delight guests
We all love dinner parties—but they can also be intimidating. I remember the evening we made crepes for my parents (while caring for our new baby) and didn't end up eating until nearly ten o'clock; the time I spent days laboring over beef spare ribs that ended up being too fatty to get a reasonable portion from; and the numerous meals that for some reason smoked up the whole house and ended with us eating in our coats because the windows were open. I have come to see these hiccups as part of the fun—but I still try to avoid them.
To spare you some of the stress, here is a guide to hosting a simple but decidedly elegant meal for a small group of friends.
First of all, find a partner in crime.
It is so helpful to have a friend (or spouse) with whom to think through the logistics of the evening. He or she can also help with preparation, covering costs, and helping the evening go well. It is far less intimidating and less stressful to host an affair when you know you have someone sharing a few of the responsibilities, if only the mental legwork.
Next, think through and decide on the guest list.
Think about how many people you can comfortably accommodate. Once you have your number, think about your friends and their personalities, and try to imagine how different combinations of people will affect the conversation and atmosphere. For example, it is always helpful to have at least one person who tends to be more outgoing and can sustain a conversation, as well as at least one who is quieter and offers a more reserved, calming presence. (Of course, we don't want to reduce our friends to mere characteristics—but considering these things beforehand can help create a group dynamic that plays up everyone's strengths.)
The biggest difference between an extravagant and a simple dinner party is the food.
Plan the meal based around what is on sale, what you are comfortable with making, what can be made ahead, and what friends have offered to bring. Most people will ask how they can contribute, and I never shy away from requesting that friends bring wine, a dessert, a salad, or an appetizer. This gives them a sense of partnership in the meal, and it reduces my task list as a hostess.
Here's a template for a delicious but not overwhelming dinner party: a simple appetizer; a main dish with lots of protein like meat or fish; a starchy side like potatoes, root vegetables, or rice; a salad or cool side dish; bread with butter; and dessert. Your guests could feel overwhelmed by abundant options, so keeping it simple and minimal is a favor to them as well as helpful to you.
A heavy, filling appetizer can pose a dilemma for guests; I've definitely been torn between wanting to eat a delicious appetizer and wanting to save room for the main affair of dinner. Try something simple like cheese, crackers, and fruit. If you're feeling fancy, make one plate of bacon-wrapped dates—or just set out chips and dip for a casual starter.
For the main dish, choose a recipe that can be made ahead or can cook without requiring a lot of your attention—avoid those that call for "babying" in the last few minutes. Roast chicken can be fairly simple: put it in the oven before guests arrive, and time it so that it comes out while you're enjoying appetizers so that it can rest until you are ready to eat. You can also cook the meat a few hours ahead and simply let it warm back up in the oven (being careful not to overcook). My favorite is a Crockpot or Instant Pot meal that can still be presented beautifully. A Crockpot roast, arranged on a platter with a garnish like parsley or dill, looks quite impressive, tastes delicious, and is extremely easy to prepare!
Some sides, like salads and soups, can be made ahead as well. I try to include at least one cooler, lighter accompaniment to the meal; it's a refreshing counterpart to warmer, richer flavors. Depending on the "feel" of the evening, you could save one side dish to prepare with your guests over drinks—an activity like this can be a natural ice-breaker and involve your guests in the work of the meal.
Lastly, choose a dessert that can be prepared ahead of time (even a day ahead can be lovely) and that complements the flavors and richness of the meal. If the meal is fairly heavy, choose something lighter or served cold, like berries and custard or a pavlova; if it's a lighter meal, choose something richer like brownies or cake.
If a friend has offered to bring one of these, again, let her!—and enjoy having less work to do. And remember that food does not need to be fancy or luxurious to be delicious. Olive oil, salt, and pepper go a long way in transforming fresh meat or vegetables, and you don't need to slave away over the stove for hours ahead of time.
Visualize and create the setting: décor, music, lighting.
It actually takes very little to create an impressive but affordable tablescape. All you need are a few unscented candles (pick an odd number in any color or size, although white is timeless), which you can arrange down the center of the table in a straight line or a zig-zag. Use a tablecloth or runner or just leave the table bare. If you want to fancy it up, purchase a couple of bunches of foliage from the grocery store (I always go for seeded eucalyptus or ferns), and arrange them down the center of the table around the candles.
Have the table set before guests arrive (even hours before—this is an easy one to get out of the way ahead of time!) with whatever plates, silverware, and napkins you have. Your dishes, as well as the meal that is to come, can serve as your main table décor. Mixing and matching lends a fun, eclectic flair—or all white looks bright and fresh. Whatever you have is just right.
Music helps set the mood; choose your playlist or genre beforehand, and have it playing in your last minutes of preparation and as guests begin to arrive. Lastly, find the level and combination of lighting that encourages a calm but lively sense in your space. Lighting should be soft and warm, but bright enough that guests can see each other's faces (the candles on the table will provide a lively, but indirect, light source). Avoid fluorescent lights, and use the dimmer switch if you have one.
Finally, the rhythm.
Much of the beauty of a dinner party revolves around the rhythm of the evening: how it is orchestrated and unfolds. For a peaceful and elegant evening, plan the schedule beforehand, keep guests informed of the flow of the evening, and alternate rooms between different courses to keep your guests refreshed and energized. When the host(s) has decided ahead of time when and how the drinks, appetizers, meal, and dessert will be served, guests can relax and follow along. Often, a dinner party spontaneously calls for a bit of flexibility (a guest arrives late or has to leave early, the meat takes longer to cook than anticipated, or any number of small mishaps). Allowing for a bit of humor here—and maybe pouring everyone another drink—will only add to the texture and beauty of the evening. Think of it like a musical piece: there are dramatic moments of intrigue and action (the arrival of guests, the opening of wine bottles, the serving of an entrée) are all wonderful, but we also crave measures of quiet and falling action (the moment of satisfaction after a good meal and a thoughtful conversation) and can even enjoy little transitions in between (moving from kitchen to table to living room).
Don't put too much pressure on yourself—a dinner party is not about you but about your friends; it's meant to serve them. (And don't forget your partner in crime, who can help you remember this!) We are all traveling along, and these little gatherings, little feasts, can be pleasant interludes that draw us all together on the journey. 
Editors' note: If Verily elevates your day and helps you live a more deeply meaningful and fulfilling life, please consider joining us at Verily Yours. Verily Yours subscriptions give you more empowering content (that's not like our website content), while also supporting our publication, including our efforts to develop a print magazine.