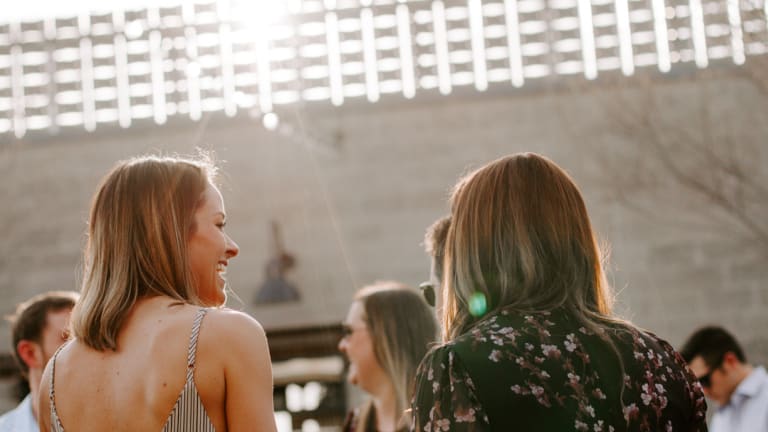 Reasons to Celebrate Our Intergenerational Friendships
With age comes wisdom, as well as many other wonderful qualities.
It was the very first day of my master's program, and I knew I wouldn't know a soul. I stepped out of my car, gathered my school materials, and rushed to head into class. I saw a sunny, cheerful face—a woman in her early fifties—as I passed in haste, missing a chance to meet her properly. But it turned out that she was heading to the same class.
On that first day, it was just the two of us in attendance: some students were sick and others were traveling. But this meant we bonded quickly as our professor drilled us with master's level questions that we were not prepared for—since it was our very first class!
The next day, I breathed a sigh of relief as I walked into class and saw an empty seat next to the familiar face I had met the day before. I hoped that over the remainder of the course we would become friends. And, despite our generational age gap, friends we became. I was in my early twenties; she was thirty years older. However, I think this age gap actually helped our friendship to blossom. I needed the patience, wisdom, and care that she could offer from her years of experience.
After a few weeks, she invited me to join her for brief walks during our class breaks. Had it not been for this invitation, I would have been tempted away from being present to who and what was in front of me, and instead would have filled my time by picking up my phone and calling a friend or family member. I needed someone to gently call me out and offer me a consistent invitation. She never made me feel guilty for stepping aside from the classroom community; instead, she offered me another option, a real, in-person conversation.
Over the next three years we spent studying together, our friendship grew strong roots, and we have continued to deepen our friendship in the three years that have followed since we completed our program. And our walks have continued, from mall-walking in the cold of winter to strolling the peaceful dock of her Minnesota cabin.
There is something so enriching about growing in friendship with people of other generations or stages in life. For those of us who are still in the early stages of adult life, people who are a few decades older than us have a great deal to share if we simply give them the chance.
They value face-to-face interaction.
I've noticed that many of my older friends have a gift for being present. They are often less distracted, particularly by the lure of the smartphone, than my peers. Too often we millennials allow technology to consume us, rather than using it intelligently as a tool. When spending time with my peers, I tend to notice the presence of our phones. When we get together, we think that silencing our phones and flipping them upside down on the counter or couch means that we are "being present" to those around us. In contrast, those who are older—and who didn't grow up online—hardly ever seem to have their phones visible (or even with them!) when they are visiting.
They don't suffer from FOMO.
You can actually find joy in "missing out"—not only joy but freedom. I often find that those a generation older than me do not struggle with the anxiety of missing out. In a season of my life when I was feeling overwhelmed by overcommitment, I made a new rule for myself to only make one plan a day. That could mean one happy hour or one party, but I was careful not to say "yes" to more. What I found was that I was able to give myself much more whole-heartedly to the people and things I said "yes" to because I wasn't distracted or tired from already having too much on my plate. Instead, I cherished every moment. Like the older friends from whom I learned this lesson, I didn't feel tugged in a dozen different directions.
They can introduce you to new things.
Around the time of my high school graduation, my godfather bought a wood lathe to make plates, bowls, candle-sticks, and other intricate artisan goods. As a graduation gift, he offered me unlimited lathing lessons. The first time I went to his home for a lesson, he taught me how to make small cereal bowls that I still use today. Over the years, I have continued to learn from him, and now both my husband and I share in this craft—turning wine stoppers and ring holders as my godfather guides and oversees our hands.
They teach us about making a home.
When I was a year out of college, one of my professors' wives invited three other single young women and myself to her home for tea and a discussion. In a casual and warm atmosphere, she shared her thoughts on hospitality and homemaking. We frantically wrote pages of notes as she shared with us her experiences as a young adult and her roles and responsibilities as a wife and mother. She emphasized various ways to make our living situation an intentional home, even if it was temporary: things like planning consistent meals with roommates (whether breakfast, lunch, or dinner), and creating a space where that can truly serve as a place to relax, reset, and welcome others. That moment of mentorship meant a great deal to me.
Over the years, my friend from grad school and I have kept in touch, and I'm so thankful for her. She and her husband even made a five-hour drive to celebrate with my husband and me on our wedding day. The last time we got together, we met at a mall in between both of our homes. We did some window shopping for summer shoes and shared stories about our recent trips, and she shared with me the exciting news of her first grandbaby's birth. Our friendship has grown into a truly enriching part of my life—all because she invited me to step away from my phone and join her for a walk.
Editors' note: If Verily elevates your day and helps you live a more deeply meaningful and fulfilling life, please consider joining us at Verily Yours. Verily Yours subscriptions give you more empowering content (that's not like our website content), while also supporting our publication, including our efforts to develop a print magazine.