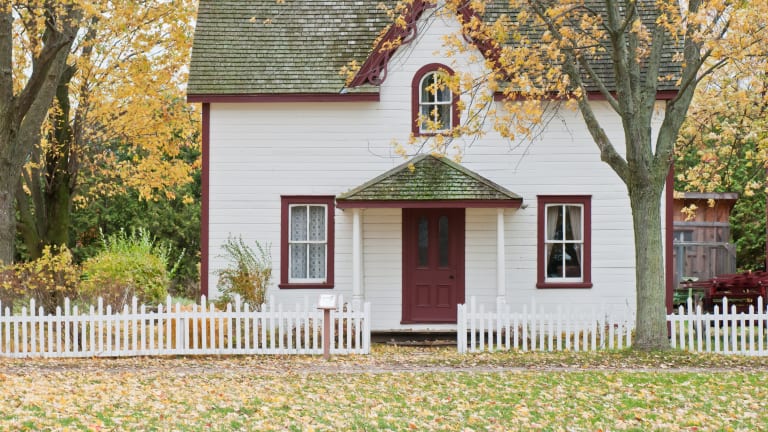 Handling the Emotional Journey of Buying Your First Home
A few tips to deal with the real estate emotional rollercoaster
Around this time last year, my husband and I were in the throes of that thrilling, exhausting, terrifying milestone known as "buying your first house." After one too many incidents of our upstairs neighbors vacuuming their apartment in the middle of the night (I wish I was kidding), we were more than excited to move out of our cozy apartment and into a home of our own.
In preparation, I spent weeks scouring articles with titles like "Everything You Need to Know as a First-Time Homebuyer" and googling still-unfamiliar home-buying terms like escrow, principal, earnest money, and the different kinds of home loans. I was all set—right?
In truth, I was pretty much ready to take the steps needed to buy a home practically. What I failed to fully grasp, however, was just how much of a toll this home-buying journey would take on me emotionally. Looking back, I can now see that I was a basket case of mixed emotions, and I only wish I could go back in time and offer that frantic shell of myself a few tips for finding and maintaining balance and peace throughout the process. Here's what I would share:
01. Set boundaries to avoid getting overly discouraged.
It was the perfect house. It had everything we wanted, and then some. I was absolutely beaming through our entire walkthrough, already imagining where all of our furniture would go, how I would transform this room into an office, this one into the baby's room . . . And then, at the very end of our tour, the realtor dropped the heartbreaking news that the house was (well) out of our budget.
My silly grin and dreaming eyes were instantly replaced with some boiling concoction of sadness, anger, and frustration. I was devastated, and even though I was not surprised that it was outside our budget, I hadn't expected hearing this news to be such an emotionally draining experience.
At the start, we had allowed our realtor to show us a few houses with everything on our list, even knowing they would be slightly outside of our budget, because we wanted to get a sense of our "dream home." I thought that seeing a dream house would provide me with the space to, well, dream. I thought that it would reveal new opportunities and fill me with excitement for the home-buying journey ahead of me. Instead, this approach left me feeling absolutely deflated and unmotivated to continue the search.
Unless you're someone who does not get discouraged easily, it's smart to be honest with your realtor from the very beginning about your price cap and your desire to stay under it. You may be easily tempted to take a look at houses slightly (or not so slightly) outside of your range "just for fun," and while this can be fun for some people, it can also lead to feelings of disappointment and even resentment that you can't afford to buy your dream house.
02. Allow yourself to feel rejection . . . and then keep moving forward.
We didn't get the first house we made an offer on . . . or the second house. And, I have to admit, this filled me with some trepidation.
When we made an offer on the first house, I immediately pored over every photo of the house and yard on Zillow, using these photos and my memory of walking through the house as a blueprint to start planning how our future home would look when we moved in. I remember wondering how I would ever maintain the large garden plot (as I had zero gardening experience) and mapping out where I thought my bookshelves and side tables should go.
While I realize that not everyone is as much of a "planner" by nature as I am, I ended up learning the hard way that it's not wise to fall in love with "your" new home before it is actually yours.
As I shared, we did not get this house. To make matters worse, I did not learn from my mistake, but went through the same planning process with the next home we made an offer on. I think I was perhaps even more in love with this home than the first one, and I was contemplating buying a new sectional couch to better fit this home's living room when we got the call that this house was not to be "our" house either.
Not only was I feeling discouraged at this point, but I also started feeling frantic: what if we never got a house? In reality, very little time had passed, and there was absolutely no reason for me to panic. But it was very hard to remove myself from the immediate situation and recognize that there was no sense of urgency, and that I simply needed to relax, wait, and trust. As difficult as it can be, getting discouraged by rejection will do nothing to help your emotional wellbeing. Instead, try to avoid getting too emotionally involved in the first place.
03. Celebrate all of the stages of buying your first house.
We did eventually find the perfect house for our current stage in life, even if not the perfect house of our dreams. It was in a neighborhood we really liked with ample space for our little family, a welcoming front porch, and a touch of 1950s charm.
I have no regrets now about purchasing our home, although I do regret how we rushed through the final stages, how desperate we were just to be in the house, and how we didn't take the time to properly celebrate such a momentous decision in our lives. When we made our offer, I had already convinced myself that we weren't going to get this house, either, and I didn't quite know how to react once our offer was accepted.
While I wish I could say that my husband and I popped a bottle of champagne, laughed, and fully embraced this happy moment with proper celebration, I have to admit that quite the opposite was true. A fleeting celebratory moment was eclipsed by sudden panic, worry, and regret. Was this actually the house we wanted? Did we act hastily? Can we definitely afford this house? Did our bedroom have a decent closet? Did I even look inside the kitchen cabinets?
What should have been a happy time was filled instead with fear and possible remorse (home buyer's remorse is a very real, if fleeting, sensation). And I regret not simply trusting all of the initial planning and thought that had gone into our decision to make an offer on this house in the first place. Because, as I should have guessed all along, everything turned out just fine. It turned out better than fine, actually, once we started living in the present. (Yes, we did pop that bottle of champagne eventually.)
Buying a house is not a one-step decision but a multi-step process, and I believe that every step in that process should be properly celebrated—from putting in an offer, to the offer being accepted, to passing inspection, and finally to closing. Taking the time to live in the moment and properly recognize every significant step, whether it be with a toast, a photo, or a spontaneous dance party, will not only help stave off fear and anxiety but will also instill peace and confidence in your decision to purchase your first home.
04. Don't doubt yourself, there is no such thing as a bad question.
I remember many teachers saying to me in school, "There is no such thing as a bad question." The time-worn saying has never been more true than when buying a house, particularly before closing time. I mentioned that I had read many articles when we first started our home search—and this is true. However, it is one thing to read an article containing a lot of terms you still only half-understand, and it's another thing to truly know what to expect at closing by asking all of the questions beforehand.
I was initially scared to ask "too many" questions because I didn't want to appear ignorant. I was afraid of what my loan officer and realtor would think of me if I bombarded them with questions (would they refuse to go through with it if they realized how much I didn't know?). I had to swallow my pride in order to pick up that telephone and ask about what I did not know.
While it may not be possible to buy a house without feeling a bit nervous and overwhelmed, it is possible to alleviate such feelings, in large part by trusting the professionals to guide you in making your decisions. Your realtor and your loan officer should be able to walk you through every step and be willing to answer all of your questions. I had them both on speed dial during that closing week, and they were very courteous and happy to ease my stress and concerns.
I learned that when it comes to something as important as purchasing a house, there really is no such thing as a silly question; thankfully, by the time closing day arrived, I felt fully prepared and confident about how many papers I would need to sign, how much money I was handing over, and how long the process would take, thanks to the many questions I had asked before this day. Ask all of the questions and I promise that you'll save yourself a lot of unnecessary stress and headaches.
05. Stay in the present moment.
Once my cold feet started warming up and I was no longer suffering from home buyer's remorse, I quickly transferred my energy back to planning our perfect, cozy little home. Fortunately, I recognized that the "perfect" house for our family did not mean buying all shiny new things for it (although I'd be lying if I said the temptation was not there).
If you're moving into a new house, it's understandable to want to start out fresh with a new couch, new TV, or new bed as well. However, buying furniture or decor for a new house you haven't moved into yet is not only a potentially disastrous decision financially, but it may lead to true buyer's remorse, as it is impossible to know how everything will look in a space until you're living in it.
Even after you're living in your new home, though, it's still smart to wait before making any purchases (barring small, important things like light bulbs or shower curtains). Filling a house for the sake of filling it will never satisfy as much as being patient and waiting for bargains—or even free furniture—to come around (trust me: ninety percent of our furniture is second-hand).
One of the most fun and emotionally calming things I did in terms of planning what our new home would look like was to make a spreadsheet of everything we needed to fix and/or buy for it. I divided the items on the list into four columns: need now, need soon, need later, and need someday. In the weeks following our move, we focused solely on the "need now" column (including such things as "buy bedroom door knobs" and "buy and install fire detectors"). Just now, one year later, we are starting to dive into the "need soon" column. (Note: it was surprising just how much my husband and I differed on this list, disagreeing over whether fixing the backyard patio was higher up on the list than replacing the functional yet dilapidated bathroom vanity. Ultimately, though, we realized that this truly was a team effort and that we needed to create these spreadsheets together. I would advise that you do the same with your roommate or spouse.)
While there are many ways to go about creating such a spreadsheet or long-term plan, finding the method that works best for you and sticking to it will bring a lot less heartbreak and a lot more peace in the long run—not to mention it always gives you something to save for and look forward to! As every homeowner knows, there is always something to be done.
Buying your first house is a truly momentous occasion—one that should be properly celebrated. It also should include as little stress, overwhelm, and frustration as humanly possible. While I experienced my fair share of all three during our home-buying experience, I certainly learned from my mistakes and ended up completely confident about starting life in our new home. Buying your first house may not be easy, but there are few feelings better than putting down roots in a home of your very own.