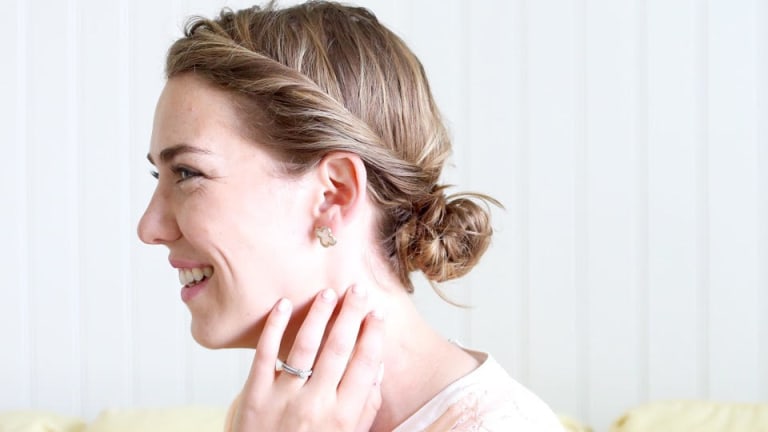 The 30-Second Hairstyle That Looks Like It Took 30 Minutes
Skip the ponytail and fool the world!
I don't know about you, but I'm the kind of girl who never does her hair. It has a fine texture that is neither straight nor curly. I don't have the time or interest for blow-drying, straightening, or curling it most days—I'd rather get extra sleep than do my hair. It looks slightly different every time I air dry it (some days it looks like I styled it; other days it looks like a bird's nest). Thus, most days I end up putting it in the same bun or ponytail to make it look somewhat presentable.
Given my low-maintenance approach to my hair, I'm a lover of dry shampoo and headbands—anything that can make my hair look as put-together as possible with minimal effort. So, when a friend managed to transform my days-unwashed hair with this polished 'do, I knew it was a keeper! It took no time at all, and it actually looked doable for a non-hair-doer like me. This style has saved me time and again; I've worn it casually, to work, and to weddings. I always receive so many compliments on my hair when it's styled this way, which makes me laugh, since usually it's a trick for hiding my greasy hair for one more day! So when your hair is dirty or messy, but you don't want to throw it into a ponytail or bun again—or if you're looking for a new style for your next formal event—this hairdo is your new go-to.
01. Part hair on one side.
Create a side part and split all your hair on either side of it.
02. Twist hair on the fuller side of your part.
Grab a one-inch piece of hair near the frame of your face on the fuller side of your part. Twist that piece of hair away from your face from top to bottom.
03. Combine twist with the rest of your hair on that side.
Once twisted, pull that front piece of hair with the rest of the (untwisted) hair on that side of the part (the fuller side). Hold it all together loosely with a hair tie for now.
04. Repeat steps 2 and 3 on the opposite side of your part.
On the other side of your part, grab a small piece of hair near the front of your head and twist it away from your face from top to bottom, as you did in step two. Then, gather this twist with the rest of your hair on this side of the part.
05. Create a low bun.
Remove the hair tie that was loosely wrapped around the first side of your hair. Grab the two segments of your hair. Pull it all together, maintaining both twists, and wrap it all into a low bun, slightly off-center at the nape of your neck. I create the bun by simply twisting all the hair together into one big twist, as shown, and wrapping that big twist into a circle, going around and around until all the hair is in a bun. Then secure with a hair tie around the whole thing.
If you've got a couple extra seconds, you can use your fingers or a comb to gently "fluff" or tease the hair near the crown of your head and along the part. And—voila!—off you go!