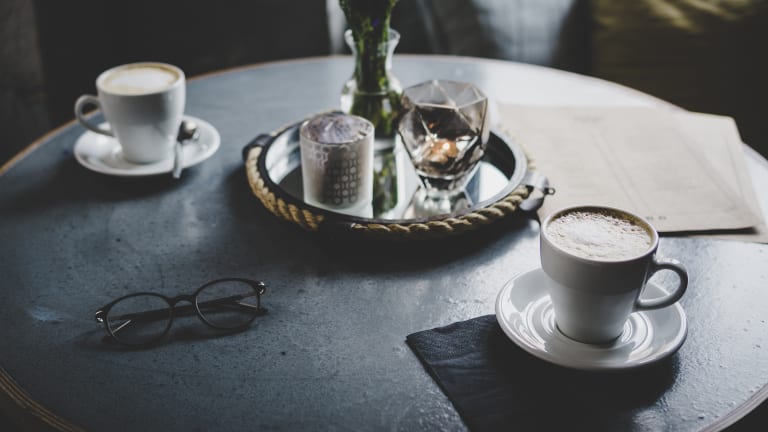 7 Beautiful Coffee Table Books You'll Actually Want to Read
Whatever your style, we've got the book for you.
There is something about a beautiful book—or better yet, a stack of books—sitting on top of a coffee or side table in one's living room that gives me a little spark of joy. A book of art from the Impressionist era, a tribute to Audrey Hepburn, an inspiring book of home design . . . you name it . . . I love it.
Even though a "coffee-table book," by definition, is "designed to be looked at rather than to be read properly," I nonetheless always look for books that have even more to offer than lovely full-page photo spreads. As with all books I consider buying or borrowing, I want the opportunity to learn something new from them. I want to read a bit of useful information, gather achievable design tips, or be amused by clever anecdotes.
Happily, a plethora of coffee-table books in the genre of beautiful and informative have been published in the last couple of years. These books are as beautiful and captivating on the inside as they are on their covers (which is really saying something!). And if you don't want them to grace your tabletop forever, you also can find many of these books at your local library to lend some loveliness to your home for a short time. No matter your hobbies or interests, there is something here for everyone.
01. For the book lover: Bibliophile: An Illustrated Miscellany by Jane Mount
Jane Mount is known for her beautiful illustrations of book spines, stacks of books, and pretty much all things bookish—and her talent shines in this treasure trove for bibliophiles. The collection features lovely paintings and fun tidbits about books from just about every genre, from children's picture books, to short stories, to cookbooks. It depicts famous libraries around the world and beloved book stores across the country (including a two-page spread of my favorite bookstore, The Strand in Manhattan!).
This volume is a coffee table gem for all book lovers, and it is sure to inspire even more reading—I found myself writing down new books I discovered through Mount's perfectly painted book stacks.
02. For the flower lady: Handpicked: Simple, Sustainable, and Seasonal Flower Arrangements by Ingrid Carozzi
My thumb is about as green as a pumpkin, but I love few things more than a beautiful arrangement of flowers. This stunning book features the most gorgeous flower arrangements you've ever seen—and gives you step-by-step instructions for creating the arrangements yourself.
Carozzi, a Brooklyn-based florist, first showcases all of her favorite blooms, explaining the unique care each one requires. Then she discusses vases, tools, techniques, and her essential arrangement tips. The remainder of the book is broken into the four seasons, and the photographs that grace the pages make me want to drop everything and become a full-time florist. It's a gorgeous and truly practical book for any plant lover.
03. For the design enthusiast: Homebody by Joanna Gaines
I know I can't be the only person who dreams about a Chip and Jo home renovation, complete with subway tile, shiplap, and a beautiful farmhouse kitchen sink. Well, Joanna Gaines' new home design book gives the everyday homeowner the space to dream and the tools needed to turn those dreams into reality. Living in Waco, Texas is no longer a requirement to get personalized, professional home design and style advice from your HGTV best friends.
First, this hefty design book gives you the opportunity to identify your personal home style (from "the reimagined retreat" to "the handcrafted hideaway"), as well as your design style (think farmhouse, rustic, industrial, modern, etc.). It then shows you how to incorporate those styles and design elements into your own home (it even includes a design template for your personal use in the back!). And, of course, this book contains some seriously stunning photos of spaces designed and created by Jo herself.
04. For the Southerner (or Southerner at heart): Whiskey in a Teacup: What Growing Up in the South Taught Me About Life, Love, and Baking Biscuits by Reese Witherspoon
Reese Witherspoon's book is as pink, bubbly, and cheery as you would expect it to be! And while I was expecting its pages to be filled with beautiful, sunny Southern scenes, I was not expecting to love reading it as much as I did. The book is filled with heartwarming and sincere anecdotes about her grandmother, Dorothea. Plus, Reese offers hostess tips for dinner parties, home design inspiration, delicious Southern recipes (I'm saving her fried okra recipe), and advice for throwing an amazing Kentucky Derby party.
She even planted a seed of inspiration for me to start my own book club with her chapter on "the perfect book club," complete with a list of must-read books by Southern authors and a curated menu. And I had to laugh at the "pronunciation key" tucked into the chapter on Southern conversation. This charming book will make you smile every time you pick it up from your coffee table!
05. For the adventurer/nature lover: The Bucket List: Wild: 1000 Adventures Big and Small: Animals, Birds, Fish, Nature by Kath Stathers
Although "outdoorsy" is rarely (if ever) an adjective used to describe me, I nonetheless found myself picking up this large book full of outdoor adventures and dreaming of going on one of my own. The volume lists many of the best places on the globe to have an adventure and experience wildlife. Like other nature-themed books, it features beautiful nature photography, but it stands out in that it contains one thousand real adventures you could feasibly go on, with the best time of year to go on each one.
I love how easy it is to navigate, broken up by continent and then country and state. The descriptions of each bucket list item are both enticing and concise. While I was tempted to ask my husband if we could "watch snow monkeys take a sauna" in Japan next winter or "chill out on a beach with kangaroos" in Australia, I decided I would go with "hunt for a gila monster" in Arizona.
06. For the DIY-er: The Martha Manual: How to Do (Almost) Everything by Martha Stewart
I am a self-admitted DIY wannabe. I love the idea of making things instead of buying them, of figuring out unique solutions for home problems myself, and of knowing instinctively how to solve small problems (like mending a dress hem) without relying on Google. Thus, my goal is to commit Martha Stewart's DIY-er dream book to memory someday.
This book is chock-full of helpful, creative, fun, money-saving ideas about just about everything. The book's title truly does not exaggerate. If you're wondering how to iron linens, create a perfect cheeseboard, pack for a picnic, re-cover a chair seat, hang a tire swing from a tree in your backyard, or sew a cute tote bag, this book is for you.
07. For the minimalist: Cozy Minimalist Home: More Style, Less Stuff by Myquillyn Smith
The minimalism trend is certainly an alluring one for many good reasons, whether you are a Marie Kondo fan or not. More style, less stuff? Sign me up! I love the simple message this charming coffee-table book offers, especially the assurance that I don't need to buy a lot more stuff to make my home perfect. In keeping with the minimalist theme of the book, its pages are clean and the photos are a bit sparse, but what photos there are show me just how much I can do with very little.
There are also encouraging pearls of wisdom sprinkled in large type throughout the book that I absolutely love. For example, "We can't put off living in our homes until that blissful day when things are finally perfect." For me, the biggest takeaway from this book was that the empty spaces in my home are just as important as the filled spaces.
I love a large, coffee-table book filled with gorgeous photographs sitting on my coffee table beneath a perfectly positioned candle or vase of flowers as much as the next person. But I love it even more when it's a practical book that I'll want to open up and read. If you're in the same boat, I hope you'll find the joy and inspiration I found in these lovely books.