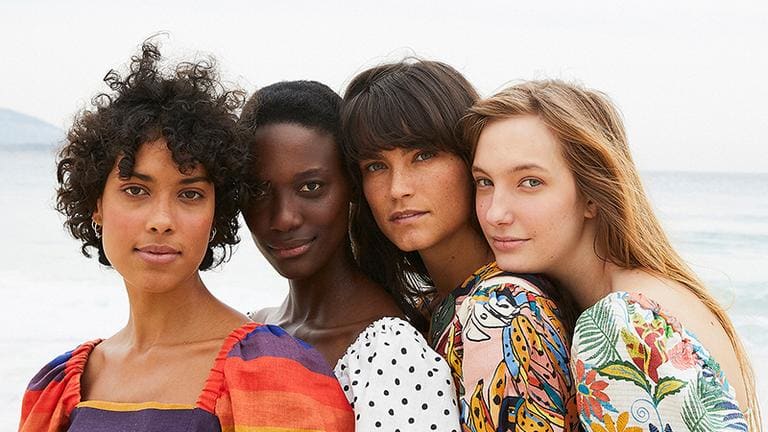 Brazil's Most Popular Fashion Brand Launches in the United States
FARM Rio's 2019 Spring/Summer Collection
As many of us are adopting a more global mindset about politics, economics, and humanitarian issues, I think it is also important to maintain a global mindset about fashion as well. Broadening our cultural horizons has so many benefits for every aspect of our lives, including the clothes we wear. Discovering or seeking out unique fashions from abroad not only gives us a chance to interject some diversity into our all-American aesthetic, I think it also gives us the opportunity to learn more about how other people live and what other cultures value.
As a stylist, people are always asking me to recommend new brands, help mix-up their wardrobe, and get out of a style rut. Reaching beyond our American fashion offerings to embrace a new culture is one way to do that. This is why I am beyond excited to introduce Verily readers to FARM Rio, Brazil's most popular fashion and lifestyle brand.
From a Booth to a Global Brand
One thing that makes FARM Rio so impressive is its humble beginnings. Born in 1997 as a booth at a marketplace in Rio de Janeiro, the founder, Kátia Barros, introduced a collection of breezy, colorful fashions that captured the spirit of Rio. Locals immediately fell in love with FARM Rio's authentic and bold designs. This local success became the catalyst for launching 70 retail stores all across Brazil, eventually earning a reputation as the nation's most beloved lifestyle brand within the company's 20 year history.
Now FARM Rio has decided to expand globally, bringing the radiant energy of Rio to the rest of the world with the United States as their launching pad.
A Brazilian Oasis
FARM Rio has announced that is opening its first U.S. store on April 25 in Soho, New York. If you live in or around the New York area, you should definitely pay a visit. And if you're not near New York, locations in Miami and Los Angeles are set to open later in the year. Visiting the Soho store will be an experience, as each of FARM Rio's locations are designed to look and feel like a Brazilian oasis that transports its shoppers into the ethos of the brand. You can also shop their beautiful pieces at FARM Rio online, ShopBop, or through the brand's ongoing capsule with Anthropologie.
Prints Are in Their DNA
FARM Rio is known for their gorgeous prints, textures, and vibrant designs. They have created more than 400 prints for each collection, no easy feat. The number of prints produced really demonstrates a commitment to individuality and creativity by FARM Rio. Embracing prints and adding more color to my wardrobe is on my to-do list as the weather warms up, and I think FARM Rio will be the place for me to start. I just love how each of their pieces evokes a carefree spirit that encourages confidence and self expression in the wearer. I can easily see their dresses and jumpsuits transitioning from the beach, to the street, with a simple change of shoes or accessories.
One Purchase = One Tree Planted
FARM Rio is just as dedicated to protecting the environment as they are to creating beautiful prints. FARM Rio has a deep commitment to seeing our endangered forest ecosystems recovered and fresh water supplies protected globally, especially in Brazil. And they've made it easy for their customers to join them in this mission, by partnering with One Tree Planted, an organization whose mission is to make it simple for people to give back to the environment. With each purchase on FARMRio.com or at their retail locations, they donate one tree to be planted in Brazil's endangered Atlantic Forest.
I hope you enjoyed getting to know this incredible brand. I am quite positive these color-rich, eclectic designs will banish your rainy-weather blues and transport you to a Brazilian summer. Here are a few of my favorite picks from FARM Rio's 2019 Spring/Summer collection.
Spring/Summer 2019 Picks from FARM RIO: