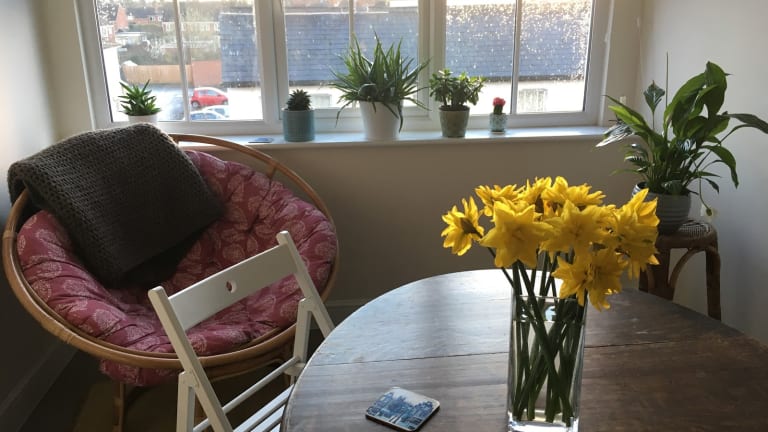 At Home with Her: A Reading Nook for Inspiration
A curated corner primed for inspiring adventures
Tell us about your favorite spot in your home. Why is it your favorite spot?
Name: Rachel Wilkerson
Location: England
Three years ago, I moved 5,000 miles from my last apartment, carrying a suitcase of mugs and framed pictures cushioned between sweaters, to an unfurnished flat in the heart of England. For the first few weeks, I slept in a sleeping bag on the floor, went without internet, and got very creative with extremely minimal kitchen utensils—but I promptly acquired a reading chair. In a tiny space, the pink paisley papasan chair wasn't an obvious choice, but I knew I wanted a cosy nook to see me through the next few years of Ph.D. studies.
The papasan is my favorite place for drinking enormous mugs of tea, plotting baking escapades, watching chimney-and-cloud-scapes, listening to podcasts, and crocheting.
Is there a particular story about how this spot came to be arranged/decorated the way it is? Are there any particular pieces that have significant history to you or your family?
The papasan looks out onto the kitchen, a space made warm and homey by beautiful, useful objects from friends. A friend of mine crocheted a thick, magically stress-absorbing grey blanket over the course of a long Alaskan winter. After I stayed at her home and gushed over it, she gave it to me. It's one of my most treasured possessions and now graces my reading chair. The framed prints are from a friend who created an art installation inspired by fields of wildflowers we saw on a trip to Big Bend. A woodworking friend carved the wooden bowl with oranges in it, and the mugs are from a ceramicist a friend introduced me to on a memorable trip to Hampshire. Ph.D. life is by nature transitory, but I've acquired several virtually indestructible houseplants from fellow students and neighbors. The writer and theologian Frederick Buechner said: "you don't just live in the world but a world lives in you." That world spills out into my kitchen, and I'm grateful for the view.
Have there been particularly inspiring or moving moments in this corner of your home? Or, is there a particular feeling you get when you are in this space in your house?
The papasan corner coexists with the kitchen, which is furnished with a few IKEA essentials as well as cherished finds from the high street charity shops. (High street charity shops are treasure troves for well-loved furniture, cheap cookbooks, and Downton Abbey-esque bowls.) I spend lots of time in the papasan reading cookbooks like The River Cafe Cook Book, Georgina Hayden's Stirring Slowly, and Ottolenghi's Sweet. The wooden fold-out desk, wicker stools, and folding table are finds from a nearby shop. Necessity dictated that I buy furniture light enough to haul down the street so, fortunately, I can transform the space as needed: extreme furniture reconfiguration is a regular feature of tiny apartment living. (We've hosted a dozen people for Thanksgiving and family barbecues with people perched on every available space including the wicker stools and the papasan.) In a pinch, it can be turned upside down and transformed into a fort for a kid-friendly distraction after Sunday lunch. From quiet morning reflections to feasting with friends, some of the best moments in my tiny apartment have happened in the cosy nook with the papasan chair.
Editors' note: At Home With Her is a Readers' Write column. We want to see these corners of your home, and perhaps let them inspire our own homes! Submit yours here. 
If Verily elevates your day and helps you live a more deeply meaningful and fulfilling life, please consider joining us at Verily Yours. Verily Yours subscriptions give you more empowering content (that's not like our website content), while also supporting our publication, including our efforts to develop a print magazine.