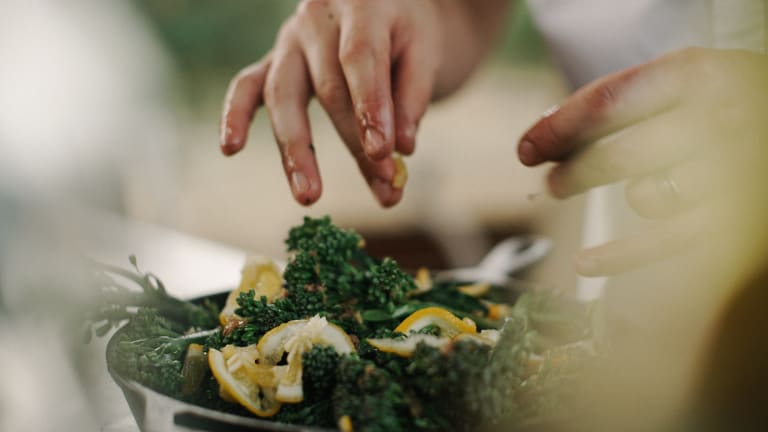 5 Tips for Simplifying Your Meal Planning
A comprehensive guide aimed to simplify your life.
When it comes to our food, a lot of us have good intentions. We want to eat healthy, stop wasting so much food, try new recipes, or cut back on the number of times we order takeout. But like many things in life, those good intentions don't become reality unless we have a plan. A good meal plan makes enjoying delicious home-cooked meals a little easier—no meal delivery kit required.
Here are five tips to help you simplify the process while staying on budget and leaving room for creativity in the kitchen.
Tip #1: Develop a good rotation
Having a few meals you make on a weekly basis helps take some of the effort out of planning. I view these meals as the foundation of my plan because they are so consistent.
For example, I know we'll have chicken breast and salmon burgers once every week, and I have a few different sides I can swap in and out. I like to have a little flexibility, so the day of the week we eat these meals varies. But if you crave consistency, you can designate certain meals for certain days of the week—early in our marriage, my husband and I had pizza every Sunday.
Tip #2: Learn to love batch meals
Batch meals are another foundational part of meal planning because they provide leftovers; you can cook them once and enjoy them two or three times. You can easily make just about any meal into a batch meal by doubling or tripling the ingredients. Spaghetti and other pasta dishes make great leftovers, as do chicken enchiladas, soups, and stews. If you know you have a busy season ahead, make some batch meals in advance and freeze them. 
Verily also has an assortment of batch meal recipes featured in Verily Table, one of Verily's newsletters. (You can subscribe to Verily Yours here.)
Tips for storing leftovers
To keep your leftovers safe, store them within two hours of cooking them. Bacteria grows faster in warmer temperatures, so if you're eating outside and it's more than 90 degrees Fahrenheit, you'll need to store the food within one hour.
To help your leftovers chill faster and minimize bacteria growth, store them in several small containers instead of one large one. This is also a good way to divide your leftovers into meal-sized portions.
Know the limits on how long your leftovers are safe to eat. The U.S. Department of Health and Human Services has a handy chart with food storage time limits.
Tip #3: Be intentional with produce and herbs
You know the feeling: you buy a bag of spinach and make a vow to eat healthy, only to throw that same unopened bag away at the end of the week because the leaves are wilted and slimy. To avoid this scenario, it's best to make a plan for your produce and fresh herbs.
Buy only what you know you'll eat. One way to do this is by choosing fewer varieties. If I already have apples, bananas, and strawberries in the cart, I'll skip the grapes because I know we probably won't eat them all. If you like more variety, you can cut back on waste by buying smaller quantities of each type. Instead of a bag of oranges, just buy as many as you think you'll eat in the week ahead. 
Use the same ingredients in different meals. This may sound like a recipe for boredom, but trying a different seasoning or cooking method can work wonders for vegetables. When I buy zucchini, I can sauté it and scramble some eggs with it for breakfast, steam it for lunch, or roast it in the oven for dinner. Yes, you might end up eating a lot of the same vegetables one week, but you can choose different ones the next week. Many of the recipes featured in Verily Table each week rely on the same ingredients, but they're used in different ways to create a flavorful variety.
Consider frozen produce. Frozen produce is basically a wonder food. It's quick and easy to prepare. It won't go bad if you don't use it right away. And in general, frozen produce is just as nutritious as fresh produce. Sometimes, it's even better, because it's picked at peak ripeness and then preserved right away.
Learn how to store your produce. Storing your produce correctly can impact taste and freshness. UC Davis has a simple, helpful chart that divides produce by the best storage location. The University of Nebraska-Lincoln has a more detailed chart that breaks down the best storage methods and times for individual types of fruits and vegetables. 
Tips for fresh herbs. With a few simple tricks you can make sure your herbs last long enough to use in multiple recipes. Soft herbs, such as cilantro, get similar treatment to a bouquet of flowers. Trim the stems and put the herbs in a glass of water. If you put them in the fridge, loosely cover them with a plastic bag or plastic wrap. If you're using basil, be aware that it prefers room temperature. Hard, woody herbs, such as rosemary, can be gently wrapped in a moist paper towel, then tucked in a plastic bag in the fridge.
Tip #4: Plan according to your schedule
Align your shopping schedule and your meal plan. If you shop every couple of days, you'll only need to plan a couple days' worth of meals. On the other hand, if you do a big bulk buy once a month, you'll need to make an outline of the month. Regardless, it helps to make your meal plan before you shop, so you can head to the store with a list in hand. You'll also be more likely to save money because you'll be less tempted by impulse buys and you'll save time because your need for last-minute grocery runs will decrease. 
Weekly Planning. As you make your meal plan for the week, consult your calendar. Save the time-consuming dinners for days when you know you have the whole evening free. On days when your schedule is packed, plan to heat up leftovers, make something quick and easy, or use your slow cooker. 
Monthly Planning. Planning for the month is a good option if you like to buy in bulk, or if you don't like the idea of sitting down to plan every week. Monthly planning works well in our home because I take a trip to Costco at the beginning of the month for most of our staples. Before I go, I make a rough outline of our monthly menu. Instead of planning out precisely which meals we'll have each day, I plan out seven meals for each week.
I start by writing down our rotation meals. Then, I pick a batch meal and estimate how many meals we'll get out of it. For the days that are left, I mix in new recipes or old favorites. Here's an example of what a recent week looked like:
(Rotation) Baked chicken breast with quinoa and frozen mixed veggies: 1 meal
(Rotation) Salmon burgers with roasted veggies: 1 meal
(Batch) Verily's Slow-Cooker Lentil Chili: 4 meals
(New) Chicken stir-fry: 1 meal
When that week arrived, I chose a day for each meal based on what we had going on.
Tip #5: Keep staples on-hand as backups
Sometimes, even the best meal plans go awry. In cases like that, backups can save the day. There are many recipes you can make with ingredients you're likely to have on-hand. Tuna melts, pancakes, and scrambled eggs are typical backups in our home.
Stock up with a good foundation. If you're not sure where to start, Budget Bytes has a thorough guide to stocking your kitchen with basic necessities, including an assortment of commonly used dry goods, canned goods, and spices.
Ree Drummond, aka "The Pioneer Woman," has a helpful guide to pantry ingredients she likes to have on-hand. She also has some wonderful recipes made primarily from pantry staples. Her Chickpea Curry is one of our favorites, and though I haven't yet tried her 7-Can Soup, it sounds scrumptious.
Verily Table regularly features one recipe in the "Already Stocked" category, meaning it's made with ingredients you probably already have. Orange-peanut stir-fry and black bean burgers are just a couple delicious examples.
Don't forget pantry produce. Onions, potatoes, and fresh garlic are used so frequently, it's a good idea to keep them around.  They are all happiest in a cool, dry, dark place, and they require a well-ventilated container, such as a wire basket or mesh bag. 
Onions and garlic can be moved to an air-tight container in the fridge after they've been peeled and cut.
Onions and potatoes don't make great neighbors, as they cause each other to spoil.
Don't store your potatoes in the fridge, as the chilly temperature will make their starch turn to sugar faster.
If your potatoes have turned green, beware. That green color is a sign that the potato has produced a lot of chlorophyll, and that's harmless. However, along with the chlorophyll, the potato has produced a toxin called solanine, which is poisonous. If there's just a tiny green portion, you can cut if off. But if you're seeing a lot of green, it's time to throw the potato away.
Potato sprouts are also toxic. If the potato is firm, you can cut off the sprouts. But if the potato is soft and wrinkly, throw it out. 
A meal plan might sound complicated, but the goal is to make your life a little easier and your food preparation process more pleasant. Whether you're adjusting to life without the college cafeteria or are feeding a growing family, you can take these tips and adjust them to fit your lifestyle. Bon appétit!