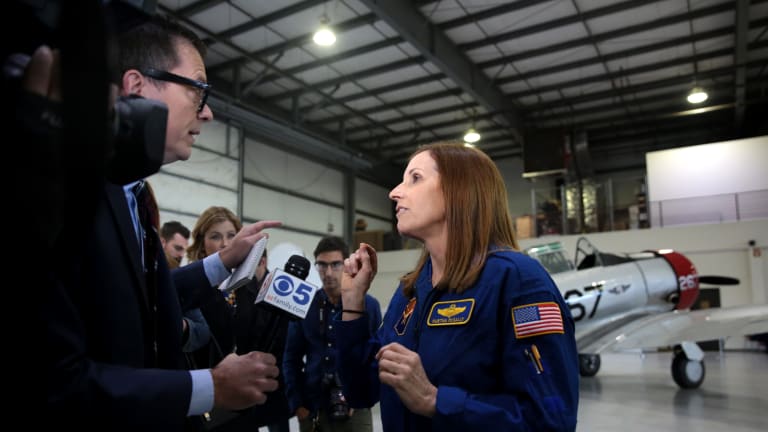 Senator McSally Opens Up About Assault in the Military, and Other News from the Week
Catch up on all the news you might have missed with our handy summary of the week's top stories.
We're pleased to bring you "While You Were Out"—Verily quick takes on the happenings of this week.
Senator McSally Opens Up About Past Rape in Military
This week during a Senate Armed Services subcommittee hearing on sexual assault in the military, Republican Senator Martha McSally revealed that she was "preyed upon and raped by a superior officer" during her 26-year career in the Air Force. She said that the despair she experienced and mistrust with the system's ability to handle the case nearly caused her to cut ties with the military.
Sen. McSally is new to the Senate, having been elected to fill the seat left by Sen. John McCain after his death. Before coming to the Capitol, Sen. McSally was the first female fighter pilot in combat and a powerful voice in her field. She successfully sued the Department of Defense over a requirement that all women cover themselves off base in Saudi Arabia. She rose to the rank of colonel before retiring from the Air Force.
McSally felt compelled to share her story now so that she could speak honestly with witnesses coming forward to speak about sexual assault in the military. She indicated that change needs to happen within ranks, and in particular, among military commanders. In her words: "We must fix those distortions in the culture of our military that permit sexual harm toward women—and yes, some men as well."
The #MeToo movement continues to spread into all corners of our society. Despite the pain that surfaces with it, we hope this is evidence that substantial and healing change will soon follow. —Lindsay Schlegel
Actor Luke Perry Dies Following a Stroke at Age 52
Following what's been reported as a "massive stroke," '90s heartthrob Luke Perry died Monday at just 52 years of age. Perry was hospitalized last week after the stroke. During the five days he underwent observation in a California hospital, he never regained consciousness. He was surrounded by his family when he died.
In the 1990s, Perry found fame with his role as Dylan McKay on Beverly Hills 90210, alongside Shannen Doherty, Jennie Garth, Tori Spelling, and others. On the same day he suffered the stroke, Fox announced a reboot of the show, to which all the major actors save Perry had already signed on. Perry had been shooting the third season of CW's Riverdale, in which he played Archie's dad, Fred Andrews, at the time of his death. When the news broke, the production company shut down the set for the day. Perry will appear posthumously in Quentin Tarantino's Once Upon a Time in Hollywood, due in theaters this July.
Perry is being widely remembered as a kind and humble man, a talented artist, a devoted father, and a genuine friend. As heartbreaking as his loss is, when so much of the celebrity landscape can look bleak, it's encouraging to recognize there are humble, decent people in Hollywood. May we all be encouraged by his example of kindness and generosity. —Lindsay Schlegel
R. Kelly Denies Accusations, Melts Down During Gayle King Interview
R. Kelly broke his silence about the sexual abuse allegations that landed him in jail last month, during an exclusive CBS Interview with Gayle King. Full of untethered emotion, Kelly defended himself over the course of the nearly 80-minute interview, claiming that the women accusing him of sexual abuse are all lying.
Kelly was charged with 10-count of criminal sexual assault against four women, and he turned himself into the Chicago police in February. Three of the four women were minors. R. Kelly has a long history of alleged sexual misconduct including accusations of a sex "cult," numerous accusations of predatory behavior toward underage girls, and a 2008 trial for possession of child pornography, for which he was eventually found not guilty. New attention was brought to Kelly's sordid history of sexual misconduct, following the release of the Lifetime docuseries Surviving R .Kelly, which came out earlier this year.
King challenged Kelly's assertions that he was innocent, based on the number of women who have come forward. "I have to tell you, it's so hard to believe that based on all that we've read, and what the women have said about you and what the women have said about you," King said. Kelly retorted: "What women said about me. So nobody's allowed to be mad at me and be scorned and lie on me?" King responded: "So they're lying on you? That's your explanation? They're lying on you?" "Absolutely. Absolutely. Absolutely," Kelly said. "I have been assassinated. I have been buried alive. But I'm alive."
Kelly grew increasingly emotional, eventually directing his comments toward the camera while descending into a fit of yelling, cursing, and crying. The interview had to be briefly paused as Kelly's publicist helped the rapper settle down. King remained calm and composed throughout. —Gabriella Patti
HIV Reportedly Cured for Only the Second Time Ever
HIV, the AIDS-causing autoimmune virus, has been considered severely life-threatening since its discovery by scientists in 1983. Swiftly snowballing into a global epidemic, scientists work tirelessly to research and discover a cure to the medically mystifying disease.
This past week they achieved a game-changing milestone: HIV was cured in a patient for the second time, the first being in 2007. In the first case, the patient also had leukemia, which doctors treated with a blood transplant. In a groundbreaking move, they transplanted blood with cells that were genetically mutated and thus able to eliminate one of the proteins upon which HIV relies for auto-replication.
The second case, which hit headlines this week, bears striking similarities to the first. The patient, once again battling both leukemia and HIV, underwent a similar transplantation of mutated stem cells. And once again, the infection appears to be eliminated as a result.
Whereas one case can be more easily dismissed as an anomaly, the existence of a second case indicates a stronger chance of a realistic cure. At the same time, the procedure carries such a high risk of potentially fatal complications that doctors do not want to perform the procedure on anyone without the cancer that medically necessitates it.
As of now, the findings have saved two lives and brought scientists closer to one day discovering a feasible cure. —Mariel Lindsay
Taylor Swift Pens Letter for Elle, "30 Things I Learned Before Turning 30"
Cat-loving, country-turned-pop sensation Taylor Swift will celebrate her 30th birthday this year. In preparation for the big 3-0, she took the time to pen an essay for Elle magazine titled, "30 Things I Learned Before Turning 30." The essay was published following the Instagram announcement that Swift will be featured on the cover of Elle's April issue. Swift wore her heart on her sleeve in the letter, and gets incredibly candid because, as she writes, "it's 2019 and sharing is caring."
The singer outlined 30 points of life lessons she's internalized from learning "to block some of the noise" from social media, to remembering to moisturize, and "to stop hating every ounce of fat" on her body. She opened up about watching her mother fight cancer, about her fear of keeping her fans safe following the Manchester Stadium Bombing and Vegas Shooting, and about learning, "not to let outside opinions establish the value I place on my own life choices."
"I've come to a realization that I need to be able to forgive myself for making the wrong choice, trusting the wrong person, or figuratively falling on my face in front of everyone," Swift writes. "Step into the daylight and let it go."
Her essay reads like honest advice from a wise woman to her younger sister. Not all of the life lessons are poignant and deep, and some are simply practical life tips, but they are all thoughtful. Swift has clearly embraced all of her life's experiences, good and bad, and has allowed herself to learn something from each one. Although the star has become increasingly private over the last couple of years, we are grateful that she opened up. —GP
Hundreds of Healthy Women Die Each Year in the United States Due to Blood Clots
A recent study published in the Linacre Quarterly suggests that the risk of blood clots caused by hormonal birth control may be dangerously under-represented and costing hundreds of lives each year.
We all know that are potential side effects from any medication. Yet the numbers in this study point to blood clots being a not infrequent consequence of hormonal contraceptives—which includes the Pill, patches, rings, injections, and others. Blood clots caused by these drugs can travel to the lungs and elsewhere, causing serious medical conditions and even death.
Dr. Lynn Keenan and Gerard Migeon report this week that, "Birth control-related deaths of young women occasionally make headlines, but they are grossly underreported," and for healthy young women, they could be prevented with more thorough screening and proper warnings before a prescription is written.
At least two significant factors should be considered when gauging a woman's risk of blood clots with a particular drug, namely a genetic disposition to form blood clots called "thrombophilia" and a "genetic blood condition called 'activated protein C resistance' or ACP resistance, in which the patient is more likely to experience blood coagulation in presence of certain risk factors."
In addition, the authors indicate that, "the medical community needs to be more aware not only of the risks, but also the breadth of symptoms women can present with if having complications from hormonal birth control." In two cases they cite, women visited doctors and hospitals for symptoms that were related to their blood clots, though not identified as such. They conclude, "It is urgent that all medical professionals are alerted of the relationship between the use of HC and any unexplained symptoms in young women."
Women interested in safer means of family planning and gauging overall health would do well to learn more about the range of effective—and side-effect-free—fertility awareness-based methods (FABMs) that more and more women are turning to over hormonal birth control. —LS
Following First Successful U.S. Rocket Launch in Several Years, NASA Announces First All-Female Spacewalk
This week, SpaceX launched a new spacecraft, the Crew Dragon, marking the first successful rocket launch from U.S. soil in almost a decade. The United States has relied on the Russian Soyuz launch system to send American astronauts to the International Space Station (ISS) since 2011. Several years ago, NASA contracted with Boeing and SpaceX to deliver a new transportation system, and the Crew Dragon launch represents the next generation of spaceflight technology. While the launch this week only included cargo and a test mannequin named Ripley, manned flights may begin as soon as this summer.
In other exciting space news, NASA scheduled their first all female spacewalk this week. Astronauts Anne McClain and Christina Koch will embark on a spacewalk as a part of a crew on the ISS. Canadian Space Agency controller Kristen Facciol will support their mission from the ground, and it was her enthusiastic tweet that brought the team recognition. The spacewalk mission aims to replace batteries; NASA say the occurrence of an all female spacewalk is simply a "cool" happenstance of routine maintenance. Nonetheless, it's great to see women making history in space! —Rachel Wilkerson
Watch of the Week
Speaking of women in space, try to watch this short animated film without being moved.