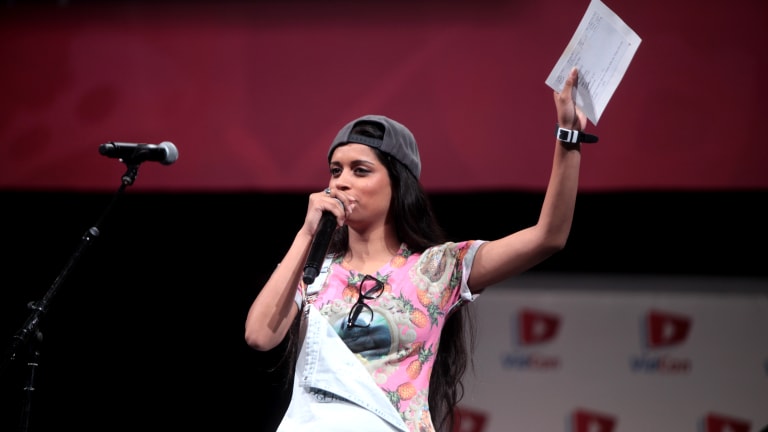 YouTube Star to Become Only Female U.S. Late-Night Talk-Show Hostess and Other Notes From the Week
Catch up on all the news you might have missed with our handy summary of the week's top stories.
We're pleased to bring you "While You Were Out"—Verily quick takes on the happenings of this week.
New Zealand Mosque Shootings Incite Global Terror, Prompt Gun Reform
Last week, news of a terrorist attack on two mosques in Christchurch, New Zealand, sent shockwaves across the globe as people struggled to comprehend the kind of senseless evil that drives a man to murder families gathered in prayer.
The suspect, 28-year-old Brenton Tarrant, killed 49 people (including children and elderly) and injured 39. He awaits sentencing while fellow New Zealanders, reeling from the worst mass murder in their nation's history, join forces to help the grieving. In a movement of mass community, thousands of citizens have gathered over the past week to mourn at memorial sites at mosques throughout the country. Prime Minister Jacinda Ardern, for her part, is traveling the country to offer whatever solace she can. She has also reported that the country is taking measures to ban military-style semi-automatic guns (the weapon used by the killer).
Meanwhile, those directly affected by the shootings share heartbreaking stories of heroism. The grown offspring of one man, Adeeb Sami, who was badly injured, recounted his selflessness in diving in front of his sons when the gunman opened fire. His daughter, Heba told Gulf News, "My dad is a real hero. He got shot in the back near his spine in an attempt to shield my brothers but he didn't let anything happen to them." His self-sacrificing act of love stands in stark contrast to the killer's hatred, reminding the world that deep goodness still exists despite the opposite. —Mariel Lindsay
Historic Flooding Devastates Midwest
Historic flooding has overtaken widespread areas of the Midwest and Plains following a deluge of heavy rains, snow melt, and ice jams. The brunt of the flooding has affected Iowa, Nebraska, and South Dakota, as well as parts of Missouri, Wisconsin, Illinois, and South Minnesota. Over 40 locations have reached record river levels, including parts of the Missouri River.
Approximately 200 miles of levees have been compromised, and state authorities across the region have declared a state of emergency and, in some affected areas, citizens are being encouraged to evacuate. In Nebraska alone, there will be an estimated $1 billion in farm and ranch damages once the flooding clears. Overall, three casualties have been reported.
Vice President Pence visited flooded regions of Nebraska on Tuesday and promised action. "We're going to make sure that federal resources are there for you," Pence said to a group volunteers. Authorities are warning citizens that the severe flooding may persist well into the spring as snow continues to melt and the region is hit with spring showers. —Gabriella Patti
There is Finally a Drug for Postpartum Depression . . . Only it Costs Over $30,000
This week, the Food and Drug Administration approved the first drug to treat postpartum depression (PPD), specifically. Until now, PPD has typically been treated in the same manner as depression in the general population, that is, with counseling and antidepressants. The drugs commonly used are known as SSRIs or SNRIs, and they work by targeting serotonin or norepinephrine. Relief may take weeks to set in.
While the cause of PPD has not yet been proven, many believe it to be related to the massive drop in estrogen and progesterone that occurs after pregnancy. The new drug Zulresso (brexanolone) targets that hormonal mechanism, and in doing so, may help women who have not found relief in other treatments—as long as those women have more $30K to spend and two and a half days to receive the drug via a 60-hour infusion. In clinical trials, positive reactions occurred in a matter of days, but some patients experienced considerable side effects, including loss of consciousness. Initially, the drug will only be available through a Risk Evaluation and Mitigation Strategy (REMS) program at certified healthcare centers where patients can be monitored throughout the course of treatment.
Despite how inaccessible the drug may seem now, the progress Zulresso has made garners hope for another drug developer Sage Therapeutics is currently testing in clinical trials. It could take a few years for this pill, known as SAGE-217, to reach the FDA, but it's showing promise. With one in seven women suffering from PPD, we're happy to see real efforts being made to help women care for themselves and their families when they need it most. —Lindsay Schlegel
Karen Uhlenbeck Becomes First Woman to Win Prestigious Abel Prize
This week Karen Uhlenbeck, renowned mathematician, became the first woman to win the Abel prize, a lifetime achievement award for research. Uhlenbeck's stand-out body of work includes foundational work in geometric analysis and key results in gauge theory. Gauge theory underpins much of quantum field theory, and most notably helped to unify electromagnetism and the weak nuclear force, a central question in physics.
By forging her own path through the world of mathematics, Uhlenbeck is a champion of women in mathematics. She founded a mentoring program for women in mathematics at the Institute for Advanced Study at Princeton. She also gave the plenary talk at the International Congress of Mathematicians, becoming the first woman to do so since the legendary Emmy Noether in 1932.
With an award amount of 6 million Norwegian kroner (equal to $700,000), the Abel prize is comparable in prestige to the Nobel Prize. For Ulnebeck, the real prize is the joy of discovering new mathematics. Speaking to the American Mathematical Society, she spoke of her delight in a mathematical career, "Along the way I have made great friends and worked with a number of creative and interesting people. I have been saved from boredom, dourness, and self-absorption. One cannot ask for more." —Rachel Wilkerson
Facebook Announces It Can Now Proactively Detect and Remove Revenge Porn
Last Friday, Facebook announced that they are implementing new technology that will detect revenge porn and "non consensual intimate images" on Facebook and Instagram before they have been reported. In their announcement, Facebook has said that this proactive approach, achievable due to machine learning and artificial intelligence, is "important for two reasons: often victims are afraid of retribution so they are reluctant to report the content themselves or are unaware the content has been shared."
After the new technology detects the images, member of the company's Community Operations team will review the content, which can lead to its removal as well as the suspension of the account responsible for sharing the images. Facebook has said that this system is being added in addition to their already in-place pilot program, which allows users to securely share images with Facebook's team. A digital fingerprint of the image is then created, which stops it from being shared across the company's platform.
Furthermore, Facebook announced the creation of a victim support hub called, "Not Without My Consent." "Here victims can find organizations and resources to support them, including steps they can take to remove the content from our platform and prevent it from being shared further—and they can access our pilot program," wrote Antigone Davis, Facebook's Global Head of Safety. "We're also going to make it easier and more intuitive for victims to report when their intimate images were shared on Facebook." —GP
YouTube Star to Become Only Female U.S. Late-Night Talk-Show Hostess
Indian-Canadian YouTube star Lilly Singh rose to fame (15 million subscribers and counting) by hilariously detailing her life as an Indian and as the child of immigrants—even dressing up as her parents and imitating them, to much comedic effect. Now, she prepares to takes her talent to new heights, announcing last week on The Tonight Show Starring Jimmy Fallon, that she will be hosting her own late-night talk show on NBC.
She told Fallon that the show, which will be called A Little Late with Lilly Singh, is tentatively set to launch in September. "I'm so excited because I truly get to create a show from scratch. I get to make it inclusive, I get to create comedy segments and interview people—[to] really create something that I believe in."
Singh will be the first woman to host a U.S. late-night talk show in decades, and the only one to currently do so on air. This is a big move for the star, who has already experienced ample success as a YouTuber, ranking tenth in the 2017 Forbes list of highest paid YouTube stars. Both devoted fans and newcomers to her talent wait curiously to see what kind of innovative and interesting content she will bring to NBC. —ML