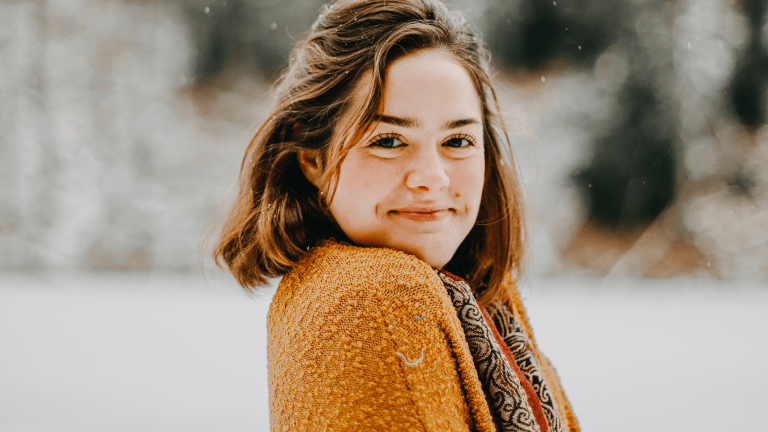 Mid-Winter Wardrobe Refresh
Time for neutrals to take a break
By early March, many of Verily's northernmost readers may be tired of their jeans and winter sweaters; but, unfortunately, many of us still have at least another few months of cold weather! Winter monotony drastically affects two elements of style, color and silhouette. Because so many layers are necessary, winter colors usually default to black or neutrals so that everything matches with everything else; and silhouettes become especially difficult to play with when it's necessary to wear wool sweaters, thick coats, and warm pants. To freshen up our winter wardrobes before spring, we can work on changing the monotonous colors or silhouettes; and we can also change things up by using accessories to add interest and color, and to focus the eye elsewhere.
Follow these tips to change up your style in the midst of the dreary winter months.
Shop Your Closet // What You Can Add to Your Outfits
01. Use accessories you already have—scarves, big earrings, cocktail rings.
Some big or bright accessories can really pump up a sweater you have already worn ten times in December, and while they don't change the silhouette, they can draw the eye to a different focal point. One obstacle to wearing accessories, though, is remembering to do so: we all have mornings when we throw on jeans and a top and grab a coat on the way out the door. Sometimes the key to wearing accessories is to make a plan.
Go through your drawers and take inventory of all the accessories that you have: big earrings, bracelets, cocktail rings, pins, scarves, neckerchiefs, patterned belts, colorful shoes, sleek gloves, etc. All you need is an informal inventory—no spreadsheets necessary! List all of your items on paper, or you can list just the items that you don't wear as often. Then make a plan to wear two or three of those accessories each week until you've worn everything that was hiding behind your go-to items. (If you find that there was a reason why you weren't wearing these accessories—other than that it's the wrong season—take a page from Marie Kondo's book and donate them to Goodwill.)
02. Think outside the box and try some unique or vintage accessories.
Add extra textures and details to your winter wardrobe with some bold accessories from decades past. Think about accessories that people used to wear more often, when they had fewer but higher-quality clothes that they would wear and mend over and over again. Modern variations of these items are easy to DIY or find on Etsy.
Try adding removable collars or cuffs to your sweaters or button-ups. You could use a neutral-colored collar that elevates the look, or a contrasting color or pattern that adds interest. Make yourself some epaulettes out of fringe, feathers, studs, lace, or velvet and sew them to the shoulders of your sweaters. (You can even use a basting stitch so they are easy to remove if you want.) On days when it's not too cold, you might try some fingerless gloves or wear a fun fedora.
Faux fur collars à la the 1940s and '50s have been very popular this year and are pretty easy to find in thrift shops and vintage stores. You can attach fur collars to your coats and blazers, or wear them inside, over a sweater. 
03. Pile on your favorites.
Whatever your go-to accessory is, wear multiples! Tie two or three neckerchiefs, or wear all your rings at once.
04. Play up your makeup or hair. 
Another way to have fun with your winter looks is to wear darker makeup or have more fun with your hair. Bold red and berry lipsticks always look classy, but if you're allergic or just not that into lip color, you can also spend more time on your eyes with colorful eyeliner, eyeshadow, or fake eyelashes.
Hat-hair and hood-hair can be a problem in the winter, but there are still ways to be creative. Watch hair tutorials on YouTube to learn how to make different braids that will fit under a beanie. Or go bold and cut it all off!
Raid Your Summer Wardrobe // How You Can Change the Colors or Silhouettes:
01. Wear that cozy sweater under your button-down.
Sometimes, you just want to wear a cozy sweater—but after a while, you may realize that all you've worn recently is cozy sweaters! One way to change things up while enjoying that warmth and softness is to layer a sweater under a button-down. Style it just as you would when wearing a thermal under a button down. If your sweater is a thin merino or cashmere, it shouldn't be too bulky.
02. Wear a wrap dress as a duster.
If you have a summer wrap dress or button-up dress, try wearing it as another layer, in place of a blazer. (And under your coat, of course, when it's very cold.)
03. Wear dresses over crewneck sweaters.
In the middle of a bitter winter, what else can you wear but pants and sweaters? Alter your silhouette by wearing a crewneck sweater and pants or long-johns under a cinched or full-skirted dress. Match your top and bottoms with each other for a unitard look, or choose items that are in the same color family as the dress (varying blues or pinks). And who are we kidding? There are some days so cold you would need to wear long-johns, pants, and a sweater under a dress! 
04. Layer maxi skirts over long-johns and pants.
Another way to create a new silhouette while staying warm is to wear a maxi skirt over a pair of long-johns or fleece leggings (and maybe pants, too). The boom this year in pleated and tulle skirts paired with chunky sweatshirts and sweaters is such a fresh take on winter wear. It's the winter take on the midi-and-tee cool-girl summer staple—and because of their texture and volume, tulle and pleated skirts make it especially easy to sneak a layer of pants and leggings underneath!
05. Play with colors—choose something other than black.
Bring more fun into your winter wardrobe by wearing colors other than your go-to neutral(s). This could mean wearing more navy if black is your usual color. If navy is your usual color, try finding winter duds in a non-neutral shade of blue. And if you have some light-colored items in a natural fabric, you can easily dye them another color. Get creative by with color-blocking: orange and green, blue and yellow? Yes!
You can also play with different monochromatic color combinations. Look for every item you have in one color, and wear head-to-toe blue, green, red, white, or whatever your color is. If you don't have tops or bottoms in your color, you can instead aim to create a color family look by mixing reds and pinks, blues and greens, creams and blushes.
Spring might be just around the corner, but that doesn't mean you have to wait for it to freshen and brighten up your wardrobe. Attention to detail, new pairings of pieces, and surprising color combos can all help refresh your wardrobe in these last few weeks of winter.