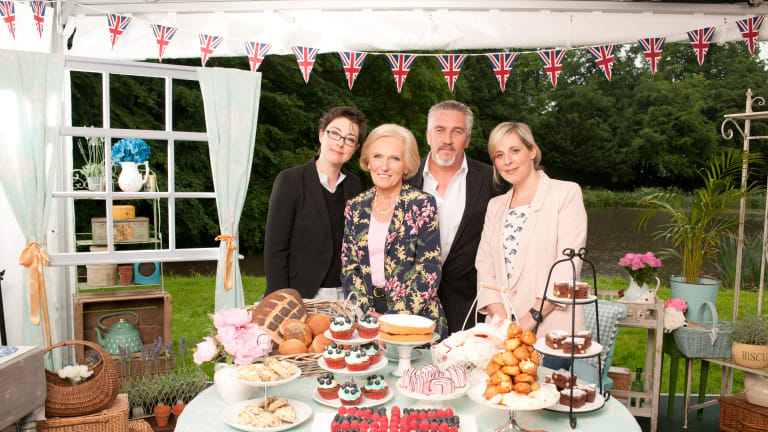 Why We Can't Get Enough Great British Baking Show
On your marks, get set...bake!
There's no shortage of shows that feature delectable desserts. Cooking programs, baking competitions, and in-depth food documentaries are everywhere you look these days. But one show's popularity seems to be continuously surging—and it's different from anything else out there.
I'm a recent devotee of the show The Great British Baking Show—known in the UK as The Great British Bake Off — but like so many others, I've become completely addicted. Whether it's learning about the intricacies of the perfect pie crust or becoming enamored with Viennese Whirls, I've found myself staying up a touch too late watching British bakers and loving it. And I'm not the only one; the program has won multiple BAFTA awards (sort of like the British Emmys) and has led to multiple spinoffs, like Junior Bake Off and The Great Pottery Show Down.
Don't get me wrong—I love the Food Network. I can watch Chopped all day long. I groan along with contestants as Alton Brown reveals horrendous sabotages on Cutthroat Kitchen, and I've been known to go on a Beat Bobby Flay binge now and then. But nothing can hold a candle to The Great British Baking Show.
A competition that feels more like community
The show has a format that's common to other baking competitions: there's a set of challenges each week, and one contestant is eliminated at the end of each episode until a winner is crowned at season's end. But why does the show feel so different than most cooking shows? Is it the delightful accents? The springtime-themed B-roll of ducks and flowers? The grandmotherly judge?
American shows tend to feel like a wrestling match. There's intense music. Contestants are shown in interviews saying things like "I'm here to win, not make friends" or boasting their various achievements. All in all, it feels like you're walking into the cooking Thunderdome. Something's about to go down, and only one person will make it out alive.
But right off the bat, The Great British Baking Show separates itself from the pack by featuring contestants who aren't professional bakers. Nuclear scientists, engineers, and grandmothers who care for their grandchildren are a few of the contestants the show has seen in its nine seasons. That means that while they have confidence, they're not really the type to brag about winning James Beard awards and competing on Iron Chef. They're home cooks, and they have a sense of humility that makes them much more likable. People who admit they don't have all the answers and aren't total rockstars at every single thing they do? It's refreshing to see on a competition show.
Also, the contestants selected all seem to be, for lack of a better word, nice. There's no sabotaging or back-stabbing. In fact, when contestants are low on an ingredient or can't find a particular tool, it's not unusual for other contestants to step in to help them out. In a world where competition seems to reign supreme, with everyone vying to be the best and the most successful, it's so refreshing to see a group of people genuinely cheering each other on. There are so few contexts left in which that happens or where it is even viewed as a positive. It can almost make you emotional when time is running out and a baker's direct competitors step in to help them finish frosting a cake. When a contestant gets eliminated, it's always a sad moment—everyone hugs and wishes them well, promising to keep in touch. It's completely different than the dark hallway those eliminated on Cutthroat Kitchen are forced to walk.
Even the judges have been known to shed a tear or two when eliminating a contestant they particularly enjoyed. Instead of giving off a Simon Cowell teardown when things go wrong, Paul Hollywood is more likely to gently explain a wrong turn a contestant made. One of my all-time favorite moments in the show is when season 9 contestant Rahul is panicking and one of the hosts leans over and whispers, "You don't need to apologize. You're great." The judges and hosts feel more like teachers and guides. They seem to genuinely want contestants to learn and celebrate an authentic love of pastry. Instead of being eager to tear people down or shove them out the door, they want to help them along their journeys.
One of the main reasons the show has such a low-key, helpful vibe may be its prize. Do winners walk away with new restaurants, $50,000, or book deals? Nope—they get a nice cake stand and a bouquet of flowers. Contestants featured on the show will of course encounter new career opportunities, but the fact that contestants aren't battling it out for a cash prize may lead to the calmer, good-natured spirit of the show.
Or maybe British people are just nicer. I'm not ruling that out.
Overall, the show makes you feel hopeful. Not just in the possibility of creating a perfect meat pie—but in the spirit of kindness. It's no small thing in today's world to be kind. But if a bunch of British bakers can band together over biscuits and baked goods, it makes me feel like maybe the rest of us can show our fellow (wo)men a bit more kindness as well. 

If winter is still raging on in your neck of the woods, or if spring rain just has you stuck inside, light a cookie-scented candle, and consider The Great British Baking Show for your next Netflix binge. You won't be disappointed.