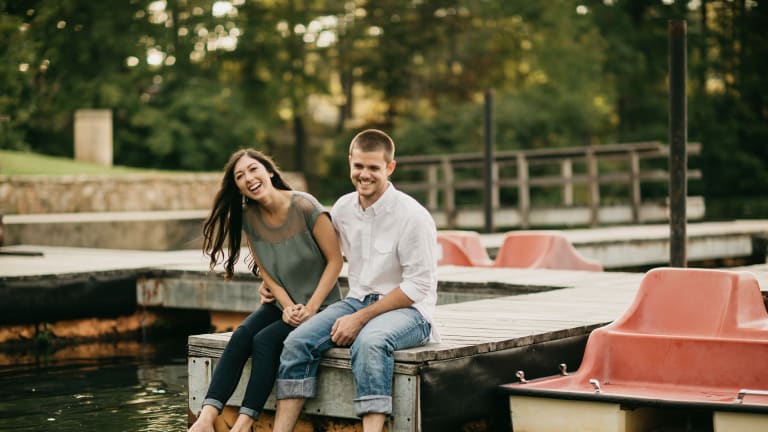 Dating Unscripted: Keep Your Standards High
Hold on to your non-negotiables.
We met at a church event one summer, our eyes meeting as I walked towards the trash can after I had finished eating. (So romantic, right?) He introduced himself—let's call him Leo—and we hit it off quickly. The church event ended with an after-party at a local wine bar, and he was going, so I figured I might as well go and see where it went.
We ended up sitting with friends of mine and talking for hours about life and Aristotle (why not? I was excited to find a fellow nerd!). As I left, Leo asked me for my number and then walked me to my car. I'd been frustrated recently with men who perpetually wallowed in the friend zone, so I was pleasantly surprised to see that there are still men who know how to pursue a woman. I waited for him to make the next move.
He did, asking me out to coffee several days later. Again, we talked for hours and hours, to the point that a friend almost came to check on me at the coffee shop to see if I was okay. I was more than okay, and delighted at how things were progressing. It was the summer that Marie Miller's 6'2" song came out, and Leo was about that height, complete with the blonde hair and blue eyes from the song. I swooned at the thought he might just be the dream man Marie's song described.
Fast forward a week or two, and we were walking at a park in my neighborhood. It was August—a hot, humid, classic Houston evening. Leo had invited me to watch a movie at the house he shared with friends, but I had declined, wanting to keep things on my turf and in public for a bit longer. Everything seemed to be going very well, but experience had taught me that suggesting a private place too soon was problematic and I wanted to inquire more. 
After we had been walking and talking for quite some time, the subject of the relationship came up. Actually, I brought it up. I wanted clarity, and I wanted to know, in particular, how Leo felt about the right way to navigate a dating relationship.
As we talked, the subject of my standards of dating, especially with respect to physical intimacy, came up. Leo commented casually that he "hadn't always lived up to those standards." I very carefully thought through my reaction. I wanted someone who would live up to my standards: someone willing to commit to a long-term relationship, who wouldn't pressure me into intimacy I wasn't comfortable with, and who was able to be a loyal husband and father. However, I firmly believe that people can learn from their past, change their behavior, and act differently in the future. Whatever had happened previously was not doomed to happen again.
"How do you feel about those standards?" I asked. He replied, matter-of-factly, that he "didn't think it was possible to live up to those standards in today's culture." The more we talked, and I shared my personal experiences on these standards, the more I was convinced that this relationship was not right for me. As I shared about why I held those standards for dating, and why I was firmly convinced that living according to them was, ultimately, going to be for my own good and happiness, he continued to be dubious about whether these standards were livable.
We parted ways, and I'm so glad we did. As I processed it over the next few weeks and months, I realized more and more how important it is to have our own "non-negotiables" in a relationship. There are things that I thought I wanted in a man—it was sure nice that he was 6'2, could talk about Aristotle, and was pursuing me. But this experience helped me to pin down what was more important in a man: his convictions about life and faith, right and wrong. I wanted a man who would help me to be a better version of myself and who would be striving with me in our shared convictions.
I'm not sure where that strength came from that evening to stick to my values. It would have been very easy to laugh it off and agree that he was right, those standards are impossible in today's society, or to test it out, to see if I could change his mind.But I'm grateful that I stayed true to myself and my values, because, in the end, it worked out for the best.
I'm now engaged to a man who shares those values. He may not be exactly 6'2, but he respects me. More than just walking me to my car after we first met, my fiancé shares my convictions, consistently always sacrificing and being there for me when I need him. Good men may be hard to find, but they are out there, and it's definitely worth holding our standards high for them.